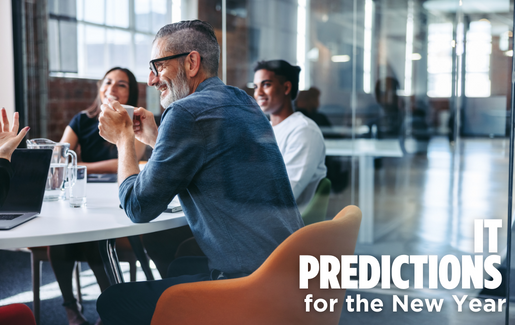 A new year brings new challenges, but also new opportunities. Around the world, businesses of all sizes are preparing their 2023 technology budgets, plans and projects. What should managed service providers expect in the coming year? We asked a number of business and tech leaders from CompTIA's Industry Advisory Councils and regional communities to share their expectations for the year ahead. Here's what they had to say:
Cash-challenged Businesses Could Shift Tech Spending Models
"For many years the 'as-a-service' model has been on a static incline and the next year will be no exception. Customers will continue to look for cost reductions so technology will still be needed. One unfortunate aspect is that cash may become less fluid, which will cause old-school tactics such as CapEx projects like hardware and software upgrades to not be an available option for some businesses. Instead, businesses will likely work to shift towards driving down operational expenditures such as optimizing cloud spend, XaaS-style contracts, eliminating duplicate SaaS products and concentrating on projects that deliver the highest business value. The best part is customers are stating, 'technology is not where we plan to cut, technology is where we plan to invest to help navigate the recession.'" – Juan Fernandez, global channel chief, Hacware, and CEO, MSP Growth Coalition
More Investments in Employee Onboarding, Skilling Programs
"Companies will invest more heavily in onboarding and skilling programs for new hires and existing co-workers. The new normal of hybrid and remote work for countless employees coupled with a need for skilled talent in key roles, means businesses need to invest in programs to develop employees into their 'own boss at home' and cultivating 'power skills' in personal leadership, project management and business communication. Additionally, a need for skills in new or vacant IT roles, will open doors for companies that invest in existing employees who are looking to make horizontal moves and acquire new skills. For new hires, this means being introduced to a more structured onboarding and development plan, and opportunities to train and/or learn on the job. This also means connecting co-workers to business resource groups and ERGs, as well as cohort communities and mentoring programs." – Ashley J. Martinez, supervisor, experience Design, TD SYNNEX
MSPs Should Invest in Automation Now for Benefits Later
"My advice to channel businesses in 2023 is to 'cut your cloth accordingly, but don't go crazy.' Many businesses overreact in times of economic downturn, and this can have a negative impact on business, but cash should of course be conserved where possible. Look at [loan] interest rates and the cost of inflation, just having cash in the bank could be costing you money right now. You might be better off spending some of that money on growing your business. Remember that you can always automate more. I have worked with hundreds of MSPs over the years and I have never found an MSP or business that is automating too much. The more you automate, the more profitable you become and long term, your EBITDAR will only move in one direction—north. Sometimes, it is even a good idea to spend more money on automation!" – Greg Jones, vice president of business development EMEA, Datto.
Standardization, Global Workforces, More Mobile Devices Will Be Key Investments
"I feel security standardization will continue to be a key topic of 2023. IT companies and businesses will be required to identify an insurance or government-approved security standard/designation to be allowed to operate. Businesses will continue to structure their company infrastructure around the idea of a global workforce that could be working for them from anywhere. Security and services will need to be available to protect and service staff from anywhere in the world. More and more users will transition to mobile-designated devices as primary devices instead of laptops and desktops as workforces continue to increase travel again. Finally, I think that this is a make-or-break year for businesses that are able to utilize and implement AI into their workforce and service offerings." – Sandy McGrath, operations manager, Final Frontiers Systems
Ecosystems Take Centerstage in Customer Discussions
"The new 'e-word' is ecosystem, and we will see plenty of it in 2023. Many channel discussions are morphing into ecosystem discussions. While ecosystem is critical to understanding the modern buyer, it is more than just channel delivery. Channel is a component of a buyer's ecosystem, but not the entire picture. Once the ideal customer profile is identified for a SaaS provider, we scrutinize all products, services, influencers and platforms in the customer's sphere of influence. From here, we see that channel is an integral part of the ecosystem, but not the ecosystem in and of itself. This perspective provides insight into the buyer's journey and adds potential new routes to market for the SaaS provider. This holistic, 360-degree view of the customer will change how SaaS companies, and even channel partners, approach their target markets." – Greg Plum, senior vice president of strategic alliances, Markee
Tech Will Still Be a Competitive Advantage for Customers
"This may be one of the best times to be a managed service provider. Customers are more interested in technology solutions and more open to innovation and emerging tech than ever. The recent world events proved that technology is necessary to keep money flowing and now many are looking to make technology solutions a mainstay in their businesses and provide them with a competitive advantage to reduce friction in the buying experience as well as service delivery. Technology providers capitalizing on this trend will continue to win the wallet share of business with innovation and collaboration coupled with secure solutions." – Juan Fernandez, global channel chief, Hacware, and CEO, MSP Growth Coalition
Transparency Will Become the Next Differentiator with Customers
"2023 is going to bring about a lot of structural change to the channel in general, and MSPs specifically. While some MSPs are getting more cyber proficient, many are not. There will be pressure from insurance companies, both those servicing MSPs and those servicing their clients, to improve practices and that will be difficult for some firms to deal with. The clients that feel the pressure will force their MSPs to change or will move on. Those that don't are going to put themselves and their MSPs at risk. In my opinion, transparency is going to be the next differentiator. We no longer live in a world that we can show clients a magic black box that they do not know what goes inside. The problem will be if the rest of the channel ecosystem will support the MSPs that want (and need) to be more transparent to their clients." – Raffi Jamgotchian, founder and CEO, Triada Networks