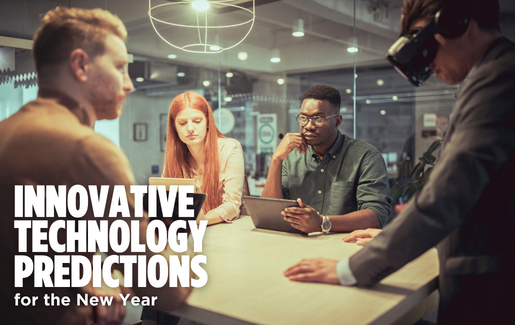 Artificial intelligence (AI), blockchain, internet of things (IoT) and other technologies continue to integrate themselves into innovative solutions that solve real business problems for customers. And we're just getting started. We asked thought leaders from CompTIA's Industry Advisory Councils and regional communities to provide their emerging tech predictions for 2023. Here's what they had to say:
Related: Watch the From Promise to Profit YouTube series for more AI and IoT use case examples
Customers Exploring Customer Experience, Metaverse, Wi-Fi Everywhere
"Customers are focusing on simplicity, reliability and business continuity. Many businesses that are concerned about the rocky waters ahead while still recovering from the last few years are now more than ever doubling down on technology solutions. The solutions they are looking for are the ones that will help them navigate these waters. Some of the hot subjects that customers are researching are:
Customer-experience-as-a-service (CXaaS)-enabled solutions
Metaverse
Digitally immune systems
Wi-Fi everywhere
Innovative cloud solutions
"But security is still leading the pack and the modern business is becoming more aware of the needs for security. A Gartner report shows that 80% of CEOs are planning to invest in new products in 2023 with security being one of the biggest areas of opportunity." – Juan Fernandez, global channel chief, Hacware, and CEO, MSP Growth Coalition
Connection of Real, Virtual Worlds Brings Opportunity, Challenges
"What is interesting to me is the contrast between some technology becoming more virtual and other parts more real. While technologies like AI and the metaverse move us into more of a virtual world, likewise physical extensions into the real world using IoT and drones are also increasing. On the surface this appears like a contrast between the virtual and the real. However, I perceive a next evolution where these things are not only connected but extending the efficiency of human work and allowing true work from anywhere using a virtual environment that can interact with real objects and physical environments from within a virtual workspace.'" – Eric Anthony, director of MSP evangelism, Egnyte
Conversational and Vision AI Lead One Step Closer to Generative AI
"This past year we saw voice assistants becoming an integral part of our daily lives. As large language models (LLMs) become more intelligent, they will begin playing a larger role in business applications that traditionally require multiple manual steps on a keyboard. Computer vision models continue to be enhanced in retail, consumer and health care environments. Images and videos captured in public domain will expand the universe of LLMs for safety, loss prevention, personalized recommendations, etc." – Manoj Suvarna, managing director, AI ecosystems, at Deloitte New Venture Accelerator
Machine Learning Operations Take Center Stage in Organizations
"As organizations become more mature with AI use cases and begin expanding on the use cases, they will need a robust machine learning operations (MLOps) similar to DevOps for managing the lifecycle from model development to training to performance to monitoring and retirement of models. Companies are beginning to invest in AI centers of excellence to manage MLOps." – Manoj Suvarna, managing director, AI ecosystems, at Deloitte New Venture Accelerator
Cybersecurity, Data Privacy Will Become More Visible to IoT Buyers
The White House's plan for IoT cybersecurity labels, similar in concept to nutrition labels on food products, will be rolled out to select consumer products by spring of 2023. While the initial focus is limited to a small set of products, IoT solutions manufacturers will start to take a second look at their cybersecurity features and proactively address any gaps. Some manufacturers will proactively expand the labeling to other products, putting more pressure on others to do the same. MSPs and integrators will need to reevaluate and adjust their solutions offering portfolios to minimize cybersecurity risks to their customers." – Benson Chan, senior partner, Strategy of Things
New AI Attack Vectors on the Way
"AI is not just for cybersecurity warriors. For some time now, AI has been used to correlate harvested credential sets with social media posts, with Outlook OOO messages and more. But that is just the tip of that iceberg. As the use of AI grows and its costs drop, expect to see AI-driven attacks on managed detection and response, multifactor authentication, secure access service edge and more." – Joshua Liberman, president, Net Sciences
Blockchain Use Progresses, Despite FTX Distraction
"The FTX bankruptcy case will play out all year, which will further create caution and skepticism around any alternative units of value. In the background, however, distributed ledgering systems will capture and secure data in a manner that coordinates events across competing and non-trusting entities. Existing pilot programs will inch forward, and new ones will begin. Entrenched software giants will be watching carefully for blockchain-driven projects to report significant breakthrough success. The arguments against blockchain will weaken as the hype and fraud are driven from the marketplace, but progress will remain a hand-to-hand fight against the sub-optimal but functioning status quo." – Tom Roush, enterprise sales representative, BlockApps
A Pivot from Platforms to Integrated Applications
"For years, IoT projects have focused largely on platform implementations that delivered out-of-the-box capabilities for things like device management, data acquisition and dashboarding. These platforms, though feature rich, often leave significant gaps, especially at the business application layer and with data orchestration/data ops, which often require engineering resources to overcome. The need to build on top of these platforms has made some organizations move away from the platform approach to more of a use-case driven application approach, delivered by pointed ISV SaaS solutions. I believe this trend will continue throughout 2023, as MSPs take in an important role of implementing and managing these disparate applications. 2023 will also put data strategies, like implementing a Unified Namespace, front and center as data orchestration becomes the foundation for these pointed solutions to work together, at scale, across the entire enterprise." – Jon Weiss, global leader, industrial manufacturing strategy, AWS.