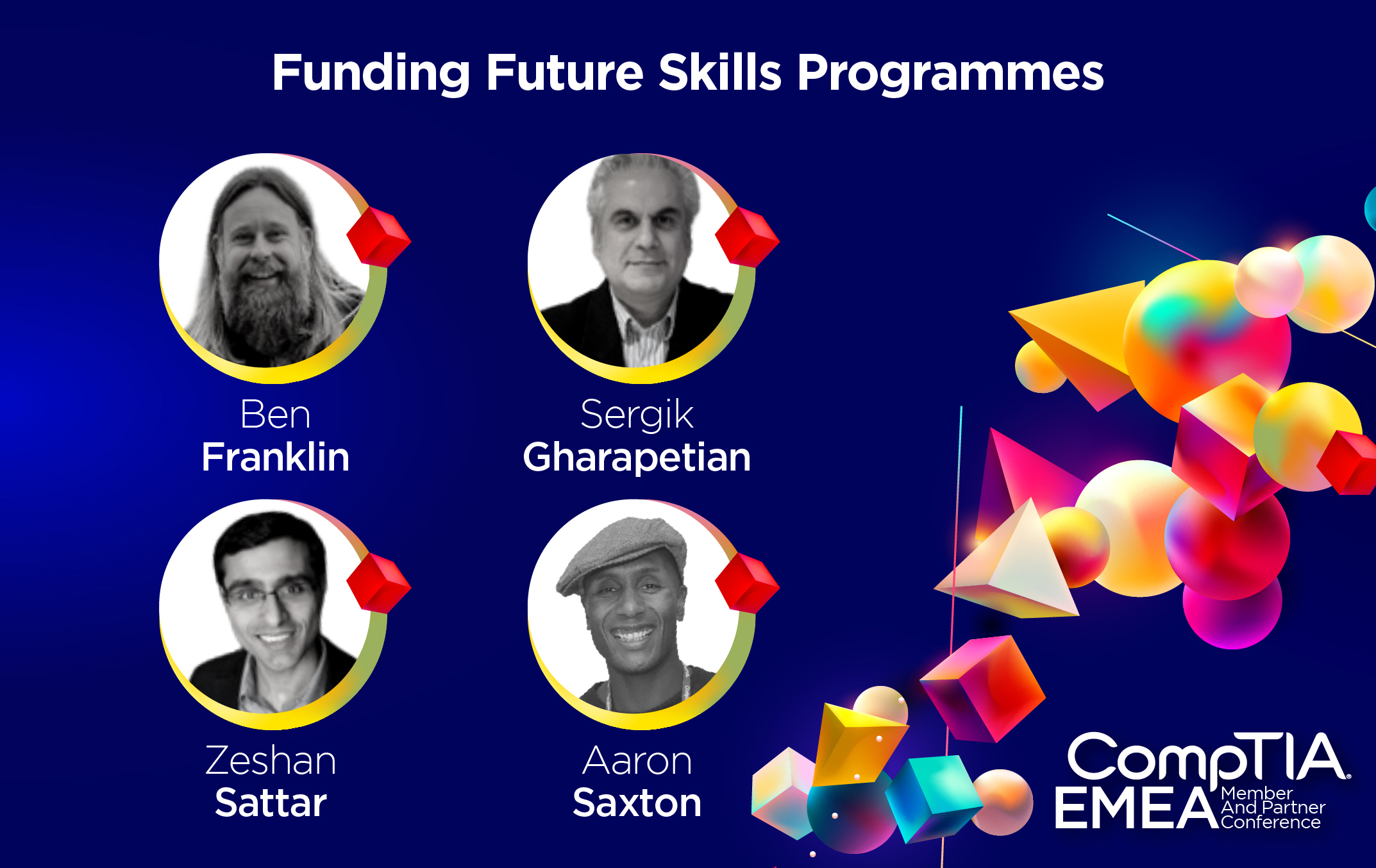 Many factors play into upskilling and reskilling today's workforce. But how do organisations secure funding for programmes that are essential in training and equipping individuals with the skills they need to fill millions of in-demand tech job roles?
During a session at the EMEA Member and Partner Conference 2022, Zeshan Sattar, senior director, learning and skills certification, CompTIA, and a panel of industry partners dug into the inherent skills gaps present in the workforce today, what the industry is doing to fill the gap and how to secure funding for programmes that support these efforts. Here's what they had to say.
Crisis Breeds Opportunity
There were 2 million vacancies in the tech world between May 2021 and 2022 and there are almost 5 million people working in the tech economy right now, expressed Sattar. "Eighty percent of job roles are asking for senior people, so what that means is we're in a bit of a crisis. We're looking for all these senior people but we're not bringing enough people in. That means the gap is going to get bigger and bigger," Sattar said. These skills gaps lie in cybersecurity, cloud, emerging technologies and everything in between.
With 64% of tech employees saying that tech skills are what gets them in a job and keeps them employed, there lies a huge opportunity in the industry right now to skill, upskill and reskill workers. In order to help people get the skills they need to enter, build and supercharge their tech careers, there is work that needs to be done to ensure the programmes that support these efforts have the monetary backing they need.
When it comes to funding, the main problem is convincing the individuals in charge — like the local government and other authorities — that the programmes you are running can help bridge the gaps that exist in the workforce, said Sergik Gharapetian, IT trainer and training consultant.
Making Education Accessible for All
Bootcamps, short courses, apprenticeship programmes and the like allow for individuals to get the training they need to be successful in a tech career, without the barriers to entry that exist in traditional higher education institutions. They provide resources for people of all ages and backgrounds to be able to grow in their professional endeavors, while also bridging IT skills gaps.
"Education should be accessible for everybody, doesn't matter your socioeconomic background, your postal code, your journey, your age, your gender, your religion, what you look like or your color," said Aaron Saxton, director of disruptive learning, University Academy 92 (UA92). "Everybody should be inspired and aspire to do some form of education.
Traditional higher education is not for everyone. "Yes, degrees and post grads are perfect for a particular journey and destination. But if you want to accelerate education and enable it for all, break it down, modularize education and make it accessible and affordable for everybody," Saxton said.
What Does the Tech Industry Need?
In order to create and deliver the most impactful programmes to help bridge skills gaps and fill job roles, it is important to have a holistic understanding of where the gaps exist.
"You have to do gap analysis to understand what exactly the industry is asking for. I know what I think the industry is asking for, but you must ask employers, 'what do you need?' Then develop programmes around that," said Ben Franklin, CTO, Bluescreen IT Ltd.
When looking at the need to skill, reskill and upskill, it's not only imperative to look at what employers need, but also how you're going to find the talent to fill the pipeline.
"[Finding learners] is a huge challenge, because when you're trying to get into the hearts and minds of those in marginalized communities, there's a real element of trust and loyalty and confidence. There are a number of mechanisms we use, and we also lean on CompTIA for that support," Saxton said. "We go into local community groups, local schools to show them that if you can see it, you can believe it, and in terms of retaining them it's all about keeping it exciting."
Securing Funding for Training Programmes
A lack of skilled professionals that can fill job roles is a known issue within the tech industry. But there is still an element of convincing that is lacking when it comes to securing funding for these training programmes. That begins with finding grants and writing funding bids. This funding allows programmes that support the workforce to keep doing the work they do.
"There are massive amounts of [funding] programmes that are delivered but where do you find them? We use things like contract finder, word of mouth, LinkedIn, among others," Franklin said. "With regards to writing bids, it's all about looking at what the requirements are and making sure you're answering the questions. This is the big thing about bid writing, the questions are given to you, and you need to make sure you've answered every single one of them in such a way you could give it to someone non-technical, not in the industry and they'd read it and still get the answer. Because oftentimes those that read it and mark it are not necessarily those that put the requirement out there in the first place."
What does this mean for partners looking to secure funding for their training programmes? Ensuring you provide all of the information that is asked for in easy-to-read language is a key part of bid writing.
"Forty years ago, our concerns were floppy disks and so on, and then the emails came in and we all had to watch out for attachments. But now, it's much more serious," Gharapetian said. "We must make sure that we convince the panels and the decision makers that there is a problem that needs to be addressed."
There is a critical need for skilling, reskilling and upskilling tech workers in order to fill the millions of open job roles throughout the industry. And the opportunities are out there for funding and support if you're willing to take the time to look for them and thoughtfully apply.
"We need to be very mindful of the skills gap that will continue to grow if we don't address it right now," said Franklin.
Interested in getting involved? Learn more about CompTIA's partner programme.