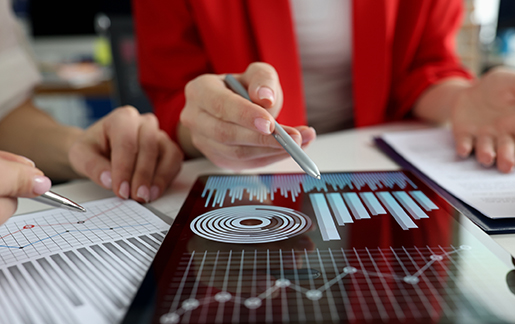 Cybersecurity is an area of growing concern. The past couple of years, we've seen a significant increase in the variety and frequency of cyber threats and organizations are reporting more and more cybersecurity risks within their organizations. Businesses need to prepare their teams for enhanced data security and cybersecurity initiatives. Check out the following cybersecurity facts and statistics to understand the threat landscape for businesses.
Overview: Cybersecurity Trends to Watch For
According to Microsoft, nearly 80% of nation-state attackers targeted government agencies, thinks tanks and other non-government organizations.
Microsoft also reports that 58% of cyberattacks from nation states originated in Russia.
The United States remains the most highly targeted country with 46% of global cyberattacks being directed towards Americans.
Identity theft was up 42% in 2020, compared to 2019.
Expect greater governance of cryptocurrencies in the coming years.
Social media is likely to see enhanced oversight of information.
Although healthcare wasn't among the most targeted industries, security breaches cost the healthcare industry $6 trillion in 2020.
More attacks on IoT are expected, making the internet of things an area of interest when it comes to cybersecurity.
People will be paying extra attention to how they manage their personal data.
According to PurpleSec, 98% of cybercrime rely on social engineering to accomplish successfully.
Largest Data Breaches and Hacking Statistics
The past year was a busy one for hackers, cybercriminals and cybersecurity experts. Here are the top five cybersecurity breaches of 2021.
Cybersecurity analytics firm, Cognyte, experienced a database breach of 5 billion records in May of 2021.
The LinkedIn breach exposed 700 million records in June-August 2021.
Social media giant Facebook also experienced a breach of more than 533 million accounts, which it uncovered in March 2021.
Bykea, the Pakistani ride-hailing app, experienced a breach of 400 million records in November.
Brazilian Ministry of Health faced a loss of 223 million records in January 2021.
Cybercrime Statistics by Attack Type
Certain types of cyber crime are experiencing rapid surges.
6.95 million new phishing and scam pages were created, making it the most common attack in 2020, according to the FBI.
Nearly 3 out of 4 companies experienced a phishing attack in 2020.
25.6% of all website traffic was made up by bad bot traffic, according to Imperva.
Ransomware attacks grew by more than 40% during the pandemic.
Symantec's Threat Report showed that spear phishing emails are used in 65% of targeted cyberattacks.
Cybersecurity Compliance and Governance Statistics
Compliance and governance is essential if we hope to combat cybercrime.
CSO Online reports that 66% of companies expect spending to be driven by compliance mandates in the coming year.
Varonis reports that more than half of companies found over 1,000 files that were accessible by all employees.
Industry-Specific Cyber Stats
IBM reports that the top five most targeted industries in 2020 were as follows. The following statistics account for total volume of attacks by industry.
Finance and insurance: 23%
Manufacturing: 17.7%
Energy: 11.1%
Retail: 10.2%
Professional Services: 8.7%
Security Spending and Cost Stats
The cybersecurity industry is expanding due to increased security threats. The cost of cybersecurity varies significantly depending on the size of your business and the level of security support you are looking to implement. The cost for security services will be largely based on your status as a small business, SMB or enterprises.
COVID-19 Cybersecurity Statistics
Due to changes in working environments and the need for remote work standards, cybercrime intensified during the pandemic with phishing being the most common attack.
One report from PurpleSec showed that cyberincidents rose 600% during the pandemic.
Statista reports that 64% of organizations worldwide were most likely to experience a data breach as a result of COVID-19.
30% stated they experienced an increase in attacks on their IT systems during the pandemic.
Cybersecurity Job Statistics
Cybersecurity pros are in high demand. The growth of cybersecurity incidents has led to an increased need for skilled cybersecurity professional.
Related Content:
Data, Cybersecurity and Software Driving Tech Jobs Growth in 2022 | Trend Watch
Top Cybersecurity Threats and Trends
The pandemic presented lots of new cybersecurity issues and companies are working diligently to ensure they are prepared for anything that comes their way in the future. Expect to see the following.
Enhanced software supply chain security.
Ransomware will become more of a problem for businesses.
Companies are transitioning to a zero trust framework for cybersecurity.
Increased scrutiny on the cybersecurity measures of third-party providers.
Rise in cyber insurance to offer further protection for businesses.
Cost of Cybercrime
Cyber crime is a costly expenditure for companies.
The cost of cyber crime has risen 10% in the past year.
The average cost of a data breach in 2021 was 4.24 Million, according to IBM data.
Cybersecurity Ventures predicts cybercrime will cost $10,5 trillion annually by 2025.
How To Protect Yourself from Cyberattacks
Protecting yourself from cyberattacks often involves the right education. As noted above, most cyberincidents evolve by way of human error, not a failing in technology.
Educate your people: Train your staff to recognize different types of attacks, such as phishing and email scams.
Enable multifactor authentication: Requiring more robust authentication helps to enhance your security significantly.
Perform penetration testing: Pen testing allows you to assess the vulnerabilities on your systems so you can appropriately safeguard against weaknesses.
Monitor threat intelligence: Threat intelligence feeds provide valuable, real-time information on emerging cybersecurity threats and allows for a collaborative approach to incident response.
Cybersecurity Statistics FAQ

What Are the Types of Cyberattacks?
There are several different types of cyber attacks. Here are some of the most common.
How Many Cybersecurity Attacks Are There Per Day?

Forbes reports an average of 26,000 incidents per day.
How Frequent Are Cyberattacks?
One study by the University of Maryland indicates that there is a cyber attempt every 39 seconds.
The cybersecurity market will only grow so make sure you are prepared.