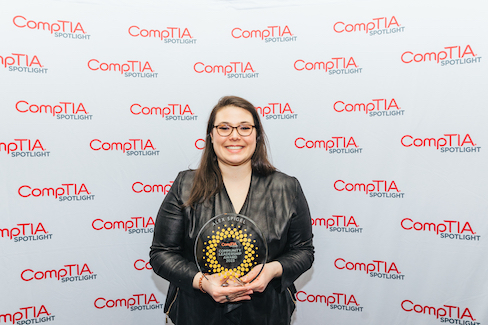 It's no small feat to build a business from scratch and be an engaged volunteer for the IT industry, but Alex Spigel deftly balances the two. Since co-founding Choice Cyber Solutions with her father seven years ago, she's now COO of the Owings Mills, Md.-based company while also serving on the executive council of CompTIA's North American Community and on the CompTIA ISAO SME council. She has also been instrumental in the development of CompTIA's upcoming Cybersecurity Trustmark.
In recognition for her outstanding engagement, professionalism and passion to advance the technology industry, Spigel received CompTIA's Community Leadership Spotlight Award for 2023. She recently shared her thoughts on the value she gets from volunteering and why it's important to continue championing the need for cybersecurity in the MSP space.
What are you most proud of in your career and what's helped get you to where you are now?
I'm very proud of being the co-founder of Choice Cyber Solutions and the fact that we have been pioneers for cyber compliance for the MSP channel, which is so important. We have a big opportunity to make the compliance and cybersecurity world easier to navigate and understandable for MSPs and their clients. Also, leading the Cybersecurity Trustmark initiative for CompTIA, something we've worked on for a long time, and being asked to be an industry expert in speaking opportunities, panels, etc.—and overcoming my stage fright in the process.
I'm also honored to be a big part of this CompTIA community and helping my teammates and others in the channel grow in their careers, find their own superpowers and learn how to find the silver linings in everything. Sarah Blakey says, "There is a hidden blessing in the most traumatic things we go through in our lives." My brain always goes to, 'Where is the hidden blessing? What is my gift?"
What advice do you have for MSPs and other tech businesses to be more successful?
Eat your own dog food. Complete the Cybersecurity Trustmark to keep your network secure to protect yourself and your clients. You do not have to be the expert in everything. When we try to do that, we become the expert in nothing. Rely on your vendor partners and fellow MSPs to fill in the gaps you might have.
Why is volunteering for CompTIA so important to you and what goals do you have for the Community/Committees?
I have met some of the most incredible thought leaders and industry experts through my volunteering with CompTIA. I would not have had the opportunity to meet these individuals if it was not for my being part of the communities and committees. I have learned so much from so many of the individuals I have met during my volunteering. I have built friendships and a true community to work with and bounce ideas off of. As a small business owner this is invaluable to me and my company.
What challenges/trends do you want to raise more attention/awareness for in your Community role?
Compliance and security within MSPs' networks and their clients will always be important—and a challenge. We need to find ways to help eliminate the fear around compliance and security. Also, I'd like to continue to push forward opportunities for women in tech and ensure that their voices and opinions are heard throughout our channel.
How are you working with CompTIA to address those issues and promote more awareness?
Our work to bring the CompTIA Cybersecurity Trustmark is one example of how our work with CompTIA leads to real results and initiatives. Also, just continuing to be a strong role model for women and make sure that I help them get their messages out in the industry. And finally, protecting my clients and partners by leading by example. Success starts from within; you have to be the best proponent for your own solutions and practices.
Join CompTIA's Spotlight Award winners and other tech leaders in Las Vegas!