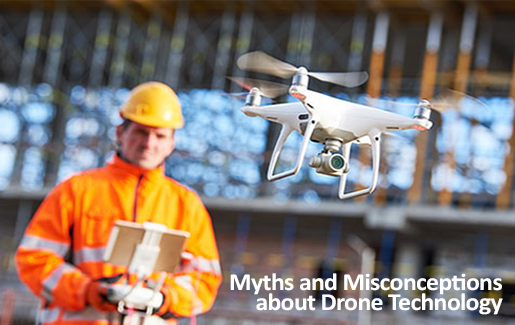 The business value of drone technologies is increasing, according to CompTIA's new Drone Market report, along with the opportunity for solution providers to create innovative solutions around unmanned aerial systems (UAS) that solve real business problems.
But there are still a lot of myths and misconceptions about what drones do and how they do it. All it takes is one sensationalistic story to undo all the good (and potentially life-saving) things drones can accomplish. It's a challenge that members of CompTIA's Drone Advisory Council, comprised of drone technology business leaders, see every day. Here's are five myths identified by several council members, and the truth behind each one:
Myth 1: Drones are Spying on You
Many businesses shy away from drone technology because of negative portrayals in the media that drones are just noisy nuisances that invade privacy. That's simply not fair, said Douglas Spotted Eagle, director of education and training programming at Las Vegas-based Sundance Media Group and vice-chair of CompTIA's Drone Advisory Council.
"You can't make those generalizations. The vast majority of industries are not familiar with what drones bring to the table. Because of what they don't know, they don't turn a blind eye; they simply don't have an eye on it at all," Spotted Eagle said.
AviSight, a Las Vegas-based drone solution provider, produced an educational video to share with customers that may have concerns. "This helps change the perceptions that some might have," said Mike Frechette, co-founder.
"If drones are noisy enough to be heard, they would be ineffective spy devices," adds Enrico Schaefer, an attorney in the UAS and intellectual property space at Drone Law Pro. "They are far from a nuisance in many operations. They save lives" he said.
Myth 2: Regulations are Confusing and Complex
It's not uncommon to find businesses unfamiliar with UAS flying regulations and standards—which makes them quite nervous, according to Spotted Eagle.
"As soon as you say 'federal government,' it scares the heck out of people," Spotted Eagle said. "If you're a cattle farmer, you have fences to corral your assets. It defines clearly what's what and who's who and where's where. When you have the Wild West and there are no rules, chaos develops. The whole purpose of fences is to generate organization."
Confusion about regulations demonstrates the primary reason to work with drone solution providers, Frechette said. "Regardless of the actual use case, there is almost always regulations involved at the federal, state and/or local level."
"It's like every new and emerging technology," added Schaefer. "Yes, it takes some time to feel your way around. But with a little effort, you can understand the regulations, get your unmanned pilot certification and start flying commercially."
Myth 3: Businesses Can Run Drones on Their Own
While businesses may be capable of operating drones on their own, drone solution providers offer the training, processes and services to ensure that autonomous operation of drones is successful, Schaefer said. "Internal operations are key. There are some steps to take. You can't just take it out of the box and fly. Spend time with a partner to learn how a professional drone operator would complete the job. Then build your program around the things you learn," he said.
Many businesses fail with drones, or don't get what they want out of them because they haven't planned properly, said Richard Lopez, National UAS Operation executive with Hensel Phelps Construction.
It's critical to implement a drone operation plan—to expect the unexpected. "You need to understand all the site conditions and potential obstacles for your project: trees, power line, construction cranes, etc., as well as informing onsite crews that there will be drone activity on site," Lopez said. This planning comes with training, experience, and working with certified partners, he added.
Myth 4: Drones Don't Belong on IT Networks
CompTIA's Drone Market report reveals that 62% of respondents view drones as a separate solution, and only 33% view drones as a device on a network. Those numbers concern council members, who said any business should look to attach drones to existing IT.
"Drones are simply data gathering devices," Schaefer said. "They are no different than any other data device. Your networks should be leveraging data from drones to make better business decisions."
"At the end of the day, where does any data, pictures, video, sensor-captured information reside? In any business, it resides on a server. Who is responsible for regulatory compliance for that data? The IT department," Spotted Eagle said.
Photos, video or other data can be captured on a thumb drive or in the cloud, which may not be associated as being IT, even though it is. "Drones are part of IoT and if you don't get that, you need to get educated quickly," Spotted Eagle said.
Myth 5: Drone Business Opportunities are Limited
Naysayers are adamant that drones can only do a few things, they're expensive to use and maintain, and the ROI isn't very high. Not surprisingly, Drone Advisory Council members vehemently disagree.
As an example, a traffic fatality can take up to six hours for law enforcement to investigate and clear the scene using traditional technologies. With drones, that time can be cut in half and officials would see greater accuracy in their data, Spotted Eagle said. "You can see a reduction in time and cost, but also get significantly greater value from better data."
There is opportunity for drone technology to solve problems in almost any vertical market and increase productivity and efficiencies, said council members.
"Over the last year or so we have seen much broader adoption of drones for industrial inspections," said Frechette. "Large oil and gas companies, and power utilities are moving from pilot programs to more traditional services contracts. The business is there, and so is the value."
The Reality: Drones Are Here to Stay
The best way to bust these myths and evangelize drone technologies and use cases is to keep communicating, building solutions and demonstrating value to customers and prospects, said council members.
"As a council, we are doing quite a bit to reduce the lack of familiarity and present opportunities packaged for businesses," Spotted Eagle said. "Frankly, that's why you would work with a drone solution provider—to rely on them to help you understand and abide by regulations."
Meanwhile, CompTIA is planning to publish a library of drone use cases later this year, giving solution providers even more resources to take to customers to prove their worth.
"It's unfortunate that people might believe these myths. There are so many uses for drones in so many vertical markets—from agriculture to real estate to security to service delivery. I really believe we will only be limited by our imagination when it comes to using drones for business," said Annette Taber, CompTIA senior vice president of industry outreach.
"CompTIA is in a position to be a tremendous driver toward the overall growth of this industry," Spotted Eagle said. "Not many organizations on the planet have the size and the ability they do to drive this forward. I know this industry is new to CompTIA, but CompTIA has the ways and means to adapt to this market and make it more successful."
As with every new and margining technology, it takes time for businesses to adopt new methods, processes and approaches, Schaefer said.
"We have seen the hype phase in UAS. We are now entering true market growth. One thing is for certain, drones are not going away. Their adoption is a certainty," he said. "The timing and growth rate of mass market adoption remain less certain. Those businesses that get in the game now, while find themselves miles ahead as market demand increases. Letting your competitors get an edge on UAS is a big risk."
Stay In the Know About Drones with CompTIA
CompTIA's newly launched Drone Interest Group is focused on driving the adoption of drone technologies into business. Join for free and get access to virtual meetings and an online forum where you can discuss, debate and share best practices with other drone enthusiasts and experts.