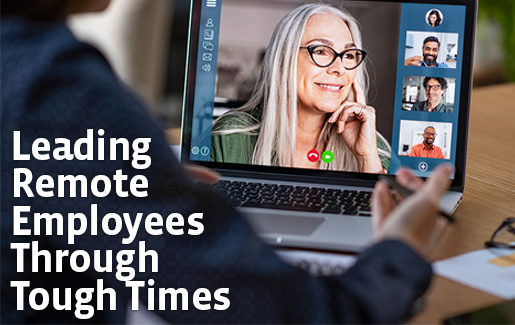 Solution providers are making difficult decisions every single day about costs, staffing, and how to pivot business models in the midst of a pandemic that is disrupting communities, lives and economies around the world. Right now, business owners have a long list of uncertainties that are keeping them up at night, but number one on the list is their employees, and in the case of COVID-19, a newly remote workforce and the technical, cultural and social concerns that have come with it.
The stress and anxiety of a crisis, whether it's a pandemic, a natural disaster or another unforeseen event, impacts everyone differently. But with strong leadership, support and resolve, businesses—and your employees—can come through it stronger than ever.

In the first of this three-part series, we gathered advice from small business owners, solution providers and other tech professionals from CompTIA's Advancing Tech Talent and Diversity Community who are managing their teams through the COVID-19 pandemic. Part 2 will explore how to manage customers. Part 3 will look at the lessons that solution providers are learning as they continually reexamine and reevaluate their response to the current economic situation.
Here are four things to consider when it comes to managing employees through a crisis, according to solution providers.
Employees Come First
Right now, many solution providers are working overtime to ensure their clients are able to effectively work remotely. In fact, CompTIA recently surveyed members of the IT Security, Emerging Technology and Managed Services communities as well as members of the Industry Advisory Councils about the impact of COVID-19, and 75% of responding tech firms said they have seen an increase in business opportunities. This influx of work makes it easy to focus solely on your customers, but without employees who are capable of doing their jobs, it quickly becomes untenable to serve clients effectively.
In a time of uncertainty, your own employees are also getting used to new work-from-home arrangements, stay-at-home orders and social distancing. According to our survey, though many were set up work remote, the vast majority of responding tech firms have moved staff and company operations remote, including 84% of solution providers/managed service providers and service firms and 92% of vendors and distributors.
"It is important to remember that our employees are going through just as hard of a time as anyone else. We need them on the front line taking care of our clients, so taking as much stress off of them as possible is crucial to ensure we are still providing the same level of support our clients have grown to expect," said Alec Stanners, vice president of business development at bvoip and vice chair of the Advancing Tech Talent and Diversity Community.
How do employers do that?
The pandemic forced companies to send workers home, in many cases creating new remote employees without warning or training. Many felt disconnected and uncertain about how to approach their work. By setting workers up for success with the right equipment and platforms, focusing on mental health and well-being, recognizing the importance of maintaining the social connections that work provides, and making sure leadership communicates regularly, solution providers can show their employees that they are putting them first so their employees can, in turn, focus on getting the job done.
Set Workers Up for Success
The first step to keeping remote workers engaged is having a remote working plan ready to go, but even for businesses that were prepared, few anticipated a pandemic. Those that had remote work plans were able to immediately communicate with their staff new policies as well as information for setting up a workspace, options for technology and equipment and even productivity tips.
"We have a work-at-home guide that we present to new teammates making the transition. It contains references to online articles that people can read, how to's on our toolsets, and a general cultural guideline of understanding the client deliverables and ensuring that the work gets delivered promptly. The guide is our policy and provides the do's and don'ts to ensure a successful work environment that is collaborative and productive," said Peter Busam, founder of Equilibrium Consulting, LLC.
Basic equipment, connectivity and a dedicated workspace are paramount, or your staff won't be able to perform their job duties. It's important to remember that not everyone is set up to work remote. If possible, invest in tools that allow remote teams to better communicate and collaborate—such as video conferencing and instant messaging—and continue checking in about equipment needs to ensure your team is able to be productive.
Communicate Regularly
With news reports that are constantly changing, employees dispersed, and uncertainty abound, communication—particularly from senior leadership—is more important than ever.
"Leadership needs to call and stay in constant contact with their workforce and support them during these troubling times. Staying in constant communication with them and focusing on the job at hand is key. They need to know they have support if needed," said Rory Jackson of Syber Networks.

In addition to regular communication from leadership, companies should also make sure employees hear from other key departments during a crisis. According to Bob Madaio, marketing vice president of Sharp Imaging and Information Company of America, his company stepped up to the challenge, providing communication from critical functions, including the senior leadership team, human resources and IT.
"The Sharp leadership team has been working hard to communicate with employees on a regular basis. We have ongoing virtual meetings with our CEO and with regional leaders, HR has created a site for 'work-at-home tips' and IT is doing a great job keeping everyone aware of security tips to stay safe," said Madaio.
Focus on Mental Health
Managers are also thinking more about how to ensure their employees don't neglect their mental health and well-being during this time—and for good reason. For people who are used to being in an office, and for those who are just feeling the effects of social distancing, employers have an opportunity to make a difference.
According to Val Haskell, chair of the Advancing Tech Talent and Diversity Community, managers and leaders can create those moments for their staff, help define the remote culture, and make work a little more fun for everyone. "People need social interactions—figure out ways to create a sense of togetherness," said Haskell. "Could be webcam meetings, could be coffee chats or stand-up meetings."
While anxiety remains high, allowing your employees to feel control over their lives can also alleviate stress. Right now, many working parents are struggling to balance e-Learning demands and working from home with children underfoot. Is it possible to allow flexible hours or reassess priorities at this time?
"There is a sense that things are out of control, but you can give your teams a sense of control by electing what work they do, when they do it, etc.," said Haskell. "That will reduce anxiety and set expectations."

Allowing employees to be honest about what they need during this unique period of time is key to getting the job done—for staff and managers.

"Transparency is key to management. Workers should communicate if they are attending to children or other items. They may not be available, and managers tend to want to see people. Since they were in an office environment, it can be uncomfortable for managers to trust that their team is working while they are remote. All parties must be equally transparent to avoid micromanagement," said Busam.

We're All in This Together
Work remains one the main ways people socialize and interact with other people. The companies that are focusing on creating and strengthening their remote culture, paying attention to their employees needs and ensuring that they are providing a supportive environment during this time will be the ones whose employees stay loyal beyond this crisis and through the next one.
For more COVID-19 resources for tech companies, visit CompTIA's COVID-19 Forum.