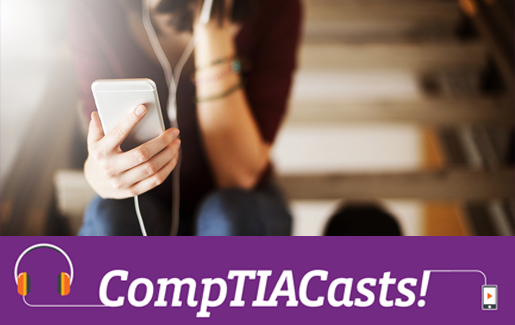 February may be the shortest month, but there is no shortage of interesting discussions happening on CompTIA podcasts. Whether it is honest conversations about the ethics and impact of technologists, or dissecting what the latest study in data management trends means for the long and short term, or highlighting the client relationship tactics of different MSPs, February had plenty of industry chatter to enjoy. Check out what we overheard on CompTIACasts in February then subscribe and start listening today.

Code Schools vs. Computer Science Degrees and Breaking Down Data Management Trends
This month on Volley, hosts and CompTIA research analysts Carolyn April and Seth Robinson cover a wide and relevant range of tech topics with Sarah Mei, software architect and director of design system enablement at Salesforce. From software issues making headlines to a deep dive into the place for coding schools in the IT knowledge base, and where ethics fits into the conversation of software development, this Volley episode has it all.
"One of the things I'd like to see happen is to have a professional organization that has strong ethical standards for software development that will back you if you refuse to do things that are unethical when you're on the job. We need a way for individual software engineers to say, 'I'm signing up to do ethical software development and this is my code of ethics that I'm following.' People want to do the right thing, but they don't have the tools and resources to do the right thing. We need a third-party organization to pick up that slack."
Sarah Mei, Software Architect and Director of Design System Enablement, Salesforce
In a later episode, Carolyn and Seth talk about CompTIA's latest research study about trends in data management. From sourcing to processing, analytics to security, Carolyn and Seth dive deep into companies' comprehensive approach to data management, and how that is related to security methods and development.
"With big data, there was the notion that if you purchased some new tools, you would suddenly have access to all of these different formats of data, and the insights would just start flowing and you'd be able to make decisions a lot better. The reality is that companies did not have data organized well enough for these tools to act on them. Having all your data gathered together, understanding where it all is, what it is doing, and which questions you want to ask is the starting point to understanding data management."
Seth Robinson, Senior Director, Technology Analysis, CompTIA
Shining a Spotlight on MSPs
On Breaking Barriers, Miles Jobgen, community director at CompTIA, focuses the MSP spotlight on Jay Tipton of Technology Specialists to talk about the MSP's role in IT security—specifically how to get people to slow down to really notice what they are clicking on and contributing to. Miles and Jay discuss the bigger questions about social behavior and habits and how to replace mindless clicking with thoughtful participation.
"Security awareness training not a one-time training; it's not like learning a phone system. It's constantly learning what the social engineering folks are changing to make you want to click."
Jay Tipton, CEO, Technology Specialists
In a later episode, Miles talks with Raffi Jamgotchian of Triada Networks about how customer relationships can get tested, and why it matters for MSPs to build strong client relationships. Additionally, Raffi talks about emerging technology through the lens of the financial and investment world.
"The current target that we all have on our backs is massive and growing. It feels like every week, another MSP is breeched and consequently their clients are infected. We saw a few years ago, after the Target breech that came through a third-party, we knew that was a bellwether for us, and was going to be a target for MSPs. That keeps me up at night—it's not a matter of if, but when. It's going to happen and you do everything you can to be the last possible target for that to happen…. I think MSPs tend not to look at keeping their own house in order and making sure they are doing everything possible. We see the gaps in our own industry and there's a lot we can do to protect ourselves."
Raffi Jamgotchian, President/CTO, Triada Networks
Data Breach Response Planning Guide with Mike Semel
Miles talks with Mike Semel, security and incident response expert, on Layers with the IT Security Community, to discuss the recently published Data Breach Response Planning Guide and why it is so important for MSPs to have sound policies and practices in place so that it's easier to recognize risk gaps or weak points in a client's or MSP's system.
"What I've seen in my career is a lot of mistakes happening and the risks are higher than ever. There are lawsuits, there are regulators, and the incidents, like ransomware, are growing like crazy. MSPs need to know how to deal with these situations not just for your client, but how to protect yourself. And I never think it gets enough attention."
Mike Semel, Security and Incident Response Expert and President, Semel Consulting
Why Everyday Technologists are More Important than Tech "Rock Stars"

In this episode of Technologist Talk, CEO, award-winning author, and social innovator Charles Eaton posits that although the lure of being a Zuckerberg, Jobs or Gates of a company is appealing, it's the army of industry specialists that make the technology we use every day that are more important and more vital than a tech "rock star."
"Yes, we celebrate the people who make billions of dollars. But that's probably not going to be you, sorry to say. But it doesn't mean you can't have an amazingly satisfying career in technology. You don't have to be Mark Zuckerberg to be a winner, to be impacting people, to have this great mission and purpose in what you do. We have to shift that conversation to focus on people who do the everyday work. That's why role models are so important to young people."
Charles Eaton, EVP, Social Innovation at CompTIA and CEO, Creating IT Futures