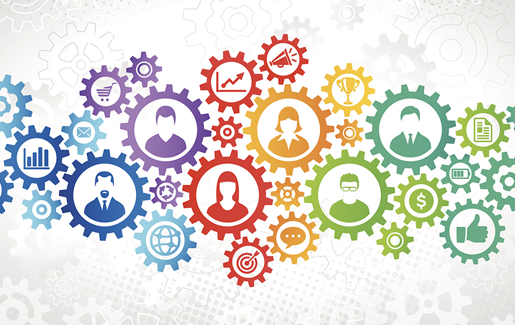 Before I had a career in the tech industry, I worked in several administrative and operations roles within the financial services industry. I was paid relatively well, had good benefits, worked regular hours, and had good working relationships with my peers and managers. By many accounts, I had what many considered to be a good job. But many times, I felt uninspired, underutilized and frustrated by my work. I kept thinking that rather than a job that just checks a few boxes, "there has to be a career that engages all of me."
Pursuing a Different Path
When I was younger, I always enjoyed reading about the latest breakthroughs in tech and loved experimenting with computers and electronics wherever I could. While I did not have a clear idea of where I would land, I decided to transition into the IT industry.
I made the decision to go back to school and learn the foundational skills in information technology and systems. I enrolled at Northwestern University full-time, going to school during the evenings and on weekends, while balancing my full-time job and family obligations.
But while Northwestern is a highly regarded university (and I found my time there beneficial), I knew getting a degree might not be enough. Too often, I had witnessed many friends and family members who spent countless hours (and a lot of money!) in obtaining advanced degrees in order to switch careers or industries, only to encounter difficulties when they tried to re-enter the workforce because they lacked professional exposure or access to professional networks.
Networking to a New Career
In addition, taking on volunteering and side projects to apply what I was learning in the classroom to real life, I made a conscious effort to make professional networking a priority. Networking was not something that I was eager to do—even though I am in technical sales, I am an introvert at heart and I don't consider it to be one of my strongest skills. But as I have come to learn in my career, acquiring technical and professional skills are important, but sometimes the difference between getting a job, promotion or opportunity comes down to who knows you, not necessarily who you know.
CompTIA Membership Connects You
I joined CompTIA because it gave me a much richer and broader appreciation of the challenges and emerging areas within the tech industry—apart from what I was learning in the classroom. Through CompTIA, I also was introduced to people who would become my mentors, peers and close friends.
Joining CompTIA and networking with members gave me far more confidence as I took on my new career in technology. My affiliation with CompTIA even helped me to land a book deal! And now, being part of the executive council of the Advancing Tech Talent and Diversity Community, I have been able to meet even more incredible people and give back to a community that has given me so much.
For those who are contemplating making career changes, take the time to network and develop relationships. Making the effort can mean more opportunities, possibility and support throughout your career.

In addition, if you're an established veteran of the tech industry, I have a request. Consider getting to know, or mentoring—or even hiring—someone like me, an individual who has the skills and the determination to be successful, but not yet the connections it takes to get your foot in the door. You'll be glad you did.

Susan Tedrick is an Azure infrastructure specialist at Microsoft. She is also a speaker and the author of Women of Color in Tech.