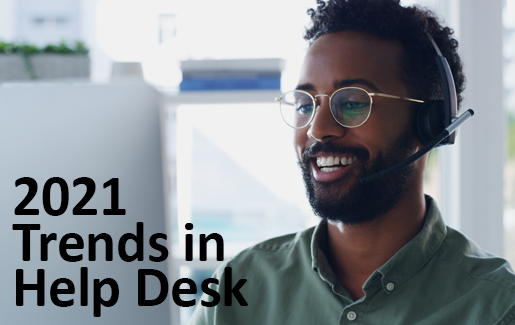 As organizations seek to remain relevant and update their operations with emerging technology solutions, the need for help desk support remains more important than ever, according to Volley podcast hosts Seth Robinson, senior director, technical analysis, and Carolyn April, senior director, industry analysis at CompTIA. On a recent episode of the podcast, Robinson and April covered CompTIA's latest research about trends in the IT help desk and why despite the pressure to innovate with new tech, businesses must remain focused on core technical support functions. Here's what they had to say.

Technology Becomes a Core Competency
Technology has historically not been a core part of business operations for most organizations. Now, operational shifts are pushing more and more businesses to rethink this approach and embrace technology as a critical function. Recent research shows that 40% of businesses plan to make IT a core competency, suggesting that a more strategic approach is taking place of the tactical one.
"There's a shift to strategic IT," said Robinson on Volley. "In the past, companies have been concerned primarily with tactical IT, but the shift away from that is highlighting the need for quality support, which takes us back to more of the same—the help desk."
This shift has prompted companies to re-evaluate how they are handling their help desk. Nearly half (49%) of all businesses keep help desk internal, with another 46% utilizing a balance of internal and external resources. In fact, only 5% exclusively use third parties for the help desk function. Whether companies qualify as an SMB or technology doesn't inform as much of their business model, there is still an increasing reluctance to let go of all technical operations.
With so much of the help desk being kept in house, it's becoming apparent that a revitalized help desk function is necessary. "More businesses are thinking that we need to focus on technology and… I think the help desk is right in the crosshairs of that. If technology is something that's making the workforce productive, then you need the help desk to be functioning at a very high level," said Robinson.
The Evolution of the Help Desk
As technology becomes a core focus, the help desk will need to meet ever-evolving needs. Traditionally, the help desk is associated with password resets and impaired laptops, but with modern business challenges—such as remote working and emerging technology solutions—we're seeing a push to advance the duties of the help desk.
In fact, CompTIA research shows that many companies are becoming more willing to outsource the routine tasks, such as password resets and basic user issues. "There's a bit of a hybrid thing going on with help desk where…many companies are willing to outsource those duties. If those operations are outsourced, that does free up the internal help desk to elevate to higher-level, sophisticated services," said April.
Skills Needed for a Proficient Help Desk
As a result of the changes in technical operations, the help desk is needing to upskill to meet modern business demands. One of the primary outcomes of this evolution is the increased demand for a positive customer experience when it comes to resolving user issues and helping employees. As a primarily employee-facing function, customer experience is quickly becoming one of the defining traits of an excellent help desk, separating the subpar from the elite.
"Customer experience is coming into demand for all companies," said Robinson. "Companies can't have employees getting hung up, doing workarounds, and there's a lot of expectation built into how technical problems get resolved these days, and that's going to take some investment. Technology moving smoothly isn't a cheap thing." In fact, 65% of companies rated customer satisfaction as the primary metric for evaluating the effectiveness of the help desk.
Additionally, help desk employees are being expected to perform more specialized and advanced tasks. The CompTIA A+ certification gets updated every three years to meet these changing industry demands and evolving job responsibilities. As more and more routine duties become automated or self-service, the help desk is being freed up to take care of more sophisticated tasks. CompTIA research indicates that this includes an increasing need for cybersecurity, network security, remote support, mobile devices issues and various other advanced skills.
"When we automate these things, we aren't taking away the help desk technician, we're asking them to do more valuable things," said Robinson.
Learn how IT skills can evolve to meet the demands of today's technology roles, including IT support roles. Get the guide.
Help Desk as a Launchpad for Diverse IT Careers
The help desk is still widely believed to be one of the best entry level positions in technology. There is still a wide breadth of foundational knowledge needed to perform the multitude of tasks, such as an understanding of infrastructure and hardware. But now, the bar is being raised and help desk personnel are expected to know a bit more about areas of technology, such as software applications, cybersecurity and data. From there, options abound.
CompTIA's research revealed interesting breaks from traditional career paths for workers after the help desk. "The typical pathway was into infrastructure, so you'd go from being a help desk technician into a network administrator or server administrator," said Robinson. "One of the most interesting things that came out of this study is that companies are saying they're sending their help desk technicians into careers across all four of the IT pillars." These include infrastructure, development, security and data.
Ultimately, more diverse career paths are opening up for workers after they leave the help desk, opening up the possibilities for businesses to nurture a skilled IT workforce from the help desk and up.