CompTIA members work with us—and each other—to build the resources and tools that demonstrate how innovative technologies help businesses be more efficient, productive, and profitable. Why do they do it? We're going to let them explain.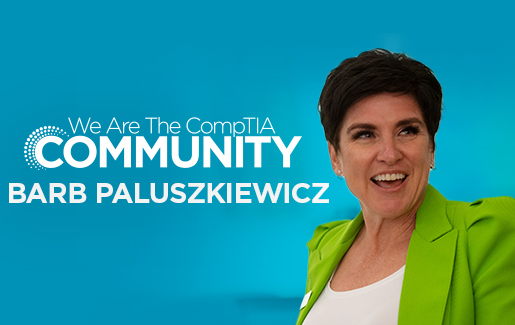 In this Q&A, Barb Paluszkiewicz, CEO of CDN Technologies, talks about how CompTIA membership has helped shape her career and her business—and why it's important to give back to the IT industry.
Read more to get Barb's perspective on how CompTIA membership can help you and your company, including:
• Empowering yourself and your team to be more successful.
• Leveraging a global network of members.
• Distinguish yourself in the market.

Related content: See more We Are CompTIA stories here.
Can you tell us about yourself and your company?
I'm Barb Paluszkiewicz, CEO at CDN Technologies. CDN Technologies is an IT service provider and MSP. What we do is we provide IT service, IT support and IT security to small and medium sized businesses across North America, from our worldwide headquarters of Oakville, Ontario, Canada.
How does CompTIA fit into your business?
CompTIA has been in my life since before the turn of the century. So back into the 1990s. I've been in technology my whole entire career. And one of the best things about CompTIA is that they've always been there, it's the nicest thing to always have a friend with you.
How has CompTIA enabled your business to be more successful?
The role that CompTIA plays in my business is very similar to running marathon, I'm a runner. So for all the runners that are out there, you know, that you practice for your race. And then on race day, you're, you're all ready to go. So that's like your technology career. As you're running your race, you'll need to grab a water or electrolytes. CompTIA is always there on the sidelines to offer you the water, the electrolytes to help you during the race, to cheer you on to be there as a resource so that you can finish. So that's how CompTIA has fit into my career at CDN technologies.com.
What inspired you to move into tech? How did you get involved in the industry?
Me being in technology is a complete fluke, I was destined to go into pharmaceuticals, as my background is in chemistry and physics. But many, many years ago, over 25 years ago, I was invited on a job interview to sell IT training courses at a private college. So, I ended up working at this private vocational school in Canada for five years. And that's where I was exposed to CompTIA. Because all these students were taking their certification courses. And from there, I saw how that distinguished individuals in the marketplace. How I got involved in becoming the CEO and founder of CDN Technologies is that a group of student techs, after they took their training courses, decided to go out and start a business. As they were doing that, they realized that they needed someone at the helm so that they could focus on all the tech work. And someone else could focus on all of the business development and management in the sales and the marketing. And that's where I came into place. When I came on board, everything became legit. We became an official company. This was back in 1999. And then from there, we just grew, our tech people grew. We hired people they grew and CDN Technologies grew and I grew and CompTIA has always been there, providing resources to help assist us along the journey to keep everything moving forward in a positive direction.
As a CEO and owner, what keeps you up at night, and how has CompTIA helped?
I recently saw a speaker, Frank Abagnale. And he said it very eloquently, that when it comes to cybersecurity, and IT service and support, it's all about prevention, verification, and education.

CompTIA is a very good resource for tools to educate my customers about prevention and verification. The things that keep me up at night are the same things that keep every business owner up at night. Having access to all of the tools and the resources from CompTIA helps me keep my business safe. And it also helps me to keep my customers safe.
What are you most proud of in your career?
What I'm most proud of at CDN Technologies is my team and our company because we recently acquired our business Security Trustmark+ accreditation from CompTIA. And this is a high-level certification that is reliant on the NIST cybersecurity framework and tells our customers that we are very compliant. And we are familiar and relaxed in dealing within the NIST cybersecurity framework in the protection of their data and the protection of their business.
Anyone who's ever done it, you'll know that there's a lot of work to it. And we are the first Canadian company that has acquired that certification. So, I'm really proud of it. I'm really proud of all the things that I've learned from the leadership at CompTIA as well, because after 25 years, what I found is that they've always been respectful to me as a woman in business, and that's evidenced by Todd's presence in social media, and the whole executive team's presence in social media, because you'll see that they're always commenting and welcoming people to the CompTIA community. They are always congratulating them on their certifications. And I know that when we got ours, I was very happy when I got the personal note from Nancy Hammervik, publicly congratulating us on our big accomplishment. So, it's those personal things that CompTIA does, that strengthens our relationship with them, and has enabled us to strengthen our relationships with the customers that we provide service for its CDN Technologies.
How has being part of the CompTIA community helped your business?
CompTIA is a very strong organization that's recognized across the globe. CDN Technologies is a very strong organization that's recognized in southern Ontario. For me to have access and see how the leadership team, how Todd, how Nancy, how MJ [Shoer, chief community officer] run this massive organization, it's beautiful to learn from because as they're showcasing their developments, I'm learning from them. There are so many new members. It's such a welcoming community. Everyone is always so kind and so nice. One of the things that I admire most about CompTIA is how professional they always are, and always have been in my technology career, from when I started 25 years ago to where I am now.
What advice would you give for someone looking to become CEO of their own tech business?
What I learned by working for a private vocational school is that education is very important. And in order to distinguish yourself in the marketplace, it's really good to have some certifications underneath your belt. As I moved to be the owner and the founder and CEO of my MSP, I looked to CompTIA for certifications to distinguish myself in the marketplace, and to let people know how we're different. And that's why we decided to move forward with the CompTIA business Security Trustmark+, because that is a very high-level certification that abides by the NIST cybersecurity framework that's globally recognized.
How else has CompTIA supported you in your career journey?
CompTIA has always been a resource for me, to help me move my career and my business forward in a positive direction. And it's really nice to have someone like that there. For the last 25 years, myself as a mother, as a wife, as a daughter taking care of elderly parents, as a business owner, as an entrepreneur, having the consistency of CompTIA there as a resource has been so nice and comforting. It's a great place to be it's a great community.
Do you have any CompTIA certifications?
I sold those certifications. People would come in to get their MCSE training courses, they'd be getting their A+ training courses, their Microsoft Office training courses. As we were selling these courses, we were also selling the certification courses as well. And that's what distinguished the graduates of the college that I worked for was the ones that had certifications got jobs quicker than the ones that didn't.
And they always advanced through their career more. And I can see this now having our CompTIA Security Trustmark+ accreditation. As I go into the workplace, customers are looking for assessments on the network, and they want to fill out all of their forms. It's very comfortable and quick for us to go through these assessments because we know what it's like. And in addition to that, by us being the first and only certified MSP in Canada who has this accreditation, it's a big responsibility out there. And it's a really nice seal to have that goes besides your logo that demonstrates that this company knows what it is that they're doing because it's not an individual certification. It's the company as a whole.
So what happens is an auditor came in and audited our processes to ensure that we are actually doing what it is that we're saying. Once the auditor spot-checked all of the processes, here and there and everywhere, were able to get our accreditation. It took almost a year to put all of the documents together for it. It's quite intensive. You will grow, you will develop and then other businesses that have it, they look for it because now they know that they have a trusted partner.
In addition, when you are working with enterprise-level companies and larger organizations, lots of those people that are assessing whether or not your technology is solid, they'll look to see who is the person who's done the assessment. Once they see that we have our CompTIA Security Trustmark+, they know exactly the type of work that was involved and exactly what our documentation is going to look like. And they also know that we work with very highly regulated and very compliant industries, where this is a mandatory requirement.