CompTIA members work with us—and each other—to build the resources and tools that demonstrate how innovative technologies help businesses be more efficient, productive, and profitable. Why do they do it? We're going to let them explain.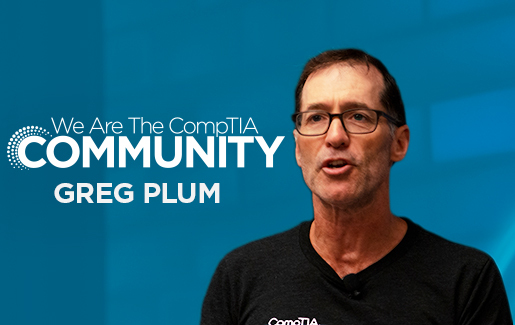 In this Q&A, Greg Plum, senior vice president of strategic alliances at Markee, talks about how being part of the CompTIA community has helped shape his career and business—and why it's important to get involved.
Read more to get Greg's perspective on how CompTIA membership can help you and your company, including:
• Leveraging innovative technologies into your business.
• Establishing your voice as an industry leader.
• Developing tools and resources to advance the IT industry.
Related content: See more We Are CompTIA stories here.
How has CompTIA helped your career and your business?
I'm the senior vice president of strategic alliances at Markee. Basically, I look for different types of partnerships. They might be technical relationships, where we try to find a company that we can bolt on our services, and really just work in tandem. It might be a channel partner and might be a solution provider that's looking to take our solution to their customer. Our target customer is a doctor's office or a therapist that is looking to serve his or her customers in a virtual manner.
CompTIA has changed the game for me, it's basically given me an opportunity to connect with people that I otherwise would not have, I'm able to have conversations as a peer, as opposed to a sales conversation. So no longer do I approach my relationships that have really been my entire career as a single P&L, but I'm able to approach things from an industry perspective. In addition, I'm able to get different people's perspectives, and infuse my opinion and really my ideas into where I think the industry is going. CompTIA has given me a voice in the IT industry, which I've really wouldn't not have had had it not been for CompTIA.
How has CompTIA given you more of a voice?
Well, having a voice in this industry is important. As you know, the channel is fairly small. It's a closed system. It's possible to stand out. When you work for a company, you're out there all the time beating that drum, for the company. But with CompTIA, you're able to do that for an entire industry and you're able to see that tide rise. And as a result, those companies that you interact with, there's just more opportunity where I can talk to senior executives and have meaningful conversations without it ever, ever being a sales pitch. We're able to connect on a much more personal, executive strategic level.
Most of my most of my work is around looking for strategic alliances, ones that we might not have thought about. It might be a marketplace. So, when I'm out having conversations, when we have our [CompTIA community] board meetings, or we're having one-off meetings, I know that people are always willing to listen and collaborate. You know, we are givers by very by our nature. Everybody involved with CompTIA appreciates the opportunity to give their time. It's not a paid role, but you're always getting something back by getting the opportunity to have a voice and connect with people that are like-minded. It's hard to put a price on that.
What are you most proud of in your career?
When I first learned of CompTIA, I was already established in my career in the channel. But it was a different channel. And I didn't realize that there was a whole other world out there. And when I discovered it, I set out and I wanted to get my company really into this space, because I saw opportunity coming with the cloud. We knew telecom, and the whole convergence thing was starting to emerge. My very first involvement with CompTIA was serving on the former Telecom Advisory Council. We were specifically tasked with creating that dialogue between the telecom world and the IT world, given that opportunity. It was the first time was ever done. It was exhilarating. And you know, here I was. I probably didn't deserve that seat, but I got that voice, and I had that opportunity. And I took it. And as a result, I have relationships to this day that formed from being a part of that.
What keeps you up at night, and how does CompTIA help?
The rate of change, I guess, in technology keeps me up. As the chair of the Emerging Technology Community and now Committee, we're always looking at emerging technologies. We focused most recently on AI and IoT, but we know they're always things coming down the pike. And what I want to do is, as a leader with my company and in the industry, I want to always know what's next. Wayne Gretzky said you skate where the puck is going. So that's what we're always looking to do. Having an opportunity or having the lens to be able to look at the industry through what's coming is fascinating, but it's also a little scary.
How does the CompTIA community help you predict what's coming?
With emerging technology, CompTIA has given me the lens to view what is happening in the industry. Not just today, but really what is coming and how the technologies are actually being applied. And we focus on how they're being monetized and why is it important to partners? We would love to talk about shiny objects and the pie in the sky technology, but ultimately, it's really about how are they being monetized? How are companies integrating these technologies into their business to make their partners, their customers or partners lives better—and, frankly, increase their bottom line?
How do CompTIA's communities and committees help spread that word?
Working as a part of CompTIA's Emerging Technology Committee has given me the opportunity to really approach all of my colleagues and all of my prospects from a more global perspective. So rather than thinking about what my product is and how I can benefit from an interaction or relationship with them, it's really been much more. I'm able to see these different technologies being implemented and I'm now saying how does my technology, my service, my company fit in the emerging technology world? And why is that important to my partners? Why did they need to pay attention to us? Because, again, it's where the puck is going. It's not where things are today.
What's Next for the Emerging Technology Committee?
CompTIA's Emerging Technology Committee has been focused on the application of technologies, not just on the concept. How they're actually being applied. Our tag has been 'From Promise to Profit,' and we've created a whole series of assets around this, focused on partners. It's how they're taking AI (or artificial intelligence), and IoT (internet of things) and applying them in their business, making their customers more productive while increasing their bottom line.
What other accomplishments are you proud of during your time in CompTIA communities?
Vice chair Khali Henderson and all of the members have been very active, very engaged, and we deliberately set out to change things. The asset that we put out every year is the Top 10 Emerging Technologies. This year, we shifted things up a little bit. We recognize that year after year, it was basically the same technologies just kind of jockeying for position. So, we wanted to do something a little bit different. This year we focused on the top two, AI and IoT, and decided to be a little bit more prescriptive, take a deeper dive on each of those. Reaching out to the community, we came up with the top five applications or use cases for AI and IoT. We went out to the community and found out how these technologies were actually being deployed, monetized, and we've created a whole video series, that's been posted to the CompTIA Connect YouTube channel and is for open consumption.