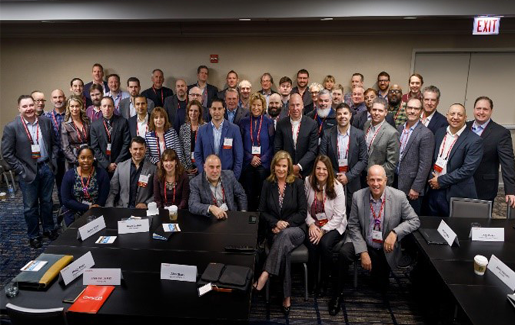 Hundreds of tech industry thought leaders met up last month in Chicago for CompTIA's Communities & Councils Forum (CCF). For the first time, CompTIA's Industry Advisory Councils joined the mix at CCF and two floors of the downtown hotel buzzed with the transfer of knowledge, partnership opportunities and experience.
The mission of CompTIA's Advisory Councils is to expand the association's reach and relevance in emerging technologies and drive the adoption of innovative tech into mainstream business. During the Council breakout meetings, top executives from across the industry discussed the business of technology and emerging tech ecosystem and then drilled down to their specific area of expertise including blockchain, business applications, the IT channel, drones and smart cities.
"These advisory councils represent specific industry segments, each with their own unique opportunities and challenges," said Annette Taber, vice president for industry outreach at CompTIA. "At the same time, the interactions between these markets are becoming more frequent and the impact is felt across the wider technology ecosystem."
At the end, each group reported their results and what initiatives they will take on and build out during the next planning session. The councils will meet again in June to continue the mission of helping drive the understanding and adoption of new and emerging technologies into mainstream business.
Inside the Councils
Blockchain Advisory Council
Does your client need a full-on blockchain solution or just a secure double-ledger application—and how do you explain the difference to a C-suite that has no idea how the technology works?
Members of the Blockchain Advisory Council identified the barriers that will keep this emerging technology out of the mainstream, and then developed solutions to those challenges.
The Blockchain Advisory Council was meeting for the first time and had the added work of establishing their mission, short- and long-term goals and a roadmap for 2019. Jim Gitney, CEO, Group50 Consulting; Neeraj Satija, CEO and CTO, Concordus Applications; and Dr. Paolo Tasca, executive director, UCL Centre for Blockchain Technology are the leaders of the Blockchain Advisory Council for 2019, and they led the group through a lot of new ideas.
Members used their time to identify the key criteria for blockchain adoption, look for use cases that show big impact, and look at what blockchain technology means for people and in business. The Blockchain Advisory Council is also developing a glossary of terms and finding ways the industry can develop a common language around blockchain technology. Plus, they'll develop a decision tree so companies can answer a few quick questions to decide if blockchain technology is right for that project.
Drone Advisory Council
The Drone Advisory Council built on their momentum from last year to finalize CompTIA's Drone Standards and Best Practices, which includes information on risk mitigation and safety laws, UAV service and flight operations, business generation, data and security protection, UAS role descriptions, training company guidelines, preflight checklists, risk mitigation and assessment tools, log books and more.
The group also plans to launch a new research study, The Drone Market: Insights from Customer and Providers, and will share these findings at popular drone events like AUVSI Xponential, UAV Expo and InterDrone. The study will identify opportunities for a rapidly expanding ecosystem of developers, pilots, manufacturers, solution providers, distributors and other support personnel in the drone market.
The council is also working to submit a recommendation to the FAA on implementation of a government mandated online exam for recreational drone pilots. In addition to abiding by a strict core value statement, CompTIA's Drone Advisory Council spearheaded CompTIA's move into the development of a Drone Specialized Interest Group (SIG) within CompTIA's Emerging Technology Community.
Drone Advisory Council leaders for the year are Adam Gittins, general manager, HTS Ag; Enrico Schaefer, UAV and IP attorney, Drone Law Pro; and Douglas Spotted Eagle, instructor/examiner UAV, Sundance Media Group.
Smart Cities Advisory Council
In the Smart Cities Advisory Council meeting, members identified the top solutions being developed for smart cities, including fleet asset management, smart infrastructure and connected transportation. Then they drilled down to identify the benefits of those smart city solutions, including improved emergency response and crime prevention.
Members also used the time to expand on the 17 skills solution providers need to implement smart cities solutions, and developed an infographic to show all the ways smart cities and the Internet of Things connect. Plus, they talked through all the jobs and skills needed to develop smart cities, and what roles need to be filled for different phases of a project, from needs assessments to implementation.
This year's Smart Cities Advisory Council leaders are Robert Forget, CTO, Aware360; Robert Senatore, president and COO, Data2Go Wireless; and Tricia Shevlin, head of channel, Aegex.
Business Applications Advisory Council
The Business Applications Advisory Council members developed a list of the top vertical markets and the technology solutions those people need like medical and customer records, financial services, marketing, security and backup. Their meeting also focused on helping solution providers identify skills needed to sell to the line of business buyer and for SaaS companies to identify what programs are needed to build to sales channel. This includes the creation of a "why sell SaaS" value propositions for MSPs, while addressing the challenges that come with providing IT services.
New leadership in the Business Applications Advisory Council includes Gavin Gamber, vice president, channel and alliances, ConnectWise; Marc Haskelson, president and CEO, Compliancy Group LLC; and Nellie Scott, channel enablement manager, SAS.
Channel Advisory Board
The Channel Advisory Board members built on their previous work mapping out the 17 steps of the technology buyer's journey, from the beginning steps of discovery to final steps of adoption and review. Then they defined changes and new processes for each step in all of the complex phases, and laid out possible roles for vendors, distributors and partners.
Channel Advisory Board leaders for 2019 are Jason Bystrak, vice president, cloud business unit, D&H Distributing; Robert McFarlane, managed services, Sirius Computer Solutions; and Ryan Walsh, chief channel officer, Pax8.
To learn more about CompTIA's Industry Advisory Council efforts to build industry best practices and standards, develop alternative routes to market and find ways to bring new and emerging technologies into mainstream business, check out CompTIA's Industry Advisory Councils or contact Annette Taber, vice president of industry outreach for more details.