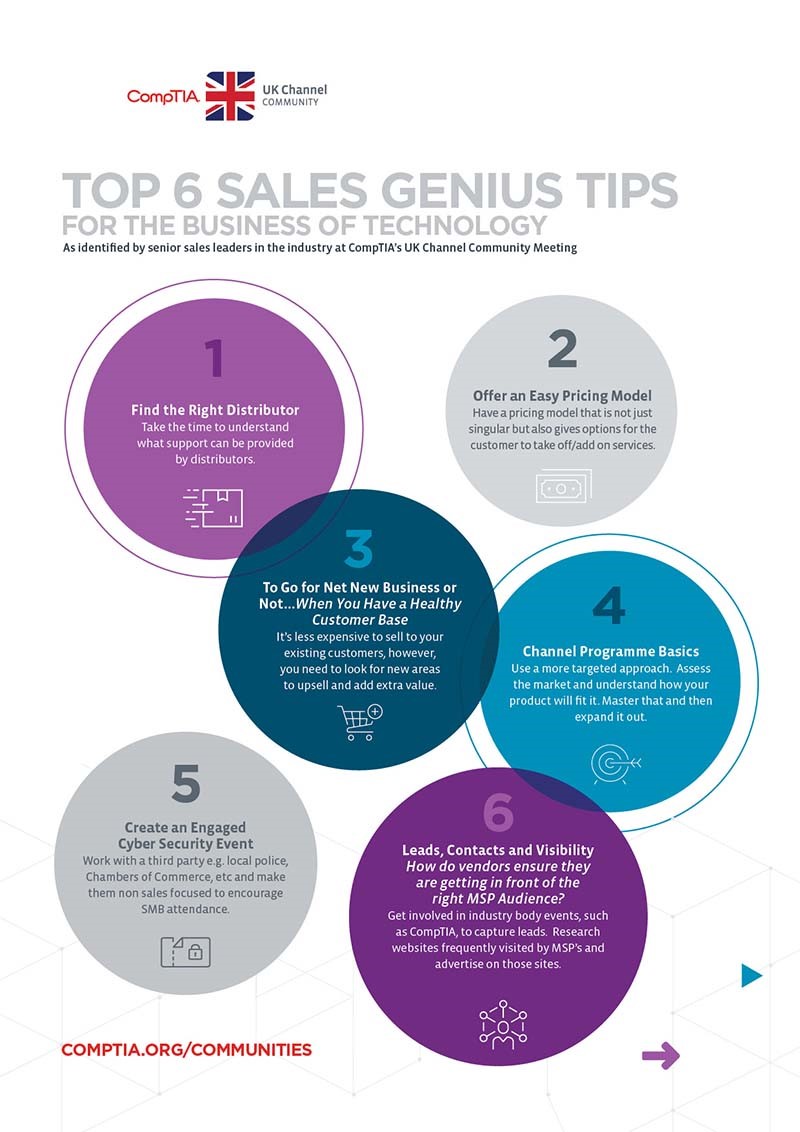 This year's UK Channel Community meeting, held in Manchester focused on how to build a better business. Alongside a packed agenda of keynote speeches and panel sessions that explored how this could be achieved, the Sales Genius Café brought together industry leaders to offer their advice for better sales.
The Sales Genius team spoke to attendees about everything from demonstrating value to maximizing vendor engagement strategies, providing key insights into how to boost business sales. Of the nuggets of wisdom and guidance the Sale Genius Café provided, there are six key pieces of advice all sales people should take forward.
Find the Right Distributor

Many MSPs and vendors don't fully realize what distribution can do for their organization. It's much more than a line of credit and availability of products! If they don't know what's available to them, they fall out of sight of distributors – unless of course the distributor is niche and has a smaller client-base. MSPs and vendors need to be encouraged to reach out and see what distributors can do to support them. Taking the time to understand what distribution can do for you can be the key to success.

Offer an Easy Pricing Model

The traditional pricing model has changed. It is no longer a case that businesses can survive on having a pricing model that is singular and rigid. It's time to develop a customer-centric approach to pricing and have a model that gives customers the option to add or remove particular services.

To Go for Net New Business or Not

When you have a healthy customer base, it will always be an expensive feat to go after net new business. A cheaper option will be to upsell to your existing customers as a way of gaining new revenue. Working on a strategy that maps out where you can add additional value or services will be key to this and provide far more lucrative.

Channel Program Basics

Businesses can often miss the mark with their channel program by adopting a 'hit all' tactic. Instead you should use a more targeted approach. This involves assessing the market to develop a better understanding of how your product will fit it. Mastering this more basic aspect of the program will be vital in expanding it out successfully.

Create an Engaged Cyber Security Event

While many businesses run cyber security events as part of their sales efforts, it is far more effective to market these as non-sales. This will enable you to encourage a wider attendance list, including more SMBs. Working with 3rd parties, such as local police or Chambers of Commerce will go a long way in achieving this.

Leads, Contracts and Visibility
Vendors often question whether they are getting in front of the right MSP audience and ask how they can ensure this. Attending industry body events, such as CompTIA's UKCC meetings, is a good place to capture leads. In addition to this, researching websites frequently visited by MSP's will provide a deeper level of understanding about where they are getting their information and what's drawing their attention. It will also help to inform marketing strategies and provide a solid rational for where you should be advertising.
With the definition of the traditional channel changing and more challenges to remain competitive emerging, sales strategies should be revised and businesses need to evolve. Adopting these core tips will ensure your sales strategy is strong and that you can build a better business.
The CompTIA Sales Genius Café was hosted by dedicated CompTIA members who used their expertise in the area to develop the points in this blog. The Sales Geniuses include:
Brian Byrne, Head of Global Sales, The Email Laundry
Chris Tate, Business Development Director, Datto
Gary Withington, Majors & SMB Field Sales Director, Tech Data
Hannah Lloyd, Senior Channel Manager, Inbay
Joel Blackman, Regional Account Director, Barracuda
Rick Yates, Managing Director, Zedsphere
Scott Tyson, Managing Director EMEA, Auvik Networks