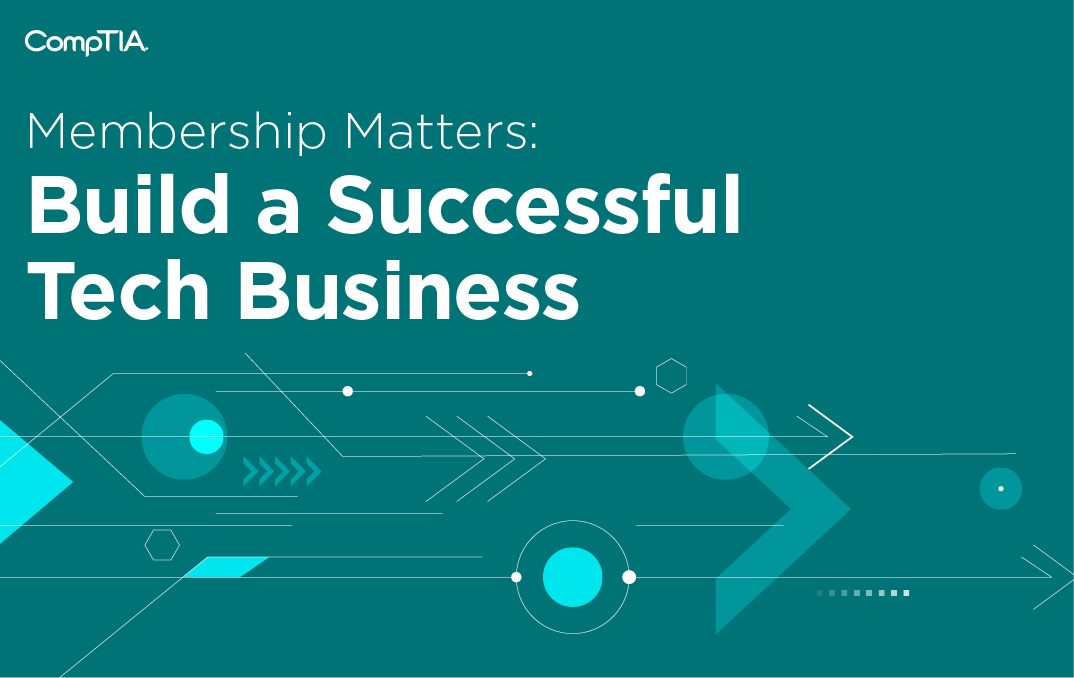 Running a successful tech business isn't easy. It takes way more than subject matter expertise in your industry to thrive. Technology business owners and executives must have the foresight to build a growth strategy, expand their customer base and nurture their employees—all while consistently offering top-notch products and solutions.
The bottom line is that it's simply not possible to do it all by yourself. The good news is that as a CompTIA member, you don't have to. It's part of our mission to help your managed service provider (MSP), vendor, consultancy or solution provider business grow and succeed.

We Can Help You Build a Growth Strategy

Getting by day-to-day is kind of like living paycheck to paycheck without a retirement plan. Successful technology businesses have a plan. You can apply a growth strategy to your product or solution by ideating ways to expand your offerings and make them better. You can apply a growth strategy to your bottom line by forecasting how to bring in more revenue through new payment models or expanding into new verticals. You can also apply a growth strategy to your company as a whole by planning to increase headcount and expand departments.
Most of the time these strategies work together, because as you grow, you'll undoubtedly need additional support on all fronts. CompTIA can support you. Our industry trends and analysis resources provide timely, tech-focused insights that are backed by data and trusted thought leadership. Rely on these resources to guide you as you map out your growth strategy.
Member Tip: When logged in to your personalized member dashboard at my.CompTIA.org, you can save relevant resources to your library for easy access. You can also download a number of member-only CompTIA resources.
We Can Help You Expand Your Customer Base
Prospecting and meeting potential new customers have been a common pain point for many business owners and executives—and for some that obstacle may seem more difficult as sales and marketing activities become increasingly virtual. But consistently working to earn new business is always a top priority. It's likely that your way of doing business and landing new accounts changed in one way or another over the past year—that's okay and CompTIA is here to help! Pivoting with the market is what keeps your technology business on the leading edge.
Of course, some warm leads are always appreciated. Consider CompTIA a warm lead. Involvement in our member-led communities and technology interest groups instantly introduces you to a group of people with common goals and interests. When you join, you can start collaborating on technology and business-building initiatives, network with peers and open doors to new partnerships.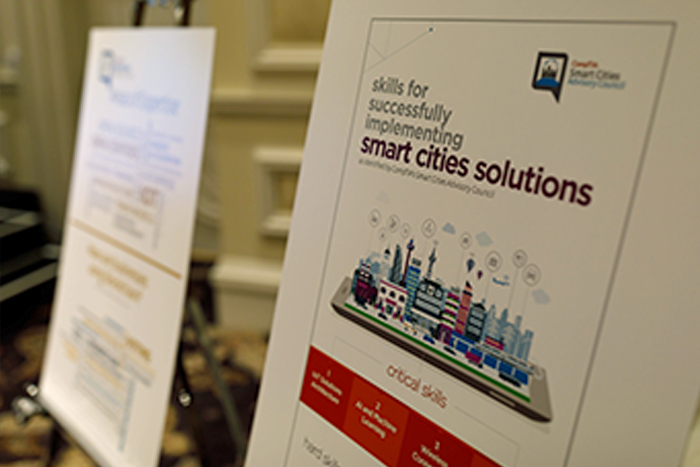 And that's not all. Because we speak your language, CompTIA can also support your content marketing, lead generation prospect engagement efforts. With CompTIA in your corner, you don't have to recreate the wheel. In fact, we're happy to share! As a member, CompTIA industry research can be co-branded by your organization and used for a variety of purposes, including to share relevant information with your prospects and customers as well as generate new leads.

Additionally, our corporate members enjoy educational opportunities that can, in turn, be offered to your partners and prospects to increase engagement on all fronts. They key here is to think of CompTIA as more than your industry association—we're a partner in your business endeavors.

Just like you would rely on your partner to guide you through new initiatives, CompTIA offers support from the most high-level thought leadership, to the practical tools and templates—check out resources to help you manage your business. It's up to you to take advantage of everything we offer.

Member Tip: Join multiple communities and technology interest groups based on your interest, expertise or even if you want to learn more. Membership in these groups is free to registered users.
We Can Help You Nurture Your Employees
Building a business is one thing. Managing and upskilling employees is an entirely different ball game. Even the best tech entrepreneurs encounter people problems. Of course, for the betterment of your business, simply managing employees isn't nearly enough—you have to nurture them. Offering continuous training and mentoring not only enhances your staff's experience, but it ultimately leads to achieving your growth goals.
There's a few ways CompTIA can support you here. First, our members have access to a suite of business tools and templates to help them create policies, onboard new employees and cultivate of more diverse workforce—just to name a few. Second, at CompTIA we believe that a career in technology means a commitment to lifelong learning. That said, we can help you scale training on a variety of topics to fit your staff needs.

CompTIA Membership is Here to Support Your Business

Running a technology business is not for the faint of heart. But the most successful business owners and executives don't do it alone. They leverage the resources around them to make informed decisions. CompTIA is a resource that can help you advance your technology business.

This article is part 2 in a 10-part series designed to break down CompTIA member benefits in a meaningful way for organizations and individuals. Read the full series:
Part 1: Advance the Business of Technology with CompTIA Membership
Part 2: Advance Your Tech Business with CompTIA Membership
Part 3: Advance Your Career in Technology with CompTIA Membership
Part 4: Make the Most of Your CompTIA Community Membership
Part 5: Advance Your Tech Business with CompTIA Membership
Part 6: How CompTIA Membership Can Help Evolve Your Business with Emerging Tech and Solutions Selling
Part 7: Advance Your Technology Workforce with CompTIA Membership
Part 8: Advance the Business of GovTech: Opportunities at the State and Federal Levels
Part 9: Connect to the Business of Government Technology
Part 10: Make CompTIA Your Partner in Tracking International Trade