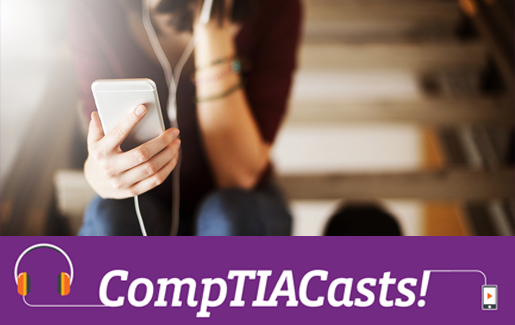 As we wrapped up 2019 and kicked off the new year, CompTIACasts focused on issues like personal health in the workplace and how employers can overcome their "trust gap" when hiring. In addition, two Volley in January episodes focused on the future, including what members can expect from CompTIA communities in 2020 and the complex issue of privacy. Check out what we overheard on CompTIACasts in January then subscribe and start listening today.

Vitality in the Workplace

Rachel McGuinness, chief vitality officer at her London company, Wake Up With Zest, was a guest on the CompTIA Women TechCast in December to talk with Advancing Women In Technology (AWIT) Community Leader Kathleen Martin about why employee health matters to the business overall, as well as personal health related to business. Highlights include how to apply the 80/20 rule to your lunch routine, some old habits to ditch and what exercises really count.
"Healthier employees do improve the bottom line in the company and customers get a better experience, too."

Rachel McGuinness, Chief Vitality Officer, Wake Up With Zest
How Employers Can Overcome Their "Trust Gap" and Hire Great Technologists

The best fit for a tech position is a candidate who's done the same job before, right? Maybe not, says CEO, award-winning author and social innovator Charles Easton. In this episode of Technologist Talk, Charles explains how employers seeking to fill jobs working with technology must learn to trust qualification beyond specific experience.
"A confidence gap is what the potential employee faces. The person who is in training or doesn't know if they can be in this field. And on the other side it's a trust gap. An employer doesn't know whether they can trust this person who they might hire, because they're so green and they don't necessarily have all the requirements they were looking for. In their mind, it's about managing their risk."
Charles Eaton, CEO, Creating IT Futures
What's Coming in the New Year
On Volley, hosts and CompTIA research analysts Carolyn April and Seth Robinson were joined by Jim Hamilton, CompTIA's vice president of member communities, to discuss the structure of CompTIA communities and the plans these communities have in 2020. CompTIA's member communities are collections of technology professionals focused on certain technologies, business models and workforce issues. In addition, CompTIA serves member needs globally with four existing regional communities and more coming in the next year.
"I see 2020 being the year where we really take a hard look at securing the MSP and securing the SMB and providing practical direction on how to do that. I think it's a barrier to growth. When you think about MSPs, and if each MSP has 100 clients, they're a very attractive client for bad actors. That's a large focus for this year. The other area that's always been a focus, and I think we'll see more and more, is solution selling. Among MSPs and sales professionals with solution providers, how do you actually take a solution and sell it according to business outcome? What are the best practices in positioning solutions? Long gone are the days, as you know, that you go in and sell a server or a printer or a bunch of networking gear. Businesses buy thing because they produce business outcomes. So, working with our solution providers and MSPs to provide practical guidance on solution selling is a big focus for this year."

Jim Hamilton, Vice President of Member Communities, CompTIA
Apple & Privacy
April and Robinson teamed up again a few weeks later to discuss privacy in the wake of the recent focus on Apple's encryption capabilities. Should Apple or other technology companies create back doors into their messaging systems so the government can get in? While it's not possible today, the more interesting question is, should they? While there are conflicting sentiments from both businesses and consumers, this Volley episode talks about the importance of determining the level of transparency as a key part of a modern data strategy.

"There's a philosophical mismatch sometimes between wanting to have privacy around your life, but not really granting yourself that privacy. I think we know that as many controls or filters that these companies might give us, people are mostly too lazy to employ a lot of those. They would say, here's the boundaries that I'm drawing. It's a little bit all or nothing. It depends on which debate they're having. How concerned are you really about your data? If you're really that concerned about it, then you should be taking these steps, but you're not taking these steps – so what's the right answer here?"

Seth Robinson, Senior Director, Technology Analysis, CompTIA