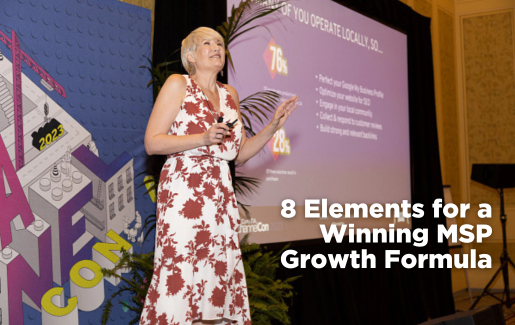 Research shows that most technology buyers today fall into the Millennial and Gen Z cohorts and that buyers spend, on average, less than 20% of their time working through conventional sales processes, as opposed to two-thirds of their journey with sellers just 10 years ago.
In a market like IT managed services, that fraction of time becomes even smaller as MSPs compete for attention, according to Kris Blackmon, head of channel communities at Zift Solutions and vice chair of CompTIA's Channel Development Industry Advisory Council.
As a result, today's buyers are the hunters—not your salespeople—especially in today's digital marketplaces, Blackmon said at ChannelCon 2023.
"Buyers are hunting you online. They are used to buying online. They are used to doing their own research. They are used to self-educating themselves about products and services," Blackmon said. "So, now that percentage with your sales team could drop to 10%, 7% or 3%. The other 80% of the time? It's marketing."
What does that mean for you? Don't underestimate the importance of having a digital, marketing-led go-to-market plan for growing MSP business, with retaining current customers serving as its foundation, including eight key elements in a sequence that leads to success.
1. Ideal Customer Profile
Nearly 40% of companies have not constructed an ideal customer profile, said Blackmon, despite this exercise being a cornerstone of successful marketing strategy.
"Know who you're targeting," she said. "What are their pain points? Where are they going to learn about products and services online? How do you know how to speak to these buyers, really connect with them ... if you don't know their size, their geography, their vertical industry, their specialties and the value they provide to their customers?"
2. Branding
Start with your brand essence, Blackmon said, the three to six image attributes that "make your brand human." She offered examples like "fun-loving," "genuine" and "down to earth." These words and phrases serve as the backbone of conversations with prospects and are used to craft your brand positioning, which is expressed as your value proposition.
Related Content: CompTIA Marketing Toolkit for MSPs
Write out your value propositions and build a "message house," a model that shapes verbal branding like the structure of a building whose foundation is made of data. Pull statistics and metrics from analyst reports, she advised, and showcase success stories from your customer base.
3. Optimize Locally
About 76% of buyers that perform digital searches visit the site of a local business—i.e., one within 20 to 30 miles, Blackmon said. Moreover, 28% of those searches result in a purchase.
These stats provide compelling motivation to optimize locally. "Make sure your Google business profile is up to date and your website is optimized," she counseled. "Engage in your community. Make sure that you're easily found within your community."
4. Invest in Content
Blackmon made a distinction between advertising copy and material that demonstrates technical acumen and thought leadership. She recommended videos for social channels such as YouTube for demonstrating technical prowess and LinkedIn for reaching mid-market customers with pieces touting business expertise. In all cases, content should be aligned with your sales funnel activities, she stressed.
5. Re-Educate Your Sales Team
In today's digital environment, salespeople must evolve to become trusted advisors, Blackmon contended. "Make sure that they know how to have those consultative conversations where they're able to tie your services to business outcomes. You want your sales team to be a genuine resource to buyers."
6. Emphasize Customer Retention
Business studies show that winning new customers requires as much as a 15x greater investment of time, energy and resources than retaining existing ones, Blackmon said. For this reason, your digital marketing should include keeping current customers aware of the value your firm is delivering in terms of solving technical problems and advancing the client toward its business goals.
To facilitate this awareness, she advocated conducting regular technology business reviews (TBRs) with customers to discover opportunities to upsell and cross-sell. But do not limit these sessions to senior management. "Three to seven decision-makers are involved in every purchase," said Blackmon, from frontlines to C suite.
7. Segment Your Funnel Activities
Marketing generates demand at the top of the sales funnel, Blackmon explained, with content that educates and creates a sense of urgency. Examples include webinars, podcasts, infographics and how-to guides. Paid advertising can play a role up top if budget is available. Deeper into the funnel, activities should become more specific, with workshops and free consultations. Near the funnel's bottom are conventional sales tactics such as product demos and free trials.
8. Revisit Sales and Marketing Spending
The Small Business Administration (SBA) recommends small to mid-size businesses (SMBs) budget about 7% of annual revenues for marketing. Blackmon said in her experience most MSPs assign less than half that percentage to marketing programs. "If you're not devoting enough resources to digital marketing, you're missing the boat," she cautioned.
You may already be implementing some of these strategies. If not, take a look at your current plan and decide how you can tweak it to facilitate measurable growth.
Keep Up with the Latest News from ChannelCon 2023