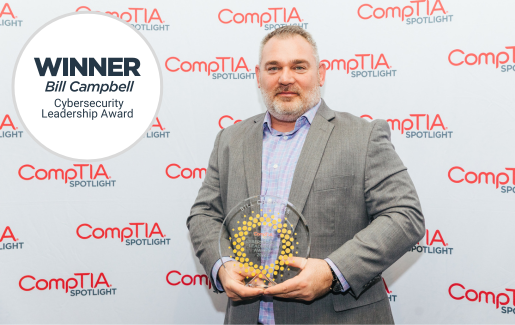 Two decades of protecting small businesses from viruses, hackers and other threats has given Bill Campbell a unique perspective on what works in the IT industry—and what doesn't. As CEO of Balancelogic, a Maryland-based MSP, he's helped his company grow, adapt and evolve to meet constantly changing trends and customer needs.
It's a perspective and expertise he now willingly shares with other tech businesses as a member of CompTIA's Cybersecurity Advisory Council. Campbell has been a vocal contributor since joining the council in 2021 and helped create a number of valuable resources for the MSP community, including A CEO's Guide to Choosing an IT Provider, a list of cybersecurity questions for business leaders to ask potential MSP partners, as well as a guide for MSPs to help address customers' cybersecurity concerns.
For his contributions, Campbell was awarded CompTIA's Cybersecurity Leadership Spotlight Award for 2023 for his positive impact on the cybersecurity space as demonstrated by his initiative and innovation in current and past cybersecurity roles.
Campbell recently shared his thoughts on the cybersecurity industry, volunteering with CompTIA and why security is a shared responsibility. Here's what he had to say.
What has helped you build a successful business and career?
The words perseverance, dedication and loyalty come immediately to mind. In addition, recognizing that motivation and discipline are critical if you want to succeed. These are the things that I believe got me to where I am now. I thank the Marine Corps for their contribution to instilling this in me. Besides being awarded the CompTIA North American Cybersecurity Leadership award? There are many things I am proud of, but I think what makes me the proudest is the ability to build a very successful company from scratch when everyone around told me it couldn't be done, that my business model wouldn't work. I continued to work on myself and develop into the CEO I am today.
What advice do you have for other tech businesses to be more successful?
I know it's a cliché, but I truly think that creating a customer success strategy and executing it well are critically important. If your clients recognize that your company genuinely cares about their success and they see you as a trusted advisor\expert, they will stay with you through thick and thin. I also think treating them more as a partner than a vendor is extremely important, it is about the relationship, not just the revenue.
Why is volunteering with CompTIA important to you?
Volunteering has always been especially important to me; I really enjoy helping other people and sharing my experience. Getting involved with CompTIA has been absolutely wonderful and I am honored to have the opportunity to help contribute to the IT industry. The CompTIA staff and the members have built an incredible community that I love being part of. I have met some amazing people and have learned a great deal, which has helped improve my company in many ways and helped me personally on many levels.
Some of the goals I have are to share my experience with other MSPs, roadblocks that I came across, what has worked and what hasn't, and how to become a better MSP and\or solution provider. The goals for the Cybersecurity Advisory Council are to make major impacts on how to continually improve the IT Industry, especially from a security standpoint. We are working on some really amazing projects and developing some incredible content to share with the community.
What challenges do you want to bring more attention to in your Cyber Council role?
One of the biggest challenges I would like to bring more attention to is cybersecurity shared responsibility between MSPs and clients as well as MSPs and their vendors. Cybersecurity is an ongoing and everchanging challenge and the responsibility casts across all facets of providers and their clients. I think there is a big disconnect on whose responsibility cybersecurity really is and I want to work to make this clearer with the result of awareness and lowering the negative impact.
How are you working with CompTIA to address those issues?
Through sharing my knowledge as a security subject matter expert, we are working to create online courses as well as detailed whitepapers. For the Cybersecurity Advisory Council, we are also developing some great content to provide education and guidance to help MSPs and solution providers protect themselves as well as their clients.
Join CompTIA's Spotlight Award winners and other tech leaders in Las Vegas!