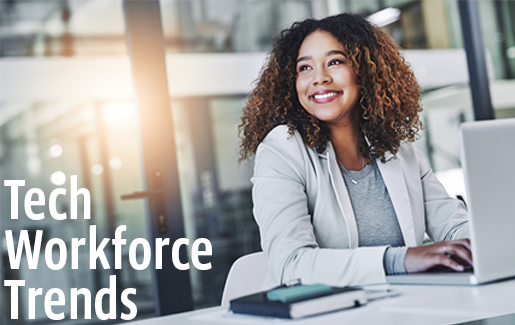 IT security jobs are predicted to jump 28% from 2016 to 2026, according to the U.S. Bureau of Labor Statistics and three unmistakable trends are shaping the future of tech jobs. It starts with shaking up the way we introduce people to technology careers, said Carolyn April, senior director of industry analysis at CompTIA.
"We also have to educate our kids that getting into technology is not a straight line to working for a technology company," said April, who studies hiring trends in the IT industry and said the phase-out of the four-year degree is the No. 1 game-changer she sees in the IT workforce.
"The idea that a four-year college degree is not necessary to have a lucrative, worthwhile career has been a big pivot that opens the door for so many people to enter the tech industry," April said. "We're waking up to realize that there are other means to get educated and get started in this industry."
Alternatives to Education
April spoke to a packed room during the CompTIA's Combined Workforce Communities Meeting: The IT Workforce of 2026 with industry thought leaders Sue Krautbauer of Techadox and Aaron Woods of CEX Services. The popular session that looked at trends shaping the IT workforce conversation was hosted by CompTIA's Advancing Diversity in Technology Community, Advancing Women in Technology Community and Future Leaders Community.
Woods, who mentors a lot of tech hopefuls, said the question he hears most often related to IT jobs is, "Do I have to get a degree or can I go to a tech school or get a certification to get a good job?" He points people to certifications first. "Get the CompTIA A+, Network+ and Security+ as the baseline and then move from there," is his advice.
"It's a shift and a mindset change," Woods said. "There's nothing wrong with a four-year degree or a two-year degree, but let's look at certifications as a stepping stone."
According to a new whitepaper on the Impact of Certifications and Training on Career Milestones, IT professionals who are certified before their first position are 50% more likely to get a promotion within one year of first being hired than people who have never certified and are promoted almost twice as often as noncertified IT professionals.
To address the skills gap in IT, Woods said the whole industry needs to share the message that a four-year degree isn't required to develop a technology career. "It's important—very important—that we, all of us in this room, have a vested interested in doing that. It's going to really do some game-changing things to make this happen."
Contingent, Part-Time and Gig Work
Krautbauer sees the rising gig economy as the biggest ripple in tech's economic workforce wave. More than one in three Americans are freelancing this year, she said, and people are increasingly make the choice to be entrepreneurs.
"The idea of being their own business is temperature normal for younger workers," she said. "It's a bookend of new millennials and those who are 45 plus who have been in the traditional workforce who have the entrepreneurial bug."
CompTIA's IT Industry Outlook 2019 counts full-time self-employed tech workers but leaves out members of the IT gig economy—people working on the side for supplementary income—but you can't ignore the trend, according to Krautbauer. As demand for tech talent keeps labor market tight, the tens of millions of knowledge workers who fall into this category will become increasingly more visible.
More Interest in IT Security
When people aren't asking Woods about certifications they want to know about IT security, he said. "There's been a huge interest over the last six months in cybersecurity," said Woods. IT security is one of the fastest-growing fields in the job market: More than 715,000 workers were employed in cybersecurity-related jobs in the United States in 2017, according to CyberSeek.
"They've heard about it through issues we've seen with credit card company breaches and they're asking 'How do I get in? What are the job titles? What kind of money can I make?' and of course, 'Where are the jobs?'" Woods said.
He points potential IT workers in two directions, first to CompTIA certifications. In IT security, where there's a growing need for workers, half a million people have earned CompTIA Security+ certification. He also points people to CyberSeek, a resource that provides detailed, actionable data about supply and demand in the nation's cybersecurity job market. To see where the is demand for IT security skills and how much people are making across the U.S., click here.