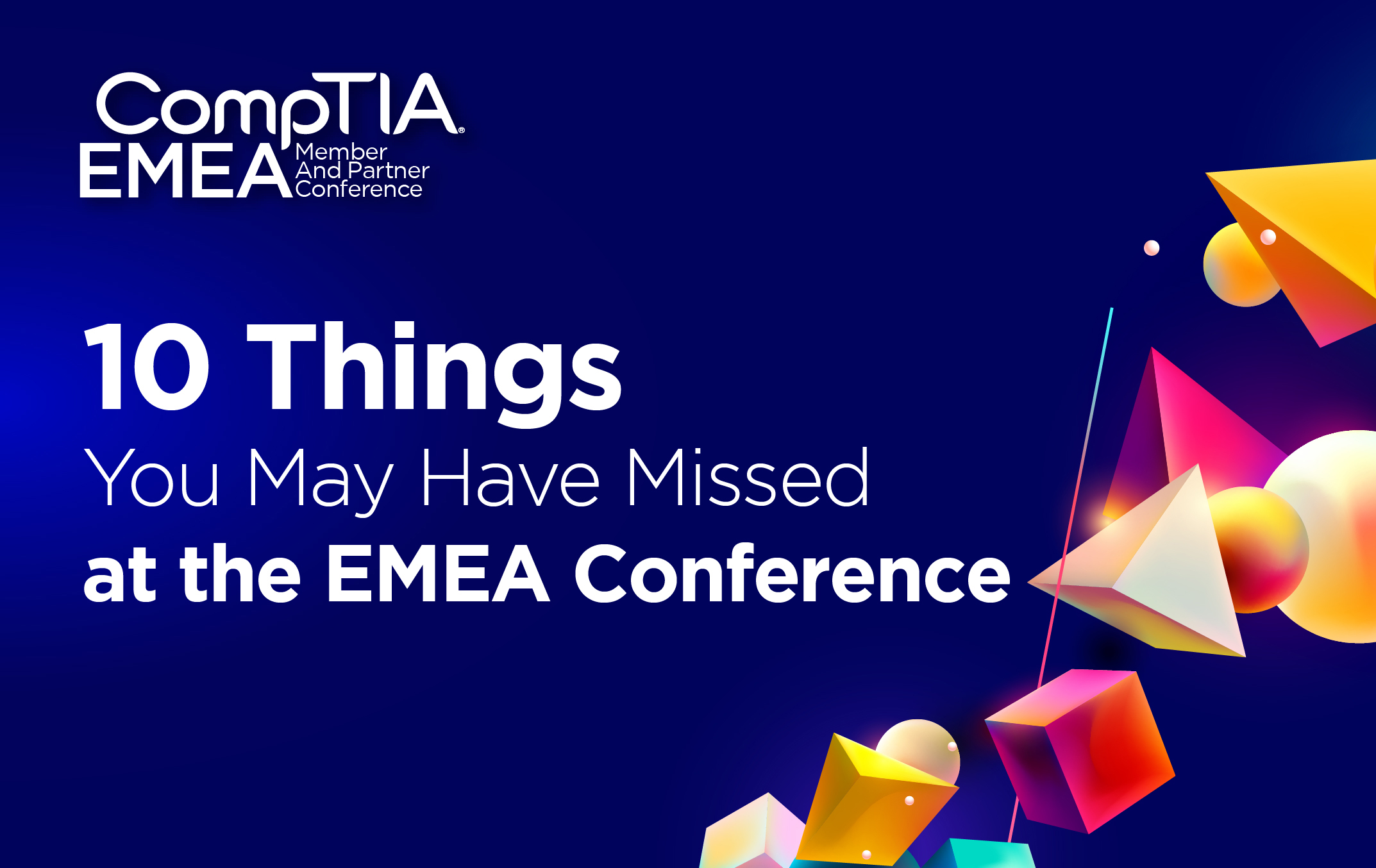 From the networking to the educational sessions, to connecting with friends, the EMEA Member and Partner Conference 2022 had something for everyone. More than 500 attendees attended 20+ sessions and visited more than 60 booths in the Technology Vendor Fair in the heart of London.
If you weren't able to attend this year, or even if you did, there's a good chance you missed something during these two action-packed days. Check out 10 things you should know from the EMEA Member and Partner Conference 2022.
CompTIA Members and Partners Descend on the Heart of London
More than 500 attendees descended on the heart of London at etc.venues 133 Houndsditch, a state-of-the-art conference and exhibition space, an ideal location to talk technology and business. Attendees took part in more than 20 sessions to learn about the latest updates to help them build their businesses, strategies to help them grow and diversify their revenue streams, and how to better collaborate, plan for the future and share best practices to achieve long term success.
Corporate members were also given the chance to receive one-on-one advice specific to their needs during 25-minute appointments at the Genius Café, which has become a staple at CompTIA conferences. The popularity of these meetings had attendees buzzing about the actionable advice they received from industry geniuses on topics such as marketing, sales, security and leadership.
"It was great meeting members, answering their questions, and having a robust dialogue around cybersecurity; especially why identifying business risk and solving that risk for clients will help the MSP be more successful," said Wayne Selk, vice president, cybersecurity programs, CompTIA. Selk served as a cybersecurity genius at the 2022 EMEA Member and Partner Conference.
CompTIA CEO: We Must Fight for More Tech Workers

"The way the industry will get the talent that it needs is by fighting for it. We can't just assume that going forward we're just going to have this flood of people coming in," said CompTIA CEO, Todd Thibodeaux. CompTIA announced a new initiative to start fighting for the millions of individuals we want and need working in tech across the globe.
The project's goal is to create the most respected place to start, build and supercharge your tech career. It aims to attract career-intent individuals so that they can see what a variety of tech careers entail and provides these people with a myriad of engagement options and learning environments for them to start and continue their career in tech.

CompTIA Releases New UK Legal Playbook
Developed to help UK businesses navigate the complicated and expensive process of managing the UK legal process of running a technology business, CompTIA's UK Legal Playbook, released at EMEA Member and Partner Conference 2022, includes ten sections filled with expert advice on topics ranging from setting up your business to data protection.
"We anticipate CompTIA UK members will find the UK Legal Playbook valuable to their businesses' overall health and security," said Courtney Fong, chief operating officer at CompTIA. "The UK Legal Playbook gives members a vocabulary for conversations with their solicitors, as well as specific issues to consider when seeking legal representation for their businesses' unique needs."
Customer Experience, the Holy Grail in Surviving the Next Normal
Nancy Rademaker, one of the very few female international keynote speakers to cover the impact of digitization on customer and employee behaviour, is known for her passion for technology and her experience in the training, education, and technology spaces. Contrary to the name, customer experience spans far beyond the customer, there must be equal focus on the employee.
During a keynote presentation, Rademaker shared her thoughts on how technology influences people's behaviour and allows them to share knowledge, create and innovate. "To position your business for long-term success, an equal focus on employee engagement and true leadership to drive cultural change will become crucial," said Rademaker.
Upskilling and Reskilling Hold the Key to Filling In-Demand Job Roles
With the breadth and depth of innovation and a growing amount of in-demand job roles, the skills gaps in the tech workforce only continues to widen. Zeshan Sattar, senior director, learning and skills certification, CompTIA, lead a panel of experts in the partner space who shared their thoughts on apprenticeships, training, bootcamps and upskilling existing tech workers.
"We need to give people the skills they need to enter, build and supercharge their careers," said Sattar. "Our skills gaps are lying in cybersecurity, cloud, emerging technology and everything else in between. As an industry we need to do more to make sure we can fill those skills gaps. There is a huge opportunity in the industry right now to skill, reskill and upskill the industry."
Liverpool Legend and Former European Footballer of the Year, Kevin Keegan Talks Leadership
Liverpool legend and former European Footballer of the Year Kevin Keegan is known as one of the UK's most loved players and managers. He took charge as manager of the national team in 1999.
During a keynote presentation, Kevin shared his perspectives on leadership, from motivating a team to inspiring extraordinary endeavours. He explained the principles that have helped him become one of football's all-time greats, the lessons he's learned throughout his illustrious career, and what makes a great leader.
Maximising the Value of Your MSP Business
With private equity firms and fellow MSPs trying to acquire "diamonds in the rough", the level of M&A activity has everyone buzzing. Nicholas Ashford, partner at private equity firm, Fordhouse warned all MSP owners that they need to have an exit strategy in place, whether they plan to act on it now or in the future.
"The key thing as an MSP owner is to think about the future – what age do you want to retire? How much money do you want to make? How much capital do you need to achieve your goals? Just thinking ahead will make your business a lot more valuable," he said.
Ashford also said MSPs must track their adjusted EBITDA and always keep their risk-reward appetite in mind when considering selling their business to a new owner. Keep the process as simple as possible and keep your staff involved, he added.
Leading MSPs Share Tips for Business Success
While there is no secret sauce for running a successful MSP business, it is no surprise that during a panel discussion led by Hollie Whittles, information security and HR director, at Purple Frog Solutions, three award winning MSPs pointed to creating deep customer loyalty and being a great leader as the keys to running a successful MSP.
All three agreed that it was vital to choose your customers wisely, be laser-focused on a specialist area—whether this is a particular technology set or a specific vertical sector/customer type and try not to be a jack-of-all-trades.
Taking the Taboo Out of Talking About Mental Health
Mental health challenges in the tech space are influenced by a variety of factors, the change of pace, a culture of constant connectivity, a lack of diversity in the workplace, among others. BIMA's Tech Inclusivity & Diversity Report 2019 indicated mental health in the tech sector needs urgent attention. This study found 52% of tech workers have suffered from anxiety or depression at some point, and people working in tech are five times more depressed than the UK average.
During a panel discussion, a group of industry leaders got vulnerable in sharing their own experiences and offered advice on how to create safe spaces where people feel comfortable talking about mental health and can keep themselves and their teams healthy. A recurring theme from all the panelists was proactivity, and how building foundations of trust with your colleagues can open the door to important conversations about mental wellbeing in the workplace.
Debbie Kestin-Schildkraut, vice president, global community engagement, CompTIA, introduced an objective CompTIA is undertaking that aims to create a place where employees and employers alike can go for mental health resources. There is a long way to go when it comes to destigmatizing mental health in the industry, but this conversation sparked insightful conversations that are sure to continue.
Technology Vendor Fair Showcases Latest Solutions and Services
This year, more than 60 vendors and distributors shared products, services and programs during the Technology Vendor Fair at the EMEA Member and Partner Conference, they showcased what's new and how these solutions can help you grow and scale your business. Vendors also participated in a recruitment challenge leading up to the event. Congratulations to the winners who shared EMEACon with their partners, bringing new people and businesses to the event and helping to make this year's conference a grand success!
3rd Place: Datto and ConnectWise