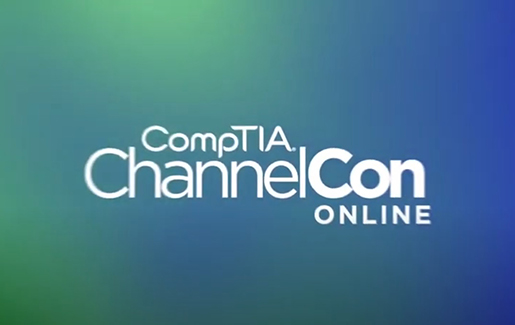 This year's ChannelCon was a little bit different. When we started planning this year's event with the theme "Future Focused," little did we know how different our own future was going to look. The COVID-19 pandemic kept us from meeting in person, but for three days we presented more than 16 hours of content and networking during ChannelCon Online, all of which attracted more than 20,000 views during the three days we were live.
When the coronavirus was just starting to spread last March, we pivoted our Communities and Councils Forum from an in-person affair to a virtual event in less than two weeks. This time, we had a little more time to plan. As a result, we created a format that helped capture the real spirit of ChannelCon—the great content, the networking, and the fun. Even if it was from our own houses.
If you couldn't attend every session this year, no worries. We've captured them in all their YouTube glory and they're available anytime you are. To get you started, here's are 10 things you may have missed at 2020 ChannelCon Online—but we recommend it all, of course.
Diversity & Inclusion Town Hall Tackles Social Justice, Workplace Equity
ChannelCon Online kicked off with an important conversation about diversity, equity and inclusion led by Todd Thibodeaux, CEO of CompTIA. Thibodeaux welcomed a panel of African American leaders in the tech industry, all current and former members of CompTIA's Board of Directors, including Georgette Fraser-Moore, president and CEO, Transformation Lead LLC; Eric Hughes, partner, Agio Advisory; Louis Stewart, chief innovation officer, City of Sacramento; Barry Williams, executive director, indirect channel sales, Comcast Business; and Aaron Woods, customer success executive, CEX Services. The Town Hall discussion featured a range of topics including having difficult conversations, the role of the media and the next generation as well as how the tech industry can better address diversity and inclusion. Watch now.
Nellie Scott Named CompTIA Member of the Year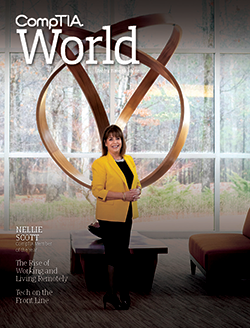 Nellie Scott, global channel development manager for the SAS Institute, was named the 2020 CompTIA Member of the Year, a highlight of Day 2. Scott's membership in CompTIA has spanned two decades with her involvement growing alongside with her career. You can read all about her journey in CompTIA World, Issue 8. Her influence on CompTIA has been vast and includes playing a critical role in the shift to serving the entire business of technology ecosystem, creating content that serves SMBs and sales professionals, and lending her expertise to the development of channel training.
"Nellie was one of the catalysts and motivators for transitioning from our legacy membership to the expanded and more inclusive 'business of technology' membership base we serve today," said Nancy Hammervik, executive vice president of industry relations at CompTIA. "The time was just right, and Nellie was a huge driving force. She put in the time, became an ambassador for the business of technology, joined the Channel Advisory Board, and since then, has helped guide so much of our education and content." Read more.
Bob Stegner Welcomed into the IT Hall of Fame
Bob Stegner's passion for small businesses has served him well during a long and storied career in the IT channel, including the last 13 years as senior vice president of marketing, North America, at SYNNEX. For three decades of inspiration and perspiration, CompTIA was proud to induct Stegner as the newest member of the IT Hall of Fame, an honor bestowed on Day 3 of ChannelCon Online.
"Bob has been a pioneer, bringing a sharp focus to the SMB market. He's been an innovator of new and creative sales and marketing strategies. And he's been a leader and a mentor to thousands of individuals and companies, said CompTIA CEO Todd Thibodeaux in the special video highlighting Stegner's career and induction.
In his acceptance speech, Stegner noted how SMB solution providers have adapted and thrived through the COVID-19 pandemic—just liked they've done for the last 30+ years. "They're entrepreneurs at heart. They focus on customers and go above and beyond for them. They stay focused in good times and bad," he said. "So, for all the SMB resellers I've met out there over the past 30 years, I accept this award in your honor. Thank you." See the video.
Congratulations to Our Spotlight Award Winners
CompTIA presented four Spotlight Awards at ChannelCon, honoring the winners for their excellence in leadership and mentorship, along with a willingness to take on new challenges. This year's winners included: Caitlyn McCaughran, global events manager at Auvik Networks (Future Leader Awawrd); Hannah O'Donnell, director of sales at Collabrance (ChannelChanger Award); Deborah Kestin-Schildkraut, global blockchain ecosystem marketing leader at IBM (Woman in Technology Leadership Award); and Susanne Tedrick, cloud platform technical specialist at IBM (Diversity in Technology Leadership Award). Read more.
Catch Up on the Latest and Greatest in the Solutions Showcase
ChannelCon's Solutions Showcase is where most of the networking happened. This year, more than 100 vendors and distributors showcased their latest and greatest products, services, and programs virtually. And the conversation can continue. Check out your favorite vendors, learn more about a new technology and contact one of the exhibitors that you missed live. The Solutions Showcase will remain open until the end of the year. Learn more.
What Role Does Emerging Technology Play in Business Transformation?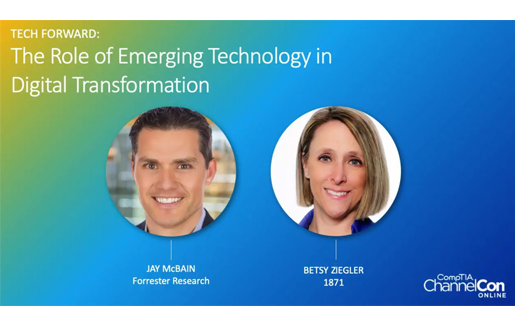 How has thinking about emerging technologies and the role they play in strategic IT evolved? Is adoption accelerating amid COVID-19? What kinds of skills will IT pros need to keep up? Those were just a few of the questions Seth Robinson, senior director, technology analysis at CompTIA, tackled with panelists Jay McBain, principal analyst at Forrester Research, and Betsy Ziegler, CEO of 1871 during ChannelCon Online. Read more about the insights and takeaways from the session The Role of Emerging Technology in Digital Transformation. Watch now.
Sneak Preview: How Tech Working Together Can Solve a Problem
Four of CompTIA's Industry Advisory Councils (Artificial Intelligence, Blockchain, Drones, and Internet of Things) are collaborating on a project that will demonstrate how emerging technologies can—and do—work together to create a larger end-to-end solution that solves a real-world business problem. The project illustrates how all four technologies can be leveraged to help identify and isolate contaminated farm-grown produce before it would reach customers. Council members Thomas Derhake of Cuesta Partners (AI), Adam Lesh of Breaker (Blockchain), and Robert Senatore of Data2Go Wireless (IoT) gave a sneak preview, discussing what their respective technologies can do, and how they can work together to solve the problem. Learn more.
Happy Hours and Wine Downs Were the Place to Be
After hours of informative sessions and Solutions Showcase-hopping, the Happy Hours and Wine Down sessions gave attendees a great opportunity to network and compare notes. Hosts T.C. Doyle, Nancy Hammervik, and Kelly Ricker kept the conversation moving and the quick polls told us how we were holding up in the pandemic, what we want to do when it's over, and what we've accomplished through the chaos (plus, admissions to wearing pajamas to Zoom meetings!). In addition, attendees were able to follow up on more serious discussions from the sessions—for example, reminding that diversity and inclusion issues extend to those with physical challenges too.
Which Speaker Had the Best Zoom Room? You Voted…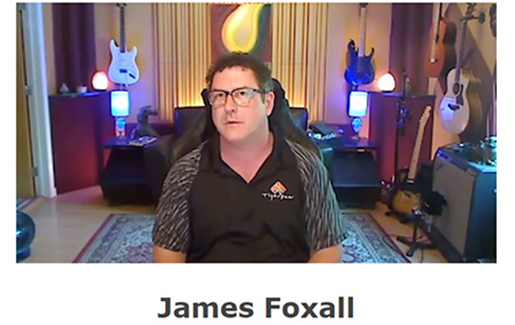 We couldn't meet in person this year, but that didn't mean we couldn't get to know each other a little bit more—in some cases through a peek inside our rooms or offices. Inspired by Twitter accounts rating celebrities' Zoom rooms, we created our own ChannelCon Online Rate My Room and selected a few of our favorite speakers to vote for. The winner? Tigerpaw Software CEO James Foxall.

With a music-focused room rocking multiple guitars and neon lights, Foxall received 43% of the votes—outpacing eight other contestants to take the crown. See more.
Social Wall Captures All the Scenes, Highlights
For the first time, CompTIA aggregated all the best ChannelCon-related social media posts in one place, creating a social wall where attendees congratulated award winners, provided reminders about upcoming sessions and Solutions Showcase booths, and shared photos of how they were participating in this year's online event—as well as previous live gatherings. One example: "Attending Day 3 online from 35k 'in the clouds' as I fly from Seattle to Austin! Streaming is shaky but I'm here! @CompTIA #channelcon #channelcon2020," wrote Harry Brelsford of SMB Nation. Go now.
BONUS: Technology Interest Groups and CompTIA ISAO Announcements
It wouldn't be a ChannelCon without some exciting new announcements. This year, we unveiled our first three Technology Interest Groups, dedicated to Advancing Women in Technology, Artificial Intelligence, and Drones. Each forum is open to anyone and allows technology companies and professionals to share valuable information, resources and best practices related to specific technology areas. You can also ask questions of your peers, list or learn about events and programs, and learn ideas and processes that work for other companies.
We also talked about the new CompTIA Information Sharing and Analysis Organization (CompTIA ISAO), which combines an active threat intelligence feed and member forum where you can pose questions and get answers to any cybersecurity related topic. The CompTIA ISAO is tailored to meet the needs of today's IT channel partners—providing them with the vides tools, education, and resources to stay aware of today's biggest cyber risks and have the proper insight and information to take appropriate, actionable steps to protect themselves and their customers. Read more.


You can relive the entire ChannelCon Online
experience anytime!