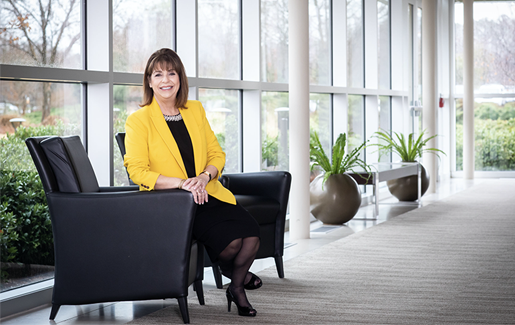 This story first appeared in CompTIA World magazine, Issue 8.

With 20 years of involvement in CompTIA, Nellie Scott knows how to get the most out of membership. With every step in her career, Scott has deepened her connection to CompTIA, not only to gain knowledge, skills and new partners, but also to give back, contributing her time and expertise to the technology community.
As the 2020 Member of the Year, her two-decade commitment and passion for helping technology sales professionals grow businesses has made a lasting impact on both CompTIA and the industry.
From Tech Novice to Tech Leader

Scott didn't initially set her sights on the tech industry. Instead, her journey to a career in technology started in an unlikely place—a publishing company.
"We started hearing about a new Windows operating system and the associated software packages that were new to market. I wasn't familiar with them, but I knew I needed to learn them to excel at my job. So, I went to work for CompUSA as a weekend software trainer, which meant they first trained me. It was a great way to get initial training on all these applications while also helping other students increase their productivity. On weekdays, I continued at my publishing job where I trained my boss and colleagues how to use the various software programs," recalled Scott.
It wasn't long before the director of the training division at CompUSA noticed Scott's work and convinced her to come on board full time. "I had the opportunity to train big companies like Boeing and Blue Cross Blue Shield—it was great," she said.
Eventually, Scott began managing the company's training center where her aptitude for sales became clear.
"I became a director of sales and it progressed from there. I transitioned from teaching and training people on software and began building a successful career in selling technology and training services."
Scott's involvement with CompTIA began when she was a sales executive with Dell Services. She first took advantage of the association's educational offerings and as she progressed in her career, she realized that CompTIA provided a platform to make a much bigger impact on the technology industry. Scott eventually left Dell Services and joined Lenovo, taking the next step in her career as well as her commitment to CompTIA.
"When I got to Lenovo, they were very involved with CompTIA. That's when I got more engaged," said Scott. She joined the Advancing Women in Technology Community and continued learning and networking.
Driving the Business of Technology

It wasn't until Scott joined SAS in 2014 that she saw opportunity for herself and her company, as well as for CompTIA, and her contribution to the organization began to increase exponentially.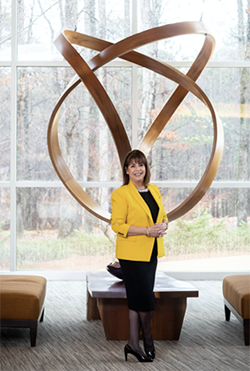 "Nellie was one of the catalysts and motivators for transitioning from our legacy membership to the expanded and more inclusive 'business of technology' membership base we serve today. A few years ago, she brought to my attention that, as someone from a big data company, she was trying to figure out where she fit at CompTIA and wanted to know how we could better engage with emerging technologies," said Nancy Hammervik, executive vice president of industry relations at CompTIA.
Scott's insight helped CompTIA realize the growing demand for membership among a new segment of technology businesses and professionals. For vendors, it was a chance to find the right kind of partnerships.
"The world of technology had shifted—SAS was expanding and selling to a broader audience. For CompTIA, there was an opportunity that didn't exist in any association for these emerging technology and software as a service companies," said Scott.
With CompTIA's leadership firmly behind the new strategy to shift to the business of technology, the Channel Advisory Board (CAB) was created with Scott as a founding member. In 2017, Scott became co-chair of the CAB. Most recently, she served as co-chair of the Business Applications Advisory Council. Scott led the effort to redefine the membership focus, launching a new path forward for CompTIA that retained the traditional, legacy partner members but focused efforts on attracting new vendors, non-traditional vendors and emerging technology players by leveraging the association's strength in building quality content and education.
"The time was just right, and Nellie was a huge driving force. She put in the time, became an ambassador for the business of technology, joined the Channel Advisory Board, and since then, has helped guide so much of our education and content," said Hammervik.
"The councils have pinpointed areas that need to evolve in order to attract new members. Areas such as helping our legacy partners understand the changes in sales practices, selling to different personas, looking at the sales cycle from the way the customer buys. We've been able to shift these focal points and that's helping not only the legacy partners who have to sell into this new persona environment, but it's also attracting the membership that we want," said Scott.
Scott played a key role in developing several pieces of flagship council content and education, including the Personas Profiling, the Business Applications Verticals and Solutions Opportunity Matrix, an updated Channel Account Management (CAM) training, and more. "It's so important to give channel partners and their sales professionals the tools to succeed. Helping channel partners pivot from the traditional speeds and feeds selling practices to helping their customers buy is very important to me," said Scott.
A Passion for Channel Education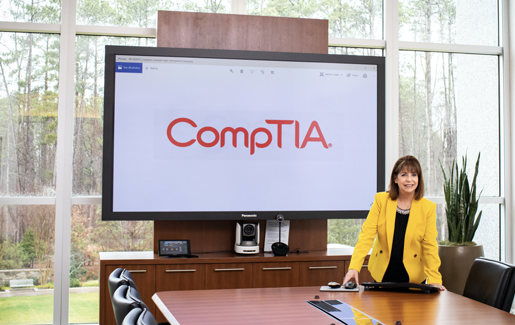 While Scott, who recently became the senior global channel development manager at SAS, has stepped down from her leadership position on the Business Applications Advisory Council, she remains active in CompTIA, lending her expertise to new educational content.
"I have a passion for channel education, and I intend to continue to contribute as long as needed," she said. Currently, Scott is working with CompTIA's Gary Bixler, vice president of global member communities, and a group of select members, to develop a channel training tailored to the needs of vendors selling emerging technology solutions. According to Bixler, Scott's enthusiasm for the work has been evident from the beginning.
"Nancy [Hammervik] and I announced the new training at a ChannelCon session in 2019. During the next break, one person immediately tracked me down and said, 'I want to be on this team.' That was Nellie. From day one, she had so much enthusiasm about what we were doing," said Bixler. Beyond passion, Scott's experience and perspective has been indispensable to CompTIA's efforts to provide education to companies selling emerging technology solutions.
"What we're seeing is more of these companies coming in wanting to get their
product to market fast. They need to expand their marketplace, and they also need to consider that at some point, you can't hire more sales reps and expect a higher ROI," said Scott.
According to Scott, working with channel partners can provide solutions for faster go-to- market times, opportunities to expand markets, and the ability to offset internal costs; however, the common misperception is that the process is simple. "The channel is an ideal environment for these solutions, but everybody thinks, 'Oh it's really easy.' Those of us who have been around understand that adding an indirect channel route has its challenges and we're happy to share lessons learned," said Scott.
Ultimately the goal, Scott says, is to help these companies maximize revenue opportunities by sharing proven success factors essential for building an independent channel in the hopes of saving vendors time and avoiding pitfalls from trial and error tactics.
"I've been in this business for so long and the channel model is such a critical route to market and a way to grow a business for vendors. It's important to sustain the channel model, as well as help emerging vendors understand the power of resellers and help them build viable channel programs that can grow their business exponentially," said Scott. "Anything we can do to help vendor partners and their sales reps drive revenue and grow their business is a passion for me."
Continuing the Membership Journey

Scott continues to advocate for CompTIA—through social media, special projects, participation in events, and as a supporter who is continually promoting the association to her global network—and she encourages others to do the same. "You've heard it said, you get as much out of something as you put into it, but especially for managers progressing in their career, CompTIA membership is an opportunity to exercise leadership skills and innovative thinking; skills they may not be able to apply in their own corporate environment," said Scott.
For Scott, being named Member of the Year represents the culmination of two decades of involvement and is recognition of the contribution she has made to the association and the industry. According to Scott, she hasn't done it alone. In addition to her CompTIA network, having a supportive employer in SAS has been critical to her being able to spend the time and effort necessary to give back to the tech community.
"I'm honored to have my work recognized by an association that I value and think so highly of. But this accomplishment isn't something I did alone. I'm thankful for the members, CompTIA staff, and the council leaders that I've worked with over the years," said Scott. "It's also important for me to recognize how supportive SAS is of CompTIA. My boss, Helen Morin, our vice president of global alliances and channels, has encouraged my commitment and without that, I would have never been able to make this work as seamlessly as it has. On both a professional and personal level, I am overwhelmed with gratitude."