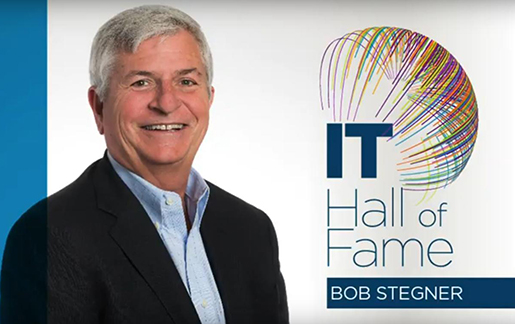 As the son of a small-business owner, Bob Stegner knows full well the trials and tribulations it takes for SMBs to be successful. In many cases, he's lived them.
"I've heard all the horror stories from my dad. One time he came home and said to my mom, 'Mary Lou, I've got good news and bad news. The good news is we made payroll this week. The bad news is we're not on it,'" Stegner said.
Those experiences stuck with him and served as a foundation of knowledge that's helped carry him through a 30-year career in the tech channel, with major stops along the way at Sarcom (now part of Insight Enterprises), Ingram Micro, and SYNNEX. Now, those three decades inspiration and perspiration have culminated in Stegner's induction into the IT Hall of Fame, an honor bestowed at ChannelCon Online.
Todd Thibodeaux, CompTIA CEO, noted that IT Hall of Fame inductees have typically been elected as pioneers, innovators or leadership. Stegner, he said, exemplifies all three traits.
"He's been a pioneer, bringing a sharp focus to the SMB market. He's been an innovator of new and creative sales and marketing strategies. And he's been a leader and a mentor to thousands of individuals and companies. Thank you Bob and congratulations on being elected to the IT Hall of Fame," Thibodeaux said in an acceptance video played during ChannelCon Online.
'Friends of Bob' Describe His Influence, Impact
Several so-called "FoBs" or Friends of Bob, including several fellow IT Hall of Fame inductees, spoke in the CahnnelCon video about Stegner's impact and influence on their careers and the IT industry.
"Bob has the ability to surround himself with successful, highly motivated people and his commitment to the reseller community for more than 30 years is a true testament to serving others," said Steve Harper, retired from Network Management Group, a Hutchinson, Kans.-based solution provider, and a 2012 IT Hall of Fame inductee along with other founding members of Ingram Micro's famed VentureTech Network. "His service to major corporations, reseller businesses, and individuals in the IT community has been greatly appreciated by all. He's a good man, a great father, a mentor to many, and a true go-giver. Bob Stegner is a true people person. I remember one time when I had major surgery back in 1999, Bob came to the Mayo Clinic here in Phoenix and sat with my wife as I came out of surgery. I've never forgotten that true act of friendship and kindness."
Stegner was well-known in solution provider communities for his commitment to SMBs, but also for his sense of humor—often taking the stage in costumes, each more garish or over-the-top than the previous one, a trait remembered by Jane Cage, semi-retired from Heartland Technology Solutions, a Joplin, Mo.-based solution provider and fellow VentureTech founder and IT Hall of Fame inductee,
"Congratulations on a career that stretched from coast to coast. And I have to say there's never been anyone in all of my IT associations that's worn a toga any better than you have," Cage said.
Ted Warner, founder and consultant at Connecting Point Greeley, and fellow VentureTech Founder/IT Hall of Fame inductee, took time to reflect on how much Stegner meant to his business—and to many more through the years.
"As I thought about your induction, I realized how many business leaders you've impacted," Warner said. "You've not only been a great friend to so many, but you've also inspired IT owners to dream big and succeed. I love how you make every meeting fun, but always with a strong business purpose."
Colleagues, Customers Line Up to Offer Praise
Former colleague Kirk Robinson, senior vice president and chief country executive, US, at Ingram Micro, noted that after Stegner left Ingram Micro for SYNNEX and started a VARnex, a new solution provider community, it raised the bar for everyone.
"I will always be grateful for you giving me a chance to come work for you. I learned so much and while myself and others took the helm at VTN, nobody could hold a candle to what you did. It will always be appreciated," Robinson said.
Stephanie Dismore, senior vice president and managing director, North America, for HP, lauded Stegner for the impact he's had in the IT channel and industry. "The industry knows that your authenticity, and the way that you approach people is certainly one of a kind. It gets the job done," she said.
Many of Stegner's most ardent customers have decades-long relationships with him, proof that partnerships are critical to long-term success. "You've been there for me through good times and bad. Congratulations on a well-deserved honor. You're joining a great group of men and women that have represented our industry well," said Mike Brogan, semi-retired from Erb's Technology Solutions and a CompTIA Lifetime Achievement Award recipient.
Frank Vitagliano, CEO of the Global Technology Distribution Council and 2017 IT Hall of Fame inductee, supported both VentureTech Network and VARnex for many years when he was at IBM and later Juniper Networks and Dell, but he couldn't resist taking a swipe at his old friend.
"As a fellow inductee, I know how I felt when it happened for me. I was thinking, 'Wow! IT Hall of Fame! [Bill] Gates. [Steve] Jobs. Vint Cerf, the inventor of the Internet. All of these famous people—and now me.' And all I could think of was, 'Gee, they really lowered the bar.' In your case, you must be thinking the same thing Bob. But in reality, they haven't lowered the bar. They've completely and totally eliminated the bar. There is no bar. You've blown up the bar. Just kidding, you deserve it."
Peter Larocque, president of North America Technology Solutions, at SYNNEX and Stenger's current boss said no one is more deserving of IT Hall of Fame induction. "Your hard work, loyalty, commitment to our customers, suppliers, associates, is second to none. All your friends at SYNNEX are proud of you," he said.
Kevin Murai, chairman and former CEO at SYNNEX, summed up Stegner's reputation best. "Bob knows everybody in the channel, and everybody knows Bob. He's definitely been an icon in the channel. I'm glad that Bob was part of my team," Murai said. "He's a good husband to Sue and he's raised three terrific children in Caroline, Andy and Matt."
Finally, Stegner said if he's learned anything about SMBs and business through the years, it's that people like to deal with people. In the middle of a pandemic, that's a little hard. But SMBs being SMBs, they've found a way to adapt.
"They've had to reinvent, basically rebuilding their businesses trying to support not only their staff but their end users. They've had to learn new technologies so that people could work from home. They not only figure out how to keep the staff but also to continue to support their customers," Stegner said during his acceptance speech. "Which brings me to my passion for SMBs. They're entrepreneurs at heart. They focus on customers and go above and beyond for them. They stay focused in good times and bad. So, for all the SMB resellers that I've met out there over the past 30 years, I accept this award in your honor. Thank you."
CompTIA BizTech Podcast:
One-on-One with Bob Stegner, IT Hall of Fame Inductee