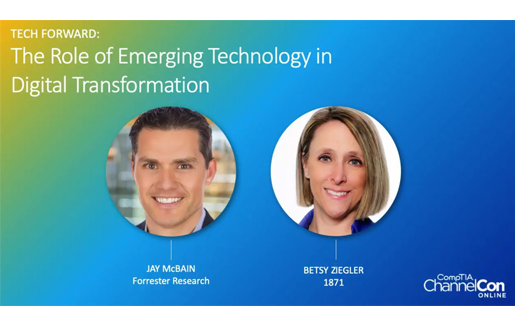 CIOs are often tasked with determining how emerging technologies will make an impact on business, but the way IT leaders are thinking about integrating new technology solutions has evolved.

"At CompTIA, we've really looked at how the job of the CIO or the role of IT in general has split from being mostly tactical and mostly supporting business objectives into being more strategic—there's a much larger strategic component now," said Seth Robinson, senior director, technology analysis at CompTIA, who moderated the panel discussion, The Role of Emerging Technology in Digital Transformation during ChannelCon Online.
Panelists Jay McBain, principal analyst at Forrester Research, and Betsy Ziegler, CEO of 1871, joined Robinson to discuss how emerging technologies fit into strategic IT decisions and how COVID-19 has accelerated digital transformation for companies around the world.
Emerging Tech and the Shift to Strategic IT
As a high-level concept, emerging technology is often discussed as a catch-all term for advances that have the potential to drive innovation or disrupt industries. But CIOs and tech leaders now see emerging technology as a part of the evolving and interwoven IT ecosystem.
"[Emerging technology is] another thing that CIOs need to understand and think about. How does it actually fit in and how do they educate their organization on what it's for and what problems it could help solve?" said Ziegler. "The CIOs I talk to are constantly bombarded by members of their peer group about the things that seem like the shiny thing that could dramatically change the shape of their business."
Before implementing new technology, a business must determine what problem they are solving for—a task that requires all leaders at the table. The CIO often needs to educate as well as provide governance for technology solutions across an organization, even if they are implemented outside of the IT department.
"How do you balance the pain points an organization currently has and what technology can actually help solve that pain point? What capabilities do you have to put these things into place, and how do you create vocabularies and narratives so everyone on the leadership team actually knows what people are talking about?" said Ziegler.
CIOs must guide their organizations away from the belief that implementing any single new technology will provide a total business solution.
"For the past 40 years, emerging technology has really been looked at from the SKU level. I'm going to buy this piece of technology and then I'm going to build a strategy, build something around it. Well, today it's embedded," said McBain.
The average solution, according to McBain, could include multiple layers of technologies working together. The recent CompTIA whitepaper, The Role of Emerging Technology in Digital Transformation, describes this approach, a concept Robinson calls "Artisan IT."
"The basic computing platform has been growing over time and now we've gotten that platform to the point where you can access computing from anywhere all the time. That platform maybe isn't going to keep growing—what's going to grow is the solutions that you put on top. Emerging technologies are part of those solutions… not the solution themselves." said Robinson.
The Increasing Speed of Digital Transformation
For many companies, the COVID-19 pandemic has changed the pace at which technology is being implemented—from the move away from on-premise infrastructure to the cloud to the increase in conversations around implementing technologies that can help businesses evolve.
McBain cited survey results that showed 76% of CEOs and board members believe their current business model will be unrecognizable in 5 years.
"We've talked a lot about disruption in the past, but every company in every industry is facing an end of company or end of industry challenge. This has everyone talking about emerging technology," added McBain.
The CIO has to shepherd these conversations and build bridges between the senior executive team, vendors, and IT pros in the organization. While this dynamic was certainly at play prior to the pandemic, the pace of change has dramatically increased.
"We've gotten more done in the digitization that's gone on in last four months that would have taken years to do had it not been for COVID" said Ziegler. "The mission or the 'why' a company exists might still hold true, but what they are expected to do and how they are expected to deliver has shifted… It's unprecedented—both the amount of change and speed by which we're going through it."
McBain agreed. "In some of these emerging technologies, we had 3-5 year apertures set up. Now we're talking about 18 months to 2 years."
According to McBain, the number one opportunity as we enter a new phase of the pandemic is around automation and AI that can provide new workflows and processes. Cloud, security and technologies that can impact the customer or employee experience are also bright spots for companies. "All of what was the underpinning of transformation and accelerating this as not only a survival tactic during COVID, but really thriving and coming out of this stronger for organizations," said McBain.
The Impact of Emerging Technology on IT Skills
The proliferation of emerging technologies has given rise to questions about how IT positions. New technologies mean new skills, which has led many people to assume there will be an increase in new, hyper-specialized technology positions. But that hasn't been the case, according to Robinson.
"We see all these new job titles cropping up and people talk about which job titles are going to be the fastest growing," said Robinson. "When we've backed up and looked at the picture in aggregate, a lot of those job titles tend to boil down into a certain number of job roles."
These job roles aren't dramatically changing as much as they are evolving to include new skills alongside more traditional, well-defined ones. But regardless of job roles staying largely the same, hiring qualified IT pros is still a challenge.
"Before COVID, I would have said that reskilling is going to be the management challenge of this decade, with 80 million to 100 million people needing to be reskilled over the next couple of years," said Ziegler. "There's also a need for assessment. How do I as an individual understand what my skills actually are? How do those ladder up relative to where there's opportunity? And where do I go to augment my skills?"
Companies don't always know how IT skills need to evolve or how to get their employees trained, and CompTIA is working to close that gap and provide learning opportunities for IT pros and those working in the business of technology.
"We're trying to close a lot of those gaps. This is going to be a very difficult space over the next few years for people to define themselves, to be found and to figure out how to add value," said Robinson.