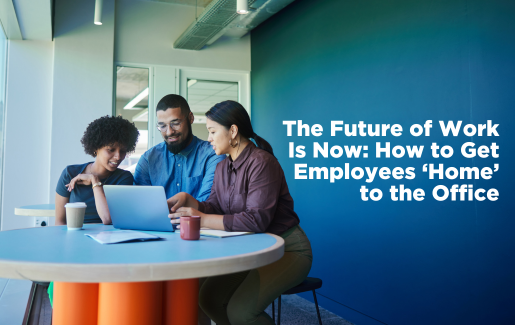 What is "the new normal" when it comes to post-pandemic work locations in the corporate world?
During the course of the pandemic, many employers utilized hybrid or full work-from-home environments. Post pandemic, some companies have leveraged low occupancy levels and benefited from savings of a reduced real estate footprint, to become a virtual-first company. Employees were and continue to be productive working remotely and the companies who decided to reduce their physical footprint have found ways to ensure that collaboration can occur virtually.
Another subset of companies has decided to ask employees to work in the office one to four days per week. Typically, corporations either ask employees to declare their intentions of fully remote, minimum days per week or full time back in the office. Based on feedback, employees may or may not be assigned a permanent workspace or may have to work at a touch-down spot. Some employers are also asking managers to decide when their team should be working in the office for face-to-face collaboration.
Welcoming Employees Back to the Office With Incentives
There are several corporations who have mandated return-to-office policies for full-time employees, according to Business Insider, while others require at least a part time schedule in the office. How do companies, who have not mandated return-to-office policies, earn the commute for their employees?
Based on a Forbes article from April 2023 and an Envoy survey of 800 company leaders, 88% of companies plan to use incentives to bring employees back to the office. Those incentives could include a wide range of benefits to help employees feel more at home in the office, per a TeamBuilding article.
Some options include:
Childcare benefits
Commuter benefits
Professional development
Pet stipends
Free meals
Fun pop-ups and events
Workspace revamp and new technology
This is playing out in real life. In my global sales role, we have at least one large customer focused on a workspace revamp as well as investing in new technology at their campus. When corporate employees had to work from home, the company provided stipends and employees paid to set up their home offices with large monitors, video cameras, ring lights, headsets, docking stations and home printers (in lieu of going to the office or a local FedEx/Business Depot store). Post-pandemic, my customer updated and upgraded their offices to entice people to come back. Kitchens with free coffee, tea, water and snacks, sports viewing parties on three-story outdoor theater screens and social gatherings with free food are now the norm.
They also invested in technology throughout the campus as well as at the desk and in meeting rooms. Each desk now has a large monitor for employees to use. Laptops have cameras. Meeting rooms leverage technology to ensure there is equity between the users at home and those in the meeting rooms. High-definition cameras with built-in sound bars and the ability to join meetings with a single touch reduces complexity and improves ease of use.
With local employees back at the office at least a few days per week, an additional "health day" one Friday per month is helping transition employees back to the workplace. When I'm onsite Tuesday through Thursday, the office is close to capacity.
Connecting With Every Employee
But the new normal for the vast majority of companies is hybrid work – a combination of at-home and in-office employees. What is the benefit of this hybrid model for leadership? Leaders must balance the in-person collaboration of their teams as well as remote workers and still gain productivity from the team to meet business outcomes.
My company uses the term "management by walking around." This is a great pre-pandemic idea and our leaders have adjusted it for the hybrid world. A few items that helps include remote or hybrid workers is booking regular touchpoint meetings to check in with employees, joining calls to support outcomes or processes, connecting locally for coffee or attending a customer-facing meeting. These are all ways to ensure that leaders remain connected to their teams.
Though some companies are starting to reduce remote new hires, hybrid work has certainly improved the notion that talent can be anywhere—not just a commuting distance from the office. Welcome to the new normal. Embrace it. It's here to stay.
Cynthia Mooney is global sales account manager at HP Inc. and a member of the CompTIA North America Community's executive council.