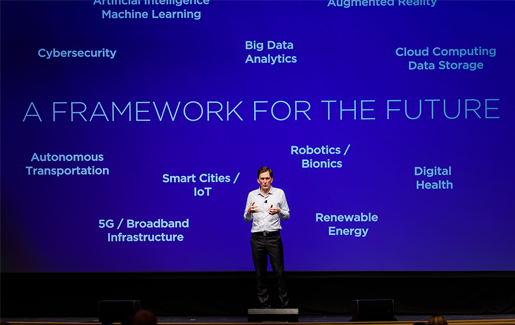 We live in an unprecedented time when machine learning, artificial intelligence, robotics, big data analytics and 5G broadband are hitting us all at once, said Todd Thibodeaux, CompTIA president and CEO, during his ChannelCon State of the Industry keynote Tuesday. "Never before have we had this many paradigm changing technologies hitting the industry at the same time," he said, predicting that hardware will eat up the focus of IT in the next 10 years.
"The tech jobs of the future are going to be in those areas," Thibodeaux said. "We're going to need millions of people out there maintaining this technical infrastructure."
As the military develops robots for on-the-ground conflict, cities invest in smart technologies and digital health transforms the way rural individuals see the doctor, CompTIA is laying out a framework that normalizes these technologies for people. The Future of Tech is a new portal by CompTIA that offers a full perspective on these different areas, whether it's cybersecurity, big data or artificial intelligence. It will include free education and information in videos, interactive material and quizzes—content that's really easy to absorb.
"The idea is you could point anybody to this and they could have a good conversational knowledge of these technologies," Thibodeaux said.
The framework underpins five pillars of CompTIA: Lobbying, education and workforce, certification and training, addressing the fears within the industry and ensuring people understand the power of the IT channel.
Big 3 New Technologies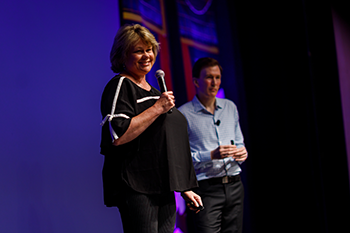 Thibodeaux and Nancy Hammervik, CompTIA's executive vice president of industry relations, brought three CompTIA members out to highlight three of those technologies: big data, artificial intelligence and IoT, predicted to be an $11 trillion market by 2025.
"Actually, we call it I-O-U-T," said Syber Networks' Rory Jackson, one of ChannelCon's first ChannelChangers and a longtime CompTIA member. "The internet of unsecure things."
Jackson said MSPs already have the skills to eliminate the threats of insecurity—they just need to learn new tools or develop a game plan to make it IoT specific. "A lot of us in the room who are MSPs, we're not thinking of it because we don't want to touch it. But we as MSPs need to deliver a solution for it, because if we're not delivering a solution then someone else will," he said.
MSPs should first develop a strategy to assess a client's IoT setup, research those devices and see where the security issues lie. "Most devices out there aren't made by security companies," he said. "We need to come in and make it secure."
To talk about big data, Thibodeaux and Hammervik invited Nellie Scott of SAS to the stage. Data collection is nothing new, she said, but now companies are starting to realize the power it contains. "We've all been collecting data for ever, but the transformation is what do you do with it?" she said.
Her advice to the audience: "Partner with people who are going to invest in you and your business in some fashion, and select solutions that are very closely aligned with what you do best."
Outside of company metrics and making goals, data can also be used to solve big problems. "It's also about doing good in the community and the world," Scott said, describing a proactive program in California used to determine what children are at higher risk so they can be removed from their environment before something happens—not after.
MSPs can use big data to stay relevant to their customers, by showing them how to use the data, bringing value to customers with analytics and insights. "The answers they're looking for are right there in their data," Scott said. You can also use big data to help yourself, especially if you're in the market for incremental revenue.
"We're leaving revenue on the table," she said. "Find the people who can enter these spaces at a low cost, and the vendors and partners who will help you invest in your business."
Partners are essential in artificial intelligence work, too, said SOCsoter Inc.'s Eric Pinto. "In some industries for an MSP to even have access to security data would be almost impossible," he said. "It requires a partnership."
How do you find vendors who can help you get started in AI? First, he said, find out the problems you're looking to solve. Then look at programs and partners to help you build solutions. The biggest concern in AI is getting good data, he said, and making sure enough time is spent putting the right data into the system. "In the end, it comes down to data," he said. "Bad data in, bad data out."
Combining artificial intelligence with a human touch is the best way to develop a unique solution. "You've got to be willing to listen, to learn, and be willing to adapt," Pinto said. And when it comes to AI and security, remember: the bad guys are using AI too, so it's a technology worth looking into.
Coming from CompTIA

Hammervik used her part of the keynote to illustrate the five things CompTIA is focused on currently:
Doubling down on new communities, advisory councils and business technology groups
Tools and resources
A use case library
Industry standards and best practices
Building the 21st century workforce and filling the pipeline
"We're looking to expand the channel and the ecosystem we're serving," Hammervik said.

Want more ChannelCon 2019? Check out our coverage of daily highlights, educational tracks and general sessions.