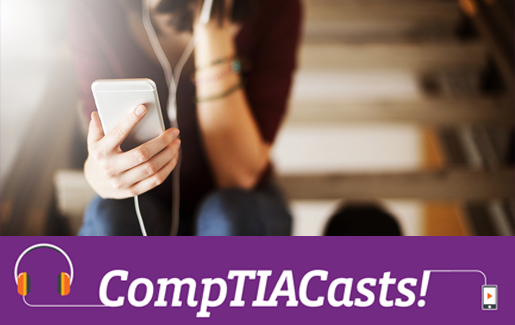 This month, CompTIA podcasts covered a range of topics with member-experts and CompTIA staff providing insight into today's most talked about tech topics—from how workplaces can make major (and necessary) cultural changes to how the pandemic has changed the trajectory of technology, as well as IT careers and a chat with Bob Stegner, the newest inductee into the IT Hall of Fame. Take a look at what we overheard on CompTIACasts in August then check out all of our podcasts, subscribe and start listening today.

Trajectory of Technology: Integration
CompTIA research analysts Carolyn April and Seth Robinson kicked off the first in a three-part series dedicated to the trajectory of technology and how the pandemic has accelerated technology adoption and changed priorities for businesses. This first episode focused on integration. You can also read more about the trajectory of technology in a recent blog post.
"The way that companies are approaching [integration] and the importance that they're placing on it is what's changed because companies are procuring all of these different tools—different pieces of technology, obviously, with cloud systems. That's opening the doors to even more tools and systems that they are procuring so they've got all of these pieces and they need to work together, and they've always needed to work together, but I think that need is what's changed here. I think it's critically important to companies to make sure that it's working together in the most efficient way possible, not just kind of having 'proof of concept' that these pieces are connected."
Seth Robinson, Senior Director, Technology Analysis, CompTIA
Making a Culture Shift in Your Organization

The world is in the midst of a cultural shift—affecting everything from our personal lives to our hiring practices. Leaders must listen and adapt behaviors and processes in pursuit of great service to others. In part one of a four-episode series dedicated to dissecting culture shifts, guests Rachel McGuiness, chief vitality officer, Wake Up with Zest; Susanne Tedrick, cloud engineer, IBM; Karl Palachuk, owner, Small Business Thinker; and Jill Chapman, sr. performance consultant, Insperity, join Yvette Steele, director of the Advancing Tech Talent and Diversity Community at CompTIA, to discuss growing the talent pipeline with more remote employees and accessing a diverse pool of workers.
"Everybody has to be involved in this shift. Everybody from the leaders on down, but I also want to communicate that it can't be a mandated shift from the leadership. It's got to be felt in the hearts and in the minds of those people who are doing the work. Right? This has got to be a collective change towards the future."
Jill Chapman, Senior Performance Consultant, Insperity
Talking IT Career Pathways with a First-Generation Technologist

Later in the month, Volley tackled the topic of the various pathways to finding a successful career in the IT industry. CompTIA research analysts Carolyn April and Seth Robinson are joined by Juan Fernandez, vice president of managed IT services at ImageNet Consulting, who details his own IT journey and how certifications are playing a more critical role for candidates seeking technology jobs. The group also discuss the continued acceleration of corporate digital transformation efforts and how businesses are planning on more cloud solutions, integration, and automation.
"I thought to myself maybe you aren't good at technology, maybe you shouldn't be here. Maybe you should go back to what you're doing. None of your family does this. I was a first-generation technologist, and I didn't realize that at the time. What a shift that was going to make for my entire family and all of the people behind me."
Juan Fernandez, Vice President of Managed IT Services, ImageNet Consulting
Biz Tech Podcast Welcomes Hall of Famer Bob Stegner
Bob Stegner, senior vice president of marketing, North America, at SYNNEX, is the newest inductee into the IT Hall of Fame. A passionate advocate and champion of the tech industry and channel for three decades, Stegner recently spoke with CompTIA's Scott Campbell about the challenges and rewards of the SMB market, how the business has changed, and what it takes to be successful today.
"I was brought up as the son of an SMB. My dad started in the tire business. You go to buy groceries and you look at how much cash is in the coffee cup you brought home with you. That got instilled on me—the ups and downs. What's always made me feel good is watching some of the really small ones grow and get bigger. And I've always looked at them exactly the same.
"A customer came up to me and was almost crying. He said, 'We're from Kenner, Louisiana, and I don't think we can do those numbers that you need.' So I said 'Are you the biggest, baddest guy in Kenner, Louisiana?' He said, 'Yes, we are.' I said well then you're a part of this group forever. As he walked away, another customer walked up and said you treated that guy the same as you do me, and I do $300 million with you. And so I always think of that guy in Kenner, Louisiana, because these are the guys that need attention and help."
Bob Stegner, SVP of Marketing, North America, SYNNEX