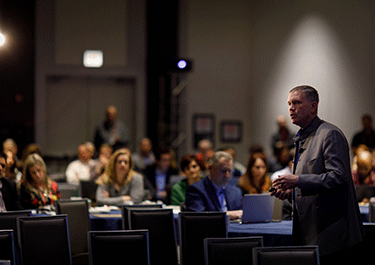 This article originally appeared in CompTIAWorld magazine's fourth issue. Click here to view the full issue.
CompTIA unveiled its new CompTIA Community Forum in Chicago this spring, executing an expansive, fast-paced working meeting that accomplished direct industry impact via its opportunities to share ideas – and proved to be a hotbed of networking. No one at CCF was mincing words – we were looking at tech from all angles and not afraid to be critical. Read on to get nine takeaways that will get you thinking:
9. If we're resourceful, diversity in tech should be easy.
CCF presented six Joint Communities Focus sessions, and one featured a talk from Ulysses Smith, head of diversity and inclusion at Mixpanel. Smith made the case that accomplishing diversity in a workforce, something many tech companies struggle with, doesn't need to take time. It's more about being appropriately resourceful. "There are many talented, diverse people out there," he said. "You just have to look in the right place."
The CompTIA Advancing Diversity in Technology Community meeting echoed this point, with attendees breaking into brainstorming sessions and then reporting out that key to building diversity in tech is getting to kids early, as early as middle school, as well as getting them into paid internships. The community pointed to tools like social media, established e-mail and phone scripts and content that reaches a range of audiences – school counsellors, principals, churches, etc. – as key tools to reaching youth.
8. Considering our strengths makes us stronger.
In another Joint Communities Focus session on Meaningful Life, Meaningful Work, Heather Kay, director of talent management with Sungard Availability Services, presented some eye-opening statistics, reporting that people who utilize their strengths are three times more likely to report excellent quality of life and six times more likely to be engaged in their jobs.
In the CompTIA Advancing Women in Technology Community meeting, Kay spoke with two women who have ranked their strengths; Rayanne Buchianico, who owns and operates ABC Solutions, and Amy Babinchak, owner of Harbor Computer Services. Both shared what they'd learned about themselves in the process. "My brain is always somewhere off in the future," Babinchak said. "I have this insatiable desire to learn new things." Buchianico said, "I feel the most connected to the strategic. I'm very methodical. I like connecting the dots."
7. Cloud may be getting too big.
In the CompTIA Managed Services and Cloud Community meeting, Jason Bystrak, vice president of worldwide channels and distribution for eFolder, led a panel discussion including Vince Tinnirello, CEO of Anchor Network Solutions, and Corey Kirkendoll, president and CEO of 5K Technical Services.
Tinnirello admitted cloud offerings are getting overstuffed. "Every cloud vendor wants us to sell one more thing and pack it in there," he said. "It gets to where your offering is stupid high."
Building off this, Kirkendoll said, "It's all about stickiness – what you put in your bundle that allows you to be sticky."
6. The Internet of Things is really about people.
Another Joint Communities Focus session at CCF looked at New Realities in the Emerging Tech Ecosystem via a panel discussion moderated by Michael Haines, program manager at Microsoft, which included Meredith Caram, assistant vice president at AT&T, Joe Hodges, president at Americlaim Solutions, and Tony Francisco with CloudPlus.
Haines asked the panel what the impact of 5G will be. "I expect it will help customers connect to more devices faster," said Caram, who added it will help people conserve battery life and process more data.
This should help the Internet of Things mature. "When I think of the Internet of Things I think of the Internet of me," Hodges said. "We have to base IoT on where the customer is."
5. The current perspective on security has gotten dystopic.
In the CompTIA IT Security Community meeting, attendees broke into groups to debate the current state of security, then reported out their conclusions at the end of the meeting. Their remarks were unflinching. One attendee said, "There's too much content out there; too many vendors putting out bulletins." He concluded that security vendors need to talk to each other more to communicate a uniform message to consumers.
Another said, "We are at a point today where we see through a lens of a dystopian future," stating that people have concluded data breaches are going to happen no matter what you do, so are giving up on security. He pointed out how strange it'd be to act like this in real life. "At home we still lock our doors and get mad if we leave the garage door open."
4. A CompTIA member is also a Wolverine impersonator.
In a break and transition before community meetings, West McDonald, VP of business development at PrintAudit, enticed attendees to come to the CompTIA Technology Lifecycle Services Community meeting by promising that at it he'd explain why he'd grown long, mutton-chop sideburns. In the meeting, he shared that every year he grows these – much to his wife's chagrin – because in the summers he goes on the comic-book convention circuit in Canada as Wolverine, the famous character from the X-Men comic book and movie franchise. McDonald did look quite a bit like him.
3. Tech's not getting a free pass anymore.
In yet another Joint Communities Focus session, Industry Outlook 2018 and Beyond, CompTIA VP Jim Hamilton moderated a panel discussion with Carolyn April, Tim Herbert and Seth Robinson from CompTIA's research department, who presented and interpreted findings from CompTIA's 2018 Industry Outlook report. Hamilton observed that this is a good time to be in tech. The panel agreed but added that we have to also acknowledge that tech may no longer be given the benefit of the doubt.
April expounded on this. "We're not without scrutiny in tech anymore," she said. "We're now mainstream. The tech industry is no longer the renegade new kid on block and with that comes scrutiny."
2. Excel can make sense of emerging tech.
In the first ever meeting of CompTIA's new Emerging Technology Community, attendees at eight tables were asked to collaborate to rank 10 different types of new and emerging tech – 3-D printing, 5G, AI/machine learning, AR/VR, automation, biometrics, blockchain, drones, IoT and quantum computing – then report out on this at the end of the meeting. All the tables' rankings differed.
During the Day One Community Meeting Report Outs, Jay McBain, principal analyst, global channels, Forrester, presented the room with the rankings of the entire meeting combined, joking that it was funny to use something as basic as Excel to tabulate thoughts on such advanced technology. The combined ranking was as follows: 10. Quantum computing. 9. Blockchain. 8. Biometrics. 7. Drones. 6. 3-D printing. 5. 5G. 4. AR/VR 3. AI/machine learning. 2. Automation. 1. IoT.
1. We don't have enough tech to really love our kids – yet.
CCF began with a talk from Scott Klososky, founder of Future Point of View (FPOV) and author of the book Did God Create the Internet? Klososky is an unabashed technologist – he boasted of having been one since he was 18-years-old – and definitely demonstrated this in the course of his hour-long presentation.
"This will be the 50 years where humanity integrates with technology," Klososky asserted. "Our current lives will seem primitive." As his talk moved through topics like Web 1.0 through 4.0, IoT, cloud, social media, smart cities, AI and cybercrime, Klososky increasingly interacted with and even challenged the audience. He introduced the concept of parents potentially using wearables to monitor everything about their children – their location, medical condition, etc. – in real time, and, with this eventuality on the table, interacted with a mother in the audience who'd travelled to Chicago from the UK to attend CCF.
He said, "In the future, a mom would say, 'You don't love your children. You would go a country away and have no idea what's going on with your children?'"
Klososky brought up the widely publicized accident in which a self-driving Uber killed a woman walking in Arizona, which happened the day before CCF began, and insisted this won't slow down the development of self-driving cars. "This will be gone in three days," he said.
But was it? Mere days after the accident, Nissan announced it had no plans to stop road-testing self-driving cars. But in late May, a report by the National Transportation Safety Board stated that the vehicle involved in the fatal accident detected the pedestrian six seconds before the crash and did not slow or stop because its emergency braking systems were deliberately disabled. This led to debate in the media as to why, if such systems exist, they'd ever be turned off.
Regardless, as Klososky told it, we've gone from the Industrial Age through the Information Age and are now the Age of Entanglement as humanity and technology merge – a phenomenon FPOV calls "humalogy." But with this, Klososky admitted, comes a dilemma. Well into his remarks, he finally said we have to ask ourselves, "Is this going to be a good thing or a bad thing for humanity?"