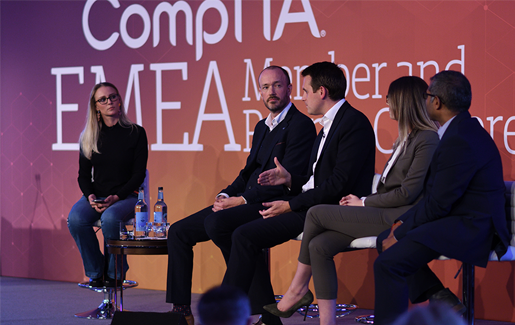 At this year's EMEA Member and Partner Conference, a fascinating discussion took place focused on what CompTIA members at the vanguard of the tech industry had learned over the course of the last 12 months.
Moderated by Faye Pressly, COO at
Vanti
, the panel included those from a variety of backgrounds, namely Dan Scott, quality and project manager at
Complete IT
; Abbie Lee Hollister, marketing director at
Zedsphere
; Shane Burchett, channel development manager at
Canon
; and Amit Dattani, director of technology at
Conosco
. The panelists shared numerous nuggets of wisdom with attendees but there were a few key themes that ran through the discussion.
Perfectionism Can Stifle Success
One of these themes focused heavily on the sentiment that being a perfectionist can often inhibit success rather than breed it. Abbie Lee Hollister touched on the pain points of marketing for MSPs and why, in many cases, companies in the industry struggle. She noted that often teams make excuses for not pursuing marketing, because they "try to change the world." Her advice was to try one thing at a time, and do it well, and you will see "real progress."
Also building on that theme, Amit Dattani noted that he has learned people spend an eternity trying to craft the perfect response—including jargon that is expected to be used—but actually talking to people in a humanized way, in a language they understand, can offer many more benefits.
Recognize Your Place in the Market
Also central to the discussion was the need for a business to recognize its place in the market and the steps it needs to take to be elevated to that next level. This manifested itself in a number of ways, with Burchett noting that a key learning for him was to "avoid being arrogant about your brand and its capabilities." He continued to say that companies should embrace partnerships and recognize their value and how it can help your company where it's less strong.
Alternatively, Dan Scott talked about a need for real reflection when hiring new members. He noted the need to assess the skills dynamic within your team and what value could be added. He continued to say that "a new skill coming to the business can often be infectious... spreading right throughout the team" and even help with your own workload, referencing the point that when you train and educate the people in the organization, they can problem solve without having to come to you—saving you time.
Maximize Your Day... Even the Unplanned Elements
Something that all were agreed on was the tendency that business owners often take on everything themselves leaving them time poor. Scott said as a general principle businesses do "need to recognize where they need help and to avoid taking on everything themselves;" however, he also offered his own personal trick based on the philosophy outlined in the book Time Management Magic: How to Get More Done Everyday, noting that "most people are not overworked, they are under-organized." To manage means to control. So 'time management' is about how you control your time, and no one can truly control your time but you.