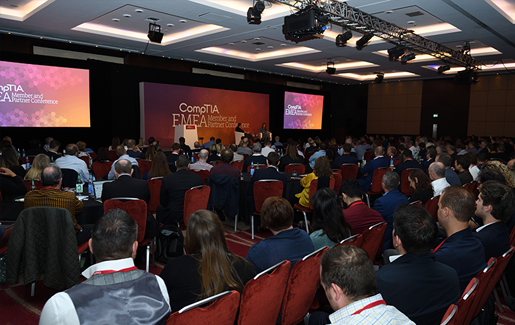 More than 500 attendees joined CompTIA at the EMEA Member and Partner Conference in London for two jam-packed days of learning about the latest trends in technology, gaining valuable business insights and networking with industry peers and executives. Check out some of the highlights of the conference and the key takeaways we learned along the way.
Emerging Tech Cybersecurity Smackdown
Moderated by Dr. James Stanger, chief technology evangelist at CompTIA, the Emerging Tech Cybersecurity Smackdown: Perspectives from the Field session at EMEA explored what cybersecurity means in today's climate. With businesses rapidly innovating with AI and IoT, new technologies are presenting new security risks. A prime example explored was IoT—connected devices are becoming ubiquitous, but they are not secure by design, rather they are produced with open data policies as default.
With this proliferation of new technologies and new risks, the panel argued that a cybersecurity expert has to be able to adapt to new and evolving situations while enabling a business to innovate securely. It's also important that they play a role in educating the wider company around the basic security protocols while they develop more in-depth strategies—having the basics in hand is fundamental to ensuring secure innovation.
UK Tech Towns Revealed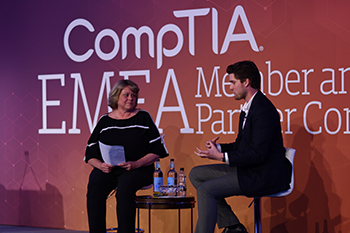 During the first day of EMEA, CompTIA released the first-ever UK Tech Towns Index. The study found the top 10 cities in the UK for IT jobs, based on job opportunities, average salaries and cost of living, and found that Manchester, Bristol and Leeds are the top places to work. Read more about the report.

With plenty of opportunity for IT pros across the UK, the session How to Recruit IT Pros to Your City and Your Business focused on providing tips for businesses to attract and retain talent. Felix Ekman, head of marketing, Harmony Business Systems, sat down with Nancy Hammervik, executive vice president of industry relations at CompTIA, to talk about how businesses need to give employees the flexibility to grow and develop in their working environment. Within this, he includes avoiding micromanaging, offering attractive remote working opportunities, and ensuring there are ample training opportunities.
The Rise of AI and the Need for MSPs
Mauro Arruda, CEO and co-founder of Smartia, explored the use of AI in manufacturing and why it's important for MSPs and AI companies to work together to bolster the opportunities in the industry. The IoT market is worth $1.2 trillion globally, while the UK government is investing over £1 billion a year on AI. Because of this, we are seeing a proliferation of AI startups, all looking to carve a niche in the market. However, the challenge sits with customer understanding and the skills to implement AI as a service. This, Arruda argued, is where MSPs come in—working with AI companies to build infrastructure and customer service skills, develop a robust channel and ultimately help all involved leverage the opportunity.
Channel Opportunities in Emerging Tech
Steven Capper, CIO, Royal BAM Group, closed out the first day of EMEA with a keynote on emerging technology in the construction industry and ways the channel can leverage this opportunity.
He discussed how everything from AI to drones to AR/VR are being used in the construction industry to improve health and safety, efficiency and cost. For example, BAM Group is working with airports to improve predictive analytics and make operations more efficient. Additionally, BAM is seeing benefits with drones to do everything from mapping a construction site to creating thermal images of power lines to determine where there are maintenance issues. According to Capper, we are only just scratching the surface in terms of possibilities with this technology.
Capper finished by articulating the opportunities this innovation in the construction industry presents to the channel. By working together, he says both MSPs and construction companies have the chance to take advantage of innovation and be part of world-first industry changes.
The State of the IT Industry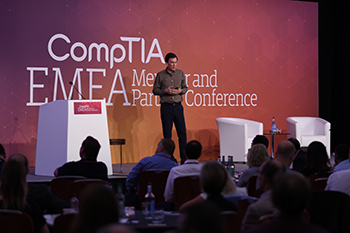 CompTIA president and CEO, Todd Thibodeaux, opened day two of EMEA with a presentation on the state of the IT industry and how CompTIA will be innovating over the next year to keep up with this pace of change.
Key to his presentation was the idea of innovating certifications and creating better online testing capabilities. With more and more people looking to certifications to help qualify them for a career in IT, CompTIA is investing in technologies that make it easier to take exams no matter where someone lives. In addition to this, Thibodeaux spoke of expanding CompTIA membership to include regional communities all over the world.
Thibodeaux finished by promising we would hear more on these exciting updates in months to come—so watch this space.
Baroness Karren Brady and the Secrets to Her Success
Leading UK businesswoman, Baroness Karren Brady of Knightsbridge CBE, shared her experience running football clubs, including turning Birmingham City around and selling the club for £82,000,000 and helping West Ham secure the Olympic Park as their new grounds. Baroness Brady then boiled the secrets of success down to six key qualities: leadership, ambition, determination, attitude, direction and positivity.
During a Q&A with CompTIA's Executive Vice President of Global Certification John McGlinchy, Baroness Brady also discussed the importance of apprenticeships, saying the ability to learn and work at same time is extremely valuable to developing the next generation of business professionals. However, she does warn that the misconceptions around apprenticeships will continue to make it difficult to promote them as an alternative career path—something that needs to be addressed quickly.
Read about Baroness Brady's keynote.
Mapping Technology Buyer's Journey
The buyer's journey for technology purchases is rapidly evolving and can be both complex and confusing. However, developing an understanding of it is critical for business growth according to CompTIA Channel Advisory Board members who hosted of a buyer's journey breakout session.
The session was hosted by Angus Robertson, CRO of Axcient; Ryan Walsh, chief channel officer at Pax8; and Tracy Pound, managing director of Maximity, who provided contrasting perspectives on the market.
Last year, executives on CompTIA's Industry Advisory Councils mapped out the tech buyer's journey, and this year they refined this concept with more detail about each step, including what's changed from traditional roles and how each member of the IT supply chain (vendor, distributor and solution provider) can add value to the equation and maximize success.
Pound looked at it from the perspective of a buyer and noted the need to speak to customers in a language they understand, but also said that when choosing an MSP buyers needed to be confident that it could scale as the buyer scales. Ensuring processes are automated is a key sign that this is possible. Robertson explored the concept of customer acquisition cost, which can provide a company with a good sense of whether it is spending a proportionate amount on marketing. Walsh talked about the need for businesses to carve out a niche, rather than make a lot of bold claims that can't be backed up.
Finally, Kudos to our Recruitment Challenge Winners!
First Place: Canon UK and Ireland
Second Place: CyberScore
Third Place: Network Group
Stay Connected: Join the UK Channel Community to connect with leaders in IT delivery services in the UK, engage in a UK-specific discussions, and promote relevant guidance and actionable resources for UK-based IT firms.