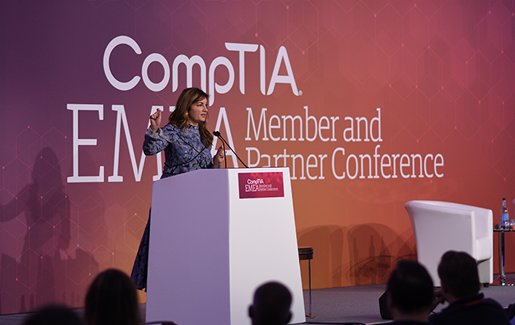 One of Britain's most influential business women, Baroness Karren Brady, opened day two of the EMEA conference in London, revealing some of the secrets to her success, including how she has led West Ham United to record revenues and attendances in their new home at the Olympic Stadium.
To kick off her keynote, Baroness Brady told the story of how she came to be MD of Birmingham City football club. In 1993, she saw an advert in the paper for a club for sale, went to her boss at the time and pitched the idea of buying. That was a Friday afternoon and by Monday, she was in a press conference announcing her new position to the press. During this press conference, she says the press made remarks about her being a woman and her lack of qualifications, but with clear goals for the club in mind, she convinced them she had the drive and determination needed to succeed.
Success Lies in Culture
After seeing the state the club was in, Baroness Brady realized: "No one at the club had any drive to run it like a business." Her first job was to transform everything from the way the finance department paid wages to how relationships were being built with suppliers. However, doing this would shake up the way the club had been run and had the potential to ruffle many feathers.
"To have a successful business, you have to build a brand that people trust, believe in and want to work with and for," she remarked.
To tackle this, she focused on building a culture that centered around better communication and ensuring employees knew their role in the business journey. Key to transforming the club was the fact that her changes were implemented with overall goals in mind and each new process was articulated as a step to achieving these.
Six Ingredients to Success
Along the way, Baroness Brady has realized that there are many things that make a good businessperson, but has boiled these down to six key ingredients:
Leadership – Not to be confused with management, leadership means developing a vision and persuading employees to help you deliver that vision. Key to leadership is also recognizing challenges and looking for the opportunities within the challenge rather than being defeated or scared by them.
Ambition – No one ever started a business without ambition and Baroness Brady learnt everything about it from the best—Lord Sugar. She commented on how he is always the first person in and last one to leave because he driven by his ambition.
Determination – This has been key to her own success. The ability to pick yourself up when you get knocked down can keep you going when you feel defeated.
Attitude – Her question to sum up attitude toward business decisions is, "If I make this decision what's the worst thing that could happen?" In understanding the risks and rewards, you can have an attitude fuelled by determination.
Direction – For this, Baroness Brady offered a personal anecdote about how she helps drive her own staff. She tells all new employees, "Where you start in this company, you can't help, but where you end up here is up to you." Understanding the direction you want to go in your career will help you meet goals.
Positivity – It's impossible to run a successful business without positivity, as this fuels the ambition and determination needed to keep you going.
Brexit, Diversity and the IT industry
In a Q&A with John McGlinchy, CompTIA's SVP of global business development, Baroness Brady spoke about her personal opinion of Brexit. Taking a stance driven by her six ingredients for success, she said, "While I voted remain, I now just want to get on with leaving the EU… I would really like a politician to stand up and tell us where the investment, opportunities and jobs will be once we've left. It's the not knowing that is affecting the confidence of this country—we want to be able focus on benefits so we can make smart business decisions."
Part of adapting to Brexit—no matter what the outcome—is being able to attract and retain talent better, which Baroness Brady says comes down to developing that better work culture. Especially in the IT industry where it's traditionally male-dominated, business owners need to look ways they can better target women for jobs and make their businesses places that women want to work, she said. This includes creating an entrepreneurial culture that is progressive and engaging staff to continually develop their own learning.
Central to helping diversify is articulating the different layers and careers that can be achieved with a career in IT. For West Ham United, Baroness Brady said, "Technology helps improve the way we bring match days to fans," but not many people know that there are opportunities in IT within football. The tech industry needs to do more to ensure young people understand the depth and breadth of opportunities out there—beyond traditional tech companies and start-ups—which will ultimately help the industry diversify the talent pool.