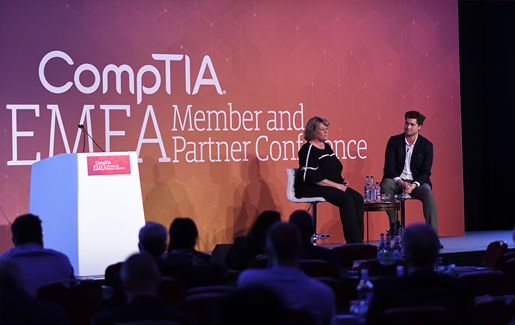 The EMEA Member and Partner Conference kicked off with Nancy Hammervik, executive vice president of industry relations at CompTIA, revealing the top 10 cities on CompTIA's first-ever
UK Tech Town Index
at the UK Channel Community Meeting.
Among CompTIA's top priorities in the UK and around the world are advocating for the IT industry and IT workforce. "We are the world's largest advocates for the technology industry, focused on emerging technology and closing the skills gap and the confidence gap in the tech workforce," said Hammervik.
The UK Tech Town Index highlights the opportunities available to start and grow in a career in cities and towns around the UK. With more opportunity than ever and the need for a skilled workforce growing, it's important for businesses to understand how to recruit the next generation of IT pros. Felix Ekman, head of marketing and channel sales at Harmony Business Systems and winner of the CompTIA ChannelChanger Award, joined Hammervik to discuss what businesses need to take into consideration.
Learn more about the CompTIA UK Tech Town Index.
Tech Workers Prioritize Growth Opportunities
Recent research from CompTIA suggests that IT professionals and students are willing to move for their career—in fact, 78% of professionals said they would consider leaving their current city for the right tech job. Ekman agreed with this, saying the next generation wants to go where the next challenge is.
"I have moved for a job. I'm originally from Sweden and for me, it was the chance the do new things," said Ekman.
According to Ekman, seeking new skills and new opportunities are top reasons IT pros look to change positions or companies. For the next generation, "a new job is an opportunity to gain new skills," he added.
How to Build Loyalty with the Next Generation
IT pros' willingness to change companies for new challenges also provides a key insight into how businesses can keep their talent—and it's not always about offering a higher salary or better perks. Instead, Ekman says to offer them the opportunity to build skills and take chances.
"Give back to employees as much as you can and keep giving them the chance to grow. If you're part of moving a company [forward], if you're making a difference—where you feel that is where you will stay," said Ekman.
Dos and Don't for Managers
In addition to providing new opportunities, listening to their ideas and providing them the chance to try new things, don't micromanage IT pros. As a manager, inspiring and engaging the next generation of IT pros means giving them the space to try and even fail.

Ekman says he lives by the Steve Jobs' quote: It doesn't make sense to hire smart people and tell them what to do.
Maintain Company Culture with Remote Employees
With more companies offering remote and work-from-home opportunities, Hammervik asked Ekman how he felt about managing a staff that is geographically dispersed.

The key to successful remote and flexible work, according to Ekman, is allowing this freedom without sacrificing company culture. Recommendations from Hammervik and Ekman included making sure new employees feel present and have an opportunity to get to know the company... then give them the freedom to work remote.

"It's a balance," said Hammervik. "It's important to build relationships, and there's a difference between working remote and being remote."
Inspiring the Next Generation
Both Hammervik and Ekman agreed that the main way to fill the pipeline with new tech workers is to help more people see themselves in a tech career.
"I'm a true believer in widening the funnel... if we focus on those efforts that broaden the base, you're going to get more people," said Ekman.

Download the UK Tech Town Index now and learn more about where tech salaries go the furthest, what jobs are in demand and who's hiring IT pros.