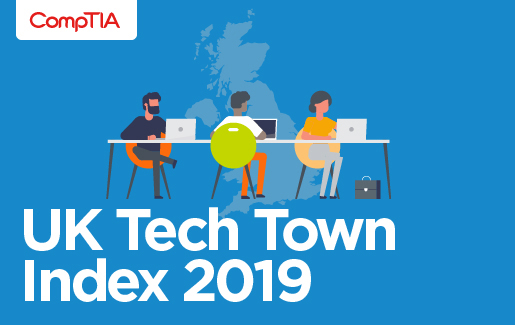 Ask most people outside the UK which city is the best for a career in IT, and they will almost certainly assert that it's London. As much as London remains one of the most technologically advanced cities in the world, the first-ever CompTIA UK Tech Town Index paints a picture of an IT sector with opportunities abounding all around the UK and a wide array of innovative employers offering strong potential for growth. The depth and breadth of opportunity is indicative of a thriving tech sector, with few economic or geographical barriers for talented professionals hoping to pursue an IT career.
While median wages across all 10 cities ranked on the UK Tech Town Index are comparable, once cost of living is factored in, the top cities become more lucrative than London for IT professionals. Manchester topped the list as the most desirable place for IT pros to live and work with London in fifth place, behind burgeoning tech towns Bristol, Leeds and Birmingham. Get the report now.
A handful of smaller towns and cities also made the list, proving that, thanks to improving transport infrastructure and strong internet connectivity, tech is thriving nationwide. The 2019 findings offer an insightful look at the tech landscape of the UK, and give welcome assurance that in spite of recent political happenings and a looming Brexit on the horizon, the tech industry holds a lot of promise.
Top 10 Places in the UK for IT Pros to Live and Work

Manchester
Bristol
Leeds
Birmingham
London
Cambridge
Edinburgh
Bath
Basingstoke
Reading
To arrive at the list, CompTIA looked at both job data and information about the cost of living. Manchester, for example, fared very well in large part because its average housing cost is just £172,186, compared to London's £466,824. Once adjusted for cost of living, Manchester's IT professionals see their salaries go much further. Leeds was not far behind at No. 3 on the list, with a slightly higher average home price of £185,231, and 11,000 IT roles advertised there in the last year. To learn more about the methodology, download the report.
CompTIA also took projected IT job growth into consideration, offering a view of each location that includes present-day reality and potential for the future. Emerging robotics and aerospace hub Bristol, ranked No. 2 on the index, had the highest projected job growth from 2019-2020 at 1.5%, and boasts Boeing and General Electric amongst its top employers posting IT positions. In the sixth spot on the list, Cambridge, home to the "Silicon Fen" district, holds a similarly exciting growth story, with an extraordinary amount of IT investment and buzz surrounding university-related tech startups. AstraZeneca, Raytheon and, of course, the University of Cambridge are just a few of the employers here posting the most IT job openings.
Edinburgh's position at No. 7 on the list was also aided by its healthy array of world-class universities, with the University of Edinburgh posting the most IT jobs openings in the city, followed by the Royal Bank of Scotland and the National Health Service.
Reading is also on the list, forecast by EY to be the UK's fastest-growing location in terms of economic growth by 2021, and helped along by the promise of Crossrail's much-heralded Elizabeth Line. While it was No. 10 on the list, Reading is already home to such global players as Microsoft and Oracle.
Once thought of as just a London commuter town, Basingstoke saw 3,542 IT vacancies posted in the last year alone, with Virgin Media, Fujitsu and Visa among the town's biggest employers. Rounding off the list, comparatively tiny Bath (No. 8) was home to a proportionately impressive 2,436 job postings last year, while big city Birmingham (No. 4) offers an invitingly low median home price of just £185,359.
London's housing may be expensive, but it's impossible to ignore the fact that this world-class city continues to lead the UK's IT sector in sheer volume alone, with 168,372 IT jobs posted in the last year, and everyone from small disruptors like Deliveroo to tech giants like Cisco represented. London remains one of the world's most attractive IT cities and business destinations.
Ultimately, CompTIA's UK Tech Town Index is encouraging. The UK is a dynamic and exciting place to work, both for today's IT pros and those entering the workforce. Options for where to live and find employment in the IT space are seemingly endless, and the situation for businesses is similarly exciting, with a thriving entrepreneurial landscape and tremendous growth opportunities in once-unlikely places. The index should prove inspiring for anyone thinking about a move to or within the UK, as well as for employers and entrepreneurs. If you have a strong IT skillset or a business vision, these cities are thriving places to live, work and grow in a career.
To learn more about the UK Tech Town Index as well as median salary, top IT employers, in-demand positions in each city and more, download the full report.