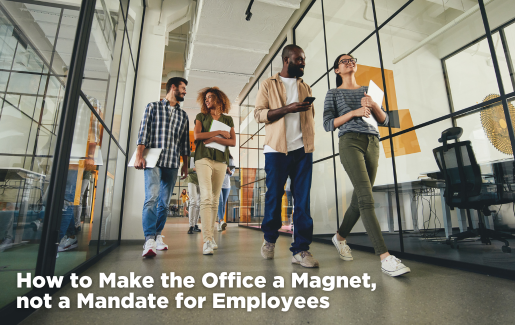 Remember offices? They are where work used to happen before cloud computing and mobile devices made remote work possible – and a global pandemic made it temporarily mandatory. Now with the health crisis mostly behind us, offices have reopened their doors, and MSPs are struggling to coax their remote employees back to where they once belonged.
"No one wants to drive," said Lori Tisinai, president and owner of Computer Concepts USA, a managed service provider in Lake Bluff, Illinois. "They like the comforts of home."
Understandable, she continues, but sometimes there's no substitute for the productivity and camaraderie that come from bringing a team together in person. "You lose that collaboration when you're not in the office together," Tisinai observed, adding that breaking in newcomers without office interaction is equally difficult.
"I couldn't even imagine going to work for a company I've never worked in before and now I have to figure out how to do my job," she said.
Yet ordering people to return to the office can backfire in a way few IT providers can afford amid persistently low-tech unemployment. "You're going to get pushback," warned Degly Mendez, CEO of Avanzar IT Systems, an MSP in South Pasadena, California.
How then can MSPs turn the office from a place people must be to a place they want to be?
Provide an Office Everyone Loves
Start by making the office more inviting, suggested Barb Paluszkiewicz, CEO of CDN Technologies, an MSP in Oakville, Ontario, and a member of CompTIA's North America Community executive council. Her employees couldn't wait to leave their cramped apartments behind when her company's spacious, modern workspace reopened.
"They have a nice desk. The kitchen is nice. All their hardware is great," Paluszkiewicz said, noting that there's plenty of room for bicycles as well.
Subsidizing costs that make returning to the office expensive, like travel and clothing, helps too. "I provide a uniform, so they don't have to worry about what they're wearing," Paluszkiewicz said, noting that even shoes are supplied free of charge.
And remember these three words when thinking about offices as well: Location, location, location. MSPs are too apt to prioritize cheap rent over nearby amenities when selecting office space, Paluszkiewicz noted. Her HQ, by contrast, is in a centrally located neighborhood with plenty of free parking. "There is a grocery store close by. There is a daycare facility close by. There is a gym close by," she said.
No need to figure out what will be most valued by your staff on your own though. Paluszkiewicz, who prides herself on anticipating what her team wants most at work, makes sure to ask them regularly.
"Listen to employee feedback," she said. Most people welcome a chance to provide it.
Be Flexible
Providing a workplace where speaking up is encouraged has merits of its own, added Paluszkiewicz, who strives to keep the atmosphere in her office welcoming. "It's relaxed. It's easy. It's fun," she said. "There's always a little bit of something going on."
Simply reminding people that co-workers and managers can be just steps away at the office can also help entice them back in from home, according to Mendez. "You're not going to be an island," he said. "You'll have all the support you need."
And if that doesn't work, Mendez suggested considering compromise. "They can still work remotely two to three days out of the week," he said.
Letting hybrid employees decide which days they come to the office can make being physically present easier to digest. Indeed, 60% of participants in a recent ADP Research Institute study cited flexibility of hours as one of the best parts of hybrid work arrangements.
Tisinai, who will soon be moving to a new office, plans to use it mostly for classes, meetings and collaboration. "You're learning a new product, you're rolling something out, you're trying to come up with ideas," she said. "I like being able to come together to work on that and then leave and go do things on your own."
But if that's too much for your employees, Mendez suggested bringing folks together for occasional team activities. Though Avanzar has been fully remote for the last 15 years, his people enjoy face-to-face relationships because they see each other regularly.
"Every couple of weeks we get together over lunch or dinner, or we take an afternoon off and just come together for work-related stuff or just for fun," Mendez said. "We need that synergy when we're together in one place."
Any MSP can find that synergy too, by relying on simple incentives rather than alienating rules.
Want More Great Insights for MSPs?