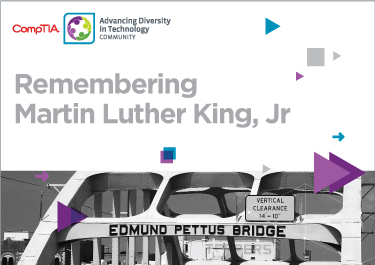 Michael Schuler, vice president, remarketing, HiTech Assets, and a member of the CompTIA Advancing Diversity in Technology Community Executive Council, reflects on Martin Luther King's 1965 march.
Martin Luther King's 1965 march from Selma, Alabama, to Montgomery, Alabama, marked an epic shift in both the general public's perception of the civil rights movement and the legal world's response to the grievances of the marchers regarding voting rights.
The Selma-to-Montgomery march for voting rights ended three weeks that saw three events that represented the political and emotional peak of the modern civil rights movement. On March 7, 1965, some 600 civil rights marchers headed east out of Selma on U.S. Route 80. They got only as far as the Edmund Pettus Bridge six blocks away, where state and local lawmen attacked them with billy clubs and tear gas and drove them back into Selma. Two days later on March 9, King led a symbolic march to the bridge. Then civil rights leaders sought court protection for a third, full-scale march from Selma to the state capitol in Montgomery. Federal District Court Judge Frank M. Johnson weighed the right of mobility against the right to march and ruled in favor of the demonstrators.
"The law is clear that the right to petition one's government for the redress of grievances may be exercised in large groups and these rights may be exercised by marching, even along public highways," Johnson said.
On March 21, 3,200 marchers set out for Montgomery, walking 12 miles a day and sleeping in fields. By the time they reached the capitol on March 25 they were 25,000-strong. Less than five months after the last of the three marches, President Lyndon Johnson signed the Voting Rights Act of 1965 – the best possible redress of grievances.
Although the Voting Rights Act provided legal recourse to voter suppression, the most fundamental change came from the recognition by the public of what was right and what was wrong with the U.S. at that point in our history. Today we still often face mentalities that seek to reduce the value of one citizen over another based on race, religion, sex or numerous other categories, all of which creates divisions in society. But, as history has taught us, we are a much better society when all citizens are treated equally and given every opportunity to succeed.
In the spirit of King's wwoalk across the bridge from Selma to Montgomery, CompTIA's Advancing Diversity in IT Community (ADIT) would like to underscore that we promote full access to and representation of all citizens in the technology industry. But the numbers show we have work to do. African Americans, Hispanics and Latinos are under-represented in our industry relative to actual percentages of U.S. population.
ADIT seeks to remedy this by bringing awareness to both applicants and employers that the technology industry is a great place for everyone. To learn more about what you can do, come join our community.