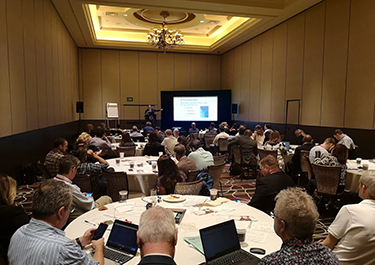 CompTIA's four Industry Advisory Councils – the Business Applications Advisory Council, the Drone Advisory Council, the Channel Advisory Board and the Smart Cities Advisory Council –recently gathered in Henderson, Nevada, for their year-end planning meeting. Each year, the councils get together along with the CompTIA AITP Executive Council and the leaders of the 10 CompTIA communities to recap the activities of the year and begin planning for the following year.
As the Advisory Councils reflected on the achievements of 2018, it was apparent that all four councils had a similar focus on finding the new technology buyers. Whether you're a distributor or vendor looking for the next generation solution provider or a solution provider looking for those new technology end-users, it was clear that the members of the councils were all following a path to understanding these new buyers and how to attract them.
For our Channel Advisory Board, it was clear from the first meeting of the year that they wanted to understand the new players. At our spring meeting in March 2018, it met with the Business Applications Council with the idea of wanting to know who is selling business software successfully. The two councils ended up strategizing with each other to better understand these new buyers. One of their first projects of the year was charting out the Technology Buyer's Journey.
Every buyer goes through specific steps when making decisions around technology. Putting those steps down on paper makes it easier to identify where a buyer is on the journey, as well as know what obstacles can be just around the corner along the process. The councils also built out a Buyer's Persona Template so those selling technology can ask better questions and get a deeper understanding of why someone is motivated to buy.
These two projects came together and quickly found traction with members outside of the council. They were featured in podcasts and webinars that the council has hosted. One of the councils' goals for next year is to further expand the Buyer's Journey with additional information about what is changing in buying patterns, what the process looks like and what the role is in the future for vendors, distributors and solution providers.
In 2018, CompTIA launched two new Industry Advisory Councils. Our Drone Advisory Council came together with a single clear objective; to build and develop a set of drone standards for drone service providers (DSP) trying to understand how to best build a business and operate in a safe and secure way. While they initially felt that risk, safety, business building and operations could cover most of what DSPs should know, by the time they met at the end of the year, this had expanded to include tools and checklists, data security, industry specific recommendations and more. The council has expanded its research and expert group to include a few key people outside of the council to ensure that when the standard officially launches early next year that it's ready and robust for anyone wanting to fly safely and to reduce risk to a minimum. The Drone Advisory Council kept busy in its first year, introducing webinars, podcasts around agriculture and top tips for DSPs and numerous short videos.
Our other new council, the Smart Cities Advisory Council, also had big goals for its first year. After its first meeting, at which it discussed the council expertise and the top accelerators and barriers to smart city adoption, the council discovered a need to identify what skills smart city solution providers possessed. While IOT architecture topped the council's list of hard skills, a list formed around soft skills as well as management skills needed to implement such a diverse set of solutions across large areas like cities and counties. Like the Channel Advisory Board and Business Applications Council, the Smart Cities Advisory Council looks to expand on its identified solution provider skills list in 2019. It also wants to publish a list of top smart cities solutions as well as an industry-wide resource guide to help buyers of smart city technology to better understand the availability of different solutions.
In 2019, the councils focus and action will be to continue to understand how to better address the needs of new technology buyers and how to best position the industry to be able to not only meet those needs, but anticipate future needs as well.
Click here to learn more about our Industry Advisory Councils.