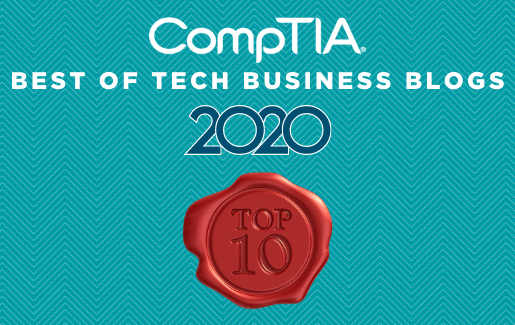 While we're all likely looking forward to 2021, there's still a lot to gain by remembering everything we went through this year—and how we can learn from it going forward. To borrow an old saying: The past is where you learned the lesson, the future is where you apply the lesson.
With that in mind, this year's list of CompTIA's top technology business blogs represent a timeline of sorts, a record of how the tech industry responded to the pandemic, how our businesses pivoted in the midst of unprecedented chaos and change, and, ultimately, how we've emerged tougher and more resilient than we were a very long year ago. All things we can continue to use to build upon for the next 12 months. Our top 10:
The CompTIA Emerging Technology Community released its annual Top 10 Emerging Technologies list, focused on identifying emerging technologies that have potential for near-term business impact. AI takes the top spot in 2020.
For many new remote workers, IT security may not be top of mind. Here are 8 tips for businesses and employees to keep their companies safe.

If 2020 has taught us anything, it's to expect the unexpected—except, perhaps, when it comes to CompTIA's Tech Town Index. The 3rd annual report ranks the top 20 places in the US for IT pros to live and work, providing guidance on where opportunity intersects with affordability for both tech workers and tech companies. The 2020 report also covers remote work and how this trend is impacting the landscape of Tech Towns across the country.

Artificial intelligence (AI), blockchain and drones are being leveraged to battle coronavirus—but technology by itself isn't the answer.

As emerging technology continues to be a hot topic, the benefits and potential of all these new things are best realized in the context of a modern IT approach.
To help businesses better understand what blockchain can do, as well as increase awareness of its potential, CompTIA's Blockchain Advisory Council recently developed an infographic that dispels several myths about the technology.

Studies show that diverse workplaces are highly impactful, driving productivity and profitability, according to CompTIA's Diversity and Inclusion Plan for Technology Small Businesses.

CompTIA has compiled a number of free resources to help MSPs and other channel companies market themselves in new, innovative ways. Finding a different way to communicate your message and your services has never been more important.

CompTIA transformed its annual Communities & Councils Forum from an in-person meeting to an online success in 10 days. Here's the step-by-step process for how we did it.
CompTIA ISAO 101: What Is it, Why Does it Matter, and How Can You Benefit?

What is the CompTIA ISAO and how does it work? Executive Director MJ Shoer answers those questions and more, including how CompTIA members can join and start advancing the cybersecurity resilience of the IT industry today.