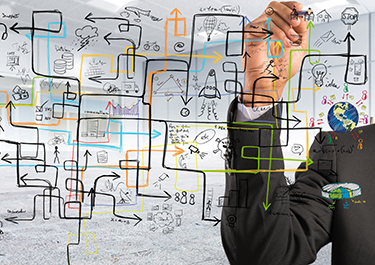 Managed service providers can land new projects by improving one simple skill: Explaining complex ideas to current and potential clients.
"You want to turn complex topics into compelling value props," said Lynette Bohanan of CommCentric Solutions.
To really get clients to understand complex ideas you've got to know who they are, make sure you're asking at the right time and make sure what you're offering aligns with their needs, she said. Following these four steps can really nail that down:
1. Understand Your Audience
First, assess the technological IQ of your contact. Understand who you are speaking with and let their knowledge define how you shape your messaging.
"Determine their communication styles," she said. "Are they an analyzer, a bottom liner or a deep thinker?"
Think about your proposal from their perspective, taking fully into account respective knowledge levels and hot buttons, she said.
2. Tailor the Message
In business-to-business models, people tend to build their messaging around speeds and feeds and the educational, technological stuff that goes into a product build. When you're working with a business-to-consumer client, you'll want to work more on an emotional level.
Beer companies' commercials are all about people having fun, she said. They're speaking to their consumer needs: What they like and what's interesting to them, not necessarily how the beer is brewed.
"When you see a commercial for SAP HANA, they're not talking about the speeds, they're talking about what the technology is doing to make the world a better place," she said. "In our industry, we talk our own lingo and nobody cares."
Give them one takeaway, rather than throwing out every single benefit you can think of.
"Develop your one key message and then layer," she said. "Add relevant content based on who you're talking to and what their communication style is."
Tailor your message in an inverted pyramid approach, she said, meaning you start with one key takeaway, add important details only and supplement with on-demand content.
3. Align Business Objectives
Your product doesn't matter if the company doesn't know how they can use it.
"They have to care why you're talking to them or you're never going to move the needle at all," she said.
Help potential customers connect the dots on what your product can do and explain why it will help them. When you're doing your fact-finding on the company, listen to their needs and communicate in ways and terms that work for you and them.
"If people can understand their role in the project, they're more likely to be engaged," she said.
4. Get the Timing Right
Proposing a project at the right time can help you land the work. Bring new ideas in when your potential clients are making the budget and not when they've just finalized it, for example, and plan far enough ahead to be able to do it in stages; awareness, consideration and selection.
"Give them time to consider it and then time to make up the contract and get all the pieces in place," she said.
When people move through the buyer's journey, they're going to start wanting to know more, she said. The selection phase is where MSPs offer the kinds of super specific content they can develop for prospective customers. Click here to learn more about the tech buyer's journey in this handy infographic.
"That's where your value prop comes in, what sets you apart and why they should care on an
emotional level," she said. "All of these relate to why they should partner with you instead of someone else."
Click here to learn more about the Managed Services Community and get involved today!
Michelle Lange is a writer and designer living in Chicago.