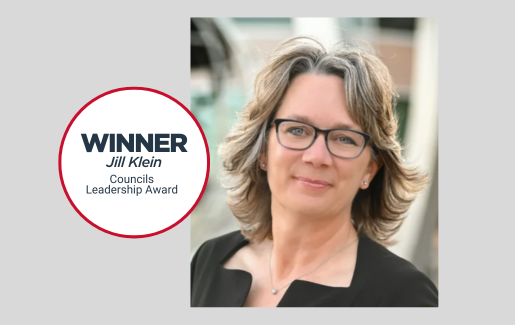 Jill Klein is no stranger to CompTIA's Industry Advisory Councils, emerging technologies and volunteering her time, expertise and experience to help advance the IT industry.
As head of emerging technology and IoT for CDW, Klein is focused on the growth, innovation and implementation of internet of things (IoT) and emerging technologies. She's served on CompTIA's IoT Advisory Council since 2019 and helped publish an eBook on cross-technology adoption strategies, as well as numerous blogs and graphics.
She has spearheaded several industry research projects, written IoT-focused white papers and numerous tech-focused blogs and publications. For her efforts, Klein earned the CompTIA 2023 Industry Advisory Councils Leadership Award for her engagement, outstanding impact, leadership and passion to advance the technology industry.
Klein recently shared her thoughts on the IoT industry, volunteering with CompTIA and why security, interoperability and emerging technologies represent great opportunities but also great challenges to the MSP industry. Here's what she had to say.
What are you most proud of in your career and what's helped get you to where you are now?
Many people in the emerging tech industry are proud of their ability to innovate and bring new ideas to life. They may have developed a new product, service or technology that solves a complex problem or enhances a client's business in some way. I am most proud of the impact that our solutions have had on our clients' business outcomes. There's nothing better than standing in the same room with our clients and working with them to ideate about the next version of their business and watching their business transform with emerging technology solutions.
What advice do you have for MSPs and other tech businesses to be more successful?
Technology is constantly evolving and staying up to date on the latest trends and emerging technologies is critical for getting ahead of the competition. Talk to emerging tech vendors at trade shows and ask them how their products are applied in real-world environments and how they could integrate into your current offerings. Sign up for new newsletters or visit new websites focused on these technologies. Get out of your comfort zone because your customers will be asking you what you know about these solutions sooner than later.
Building strong relationships with customers, vendors and other partners is key for any business, but it's especially critical for MSPs and other tech companies. Strong relationships can lead to more business opportunities and referrals.

Your employees are your greatest asset. Advancing their training and development can help them stay in the know on the latest technologies and best practices. It's more important than ever to embrace innovation and invest in both new tools and your teams to help you deliver better services to your customers.
Why is volunteering for CompTIA so important to you and what goals do you have for the Council?
Volunteering for organizations like CompTIA can be a great way to give back to the industry and help shape its future. By volunteering, individuals can contribute their knowledge and expertise to help create valuable resources and take part in initiatives that benefit the industry.
I've found that volunteering for organizations like CompTIA can be a rewarding way to contribute to the industry, network with other industry professionals and gain new skills and experiences. In the past, we've created resources like The Six Layers of an IT Solution or videos that show how emerging technologies work together. The goals of the Council can vary depending on the organization's mission, but generally, they work to provide resources and initiatives that benefit the IT industry as a whole.
What challenges/trends do you want to raise more attention/awareness to in your Council role?
Security: As IoT devices become more prevalent, security risks increase. Many IoT devices have limited security features, which can make them vulnerable to attacks. As a result, it's important for organizations to be aware of these risks and take steps to secure their devices and data.
Interoperability: The IoT industry is fragmented, with different devices and platforms using different communication protocols and standards. This can make it difficult for devices to work together, which can limit the value of IoT solutions. Greater interoperability can lead to more efficient and effective IoT solutions. That's why, when choosing IoT enterprise solutions, it's important to focus on the ecosystem and potential future integrations.
Data privacy: IoT devices collect vast amounts of data, which can raise privacy concerns. As more devices become connected, it's important for businesses to implement policies and practices that protect users' data privacy.
Emerging technologies: The IoT industry is constantly evolving, with new technologies and trends emerging all the time. It's important for organizations to stay informed about the latest developments and trends so that they can make better-informed decisions about how to leverage IoT solutions.

By being aware of these challenges and working to address them, our Council is working to help ensure that the IoT industry continues to grow and evolve in responsible and sustainable ways.
How are you working with CompTIA to address those issues and promote more awareness?
The IoT Advisory Council is working with CompTIA on various research projects while providing education and community areas to organizations looking to accelerate adoption of IoT within their organizations.
Research: CompTIA conducts frequent research on a variety of technology topics, including IoT and emerging technologies. This research helps to identify key issues and trends in these areas and provides insights that can be used to develop new resources and initiatives. Most recently, the CompTIA IoT Advisory Council published assets on IoT security as well as an eBook that showcases IoT considerations at each layer of the reference architecture.
Education and training: CompTIA offers a wide range of educational resources, including training courses, webinars and workshops, which focus on IoT and emerging technologies. These resources provide IT professionals with the knowledge and skills they need to implement and support these technologies.
Communities: CompTIA's volunteer-driven communities, which include the IoT Advisory Council and the emerging technology community, work to develop resources and initiatives that promote awareness and adoption of these technologies.
I'm passionate about the work I do with CompTIA in promoting awareness and addressing key issues within both IoT and emerging technologies. Through research, certifications, communities, advocacy, education and training, CompTIA works to help IT professionals and businesses stay up to date on the latest trends and best practices in these areas.
Join CompTIA's Spotlight Award winners and other tech leaders in Las Vegas!