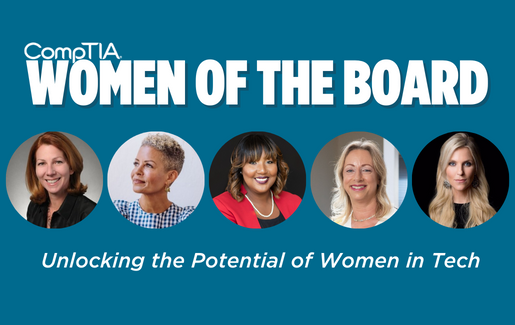 Aligning closely with CompTIA's organizational mission of unlocking potential, the Gender Equity in Tech Employee Resource Group (GET ERG) aims to attract, empower, support and retain women by unlocking their full potential through education, collaboration and advocacy," said Nancy Hammervick, chief solutions officer at CompTIA and executive sponsor of the GET ERG.
During the first ever panel-style webinar hosted by CompTIA's GET ERG, five women on CompTIA's board of directors shared their experiences and wisdom around being a woman in a male-dominated industry, perseverance, leadership and career growth. Here's a closer look at what they had to say:
Being a Woman in Tech
"Women have the ability to inspire the next generation to pursue jobs in tech and the like, and a part of that is making sure that women step up and use their voices," urged Georgette Frasier-Moore, CEO, Transformation Lead and member of CompTIA's board of directors. "It's important because you're in rooms where you can help make decisions. It's important because other women and girls and children need to know that there's somebody out there that can do this, and that they can do it too."
Being a woman in a position of leadership in any industry can be intimidating. And no matter your age or gender, most people don't feel comfortable putting themselves in situations where they feel they don't belong. However, Jabu Dayton, principal of Jabu HR Inc., suggested that sometimes it's best to jump into those situations with both feet.
"We can't sit back and wait to be acknowledged or invited to the table," Dayton said. "Sometimes you have to sit down at the table and assume that you're welcome and that people find your views and contributions worthwhile."

Frasier-Moore concurred, adding that women are often taught to do the opposite.

"A lot of women were told to kind of stay under the radar, don't speak too loudly, don't shout, be ladylike. And part of that goes into our psyche as, 'Don't let your personality be loud, don't let your accomplishments be loud, don't let your presence be loud,' she said. "We have to change that to change the whole world."

Related: Watch the videos here.
Leadership and Power
Understanding how to leverage power in a leadership position is a skill that is learned, not taught, and is essential to being a leader that empowers others.
"Power is a very interesting word because it evokes so many images in your head as to what power means," said Tracy Pound, founder and managing director of Maximity Ltd. and chairman of CompTIA's board of directors.
"Power to a man means authority. Power to a woman is often seen as just being controlling," Pound said. "And some of those stereotypical ways of thinking about a word and its association we need to backtrack on. Power is something we need to own – you've gotta feel it on the inside and sometimes that's not so easy either."
Owning your power can be difficult at any point in your career, but it is an important skill for all, especially for women in positions of power.
"You may have worked with people that you thought had profoundly less experience and knowledge than you did but they present themselves in a way that's quite confident and they get listened to in meetings, as an example," Dayton said. "So, how do you make yourself someone that gets listened to at the meeting considering all the knowledge and value that you do have? You gotta work for it."
A common thread among panelists advice was that no one is given the mic because they sit in the corner quietly. You must put in the work for others to see the value that you know you can bring to the table.
When you are in a position of power, it is your duty to lead responsibly and speak up for what you believe in. That is how we will change the narrative around powerful women.
"The ability to empower people is leadership," said Joanna Riley, CEO and cofounder of Censia and member of CompTIA's board of directors.
What Does Success Look Like?
Research shows that if you give a job description to a man and he can do some of it, he'll apply for it. If you give it to a woman and she can't do all of it, she won't apply for it.
"We need to overcome stereotypical role types like this," Pound said. "Because we grow into roles, and we've got some brilliant strengths as women. We are nurturers, and that's not to say men aren't, but that's a key skill that we naturally possess. So, we should leverage these skills to make sure that we have our place in the world."
Riley suggested that a common misconception about being a leader is that you must be great at everything in order to succeed, and that is simply not true.
"The big thing for women is the opportunity to realize you don't have to be everything," Riley said. It's okay to be really good at something and then use that thing that you're good at to successfully hit a goal, and then find people around you who are good at things that you're not very good at. Because as a unit, we're successful.
Success doesn't manifest itself overnight. It takes hard work, perseverance, proactivity and a supportive community to achieve great things.
"One of the biggest misconceptions about success is that it's easy. I think it's incredibly difficult," Riley said. "One of the hardest parts of success is loneliness because every day I'm not doing something right. Every day, I hope to do more things right than I do things wrong, but there isn't a guarantee that any leader isn't out there also figuring out how to do it right."
It is important to remember that success looks different for everyone, and your path does not have to be the same as someone else's for you both to be successful.
Progressing in Your Career
"If you want to grow your career, if you want to increase the level of scope and responsibilities that you have, ask for it," said Toni Clayton-Hine, chief marketing officer, EY Americas and member of CompTIA's board of directors.
She also urged that being proactive is the key to growth and provided these four tips:
Ask to take on a special project.
Ask to contribute to additional workflows or workstreams.
Ask to have meetings that show the new ideas you have that are above and beyond what is already being done.
Be proactive – ask for more responsibilities before they are asked of you.
"You will become the person that you are going to become almost in spite of yourself. There's no hurry, there's no rush. Everything will happen in time," Dayton said.
But how do you grow your career at the pace you want while managing the stress that comes along with it? Dayton suggested looking at what you're doing in your day-to-day life and coming up with stress management tools that work for you. Then be proactive in doing so.
Surrounding yourself with other like-minded individuals and aspiring to inspire other women is another critical aspect, according to Dayton.
"I surround myself with people who are never satisfied with playing small, and that just keeps encouraging me to do things bigger and bigger. We don't always even know what big means until you see someone else doing it," Dayton said. "And that's one of the reasons I am really open about how much money I make, how I bought a home, how I've done things. So that other people might take away some information that helps them understand they can do it too."
What's the key takeaway here? Being a woman in tech can be difficult, but by surrounding yourself with other supportive women, being proactive and evaluating what success means to you, we can all work together to make the industry a better place for women of all ages and backgrounds.
Looking to get involved? Check out the Advancing Women in Technology Interest Group.