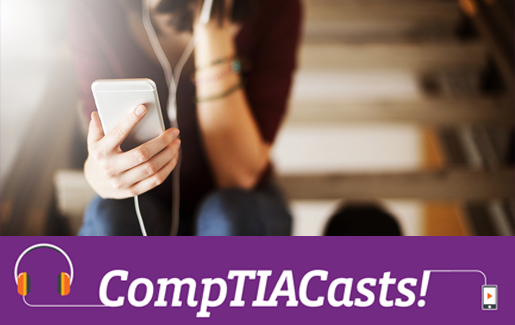 In April 2020, CompTIACasts focused on the impact COVID-19 is having on the tech industry, including the challenges and opportunities for managed service providers; how employers can work to create productive remote work environments for their teams; and how IT employment fared at the beginning of the COVID-19 crisis. Check out what we overheard on CompTIACasts in April then subscribe and start listening today.
Managing Stress, Work and Family During COVID-19
Deanna Spoto, PsyD, joined Corey Kirkendoll, chair of the Managed Services Community, to discuss the challenges facing small business owners who are supporting clients and employees as well as their families during this difficult time. Dr. Spoto also emphasized the impact empathy and understanding can have on relationships in the workplace and with clients during this time.
"I don't think we ask people enough how they're doing and I think, 'How are you feeling?' is such an impactful way to start off a conversation because it reduces any barriers or defenses people might have and joins you as two human beings that are dealing with a crisis situation."
Deanna Spoto, PsyD, licensed child and adolescent psychologist
Creating Culture for Remote Workers
Also in April, Amiel Harper, founder and principal of The Morpheus Consultancy, and Delia Gutierrez McLaughlin, president and CEO of AzTech Innovation, discussed what it means to be inclusive with Yvette Steele, director of member communities at CompTIA. Harper and Gutierrez talked about what inclusion means to them, why being inclusive matters now more than ever, and how leaders can use these principles to create an inclusive culture for remote teams.
"I think it's really important as a leader to acknowledge what your plan is, what you expect to learn along the way and invite other people to do the same. Take that next step and invite team members to share both what their expectations are as well as what their anxieties are. What are the areas that may create tension?"
Amiel Harper, Founder and Principal, The Morpheus Consultancy

The Tech Industry and COVID-19
In early April, Tim Herbert, CompTIA's executive vice president of research, joined Volley hosts and CompTIA research analysts Carolyn April and Seth Robinson to discuss the IT employment report. As employment continues to dominate headlines, Herbert discussed why the IT sector held relatively steady in comparison to other industries though the situation continues to be fluid and the April report may not capture more recent disruptions.
"We also see that reliance on technology is even more pronounced today than it was even a few months ago as more and more companies are shifting to remote work. We've had greater reliance on ecommerce, a greater reliance on analytics to understand what is happening around us, and then certainly also the cybersecurity risk."
Tim Herbert, Executive Vice President, Research and Market Intelligence, CompTIA
Later in the month, Carolyn and Seth welcomed MJ Shoer, executive director of CompTIA ISAO (formerly TSP-ISAO), who discussed the state of managed services during the COVID-19 pandemic. He provided an overview of some of the challenges and opportunities for MSPs as well as how they can use this time to examine their businesses in order to be ready for what's next.
"[MSPs] that are finding themselves with more time are definitely investing that time in training, to skill up the staff. They're looking at their documentation and processes and going through and doing quality control checks and maybe redesigning processes and looking for process improvement opportunities. The things they're typically too busy to focus on, now they can really dig into. There's never been a better time to do it. "
MJ Shoer, Executive Director, CompTIA ISAO