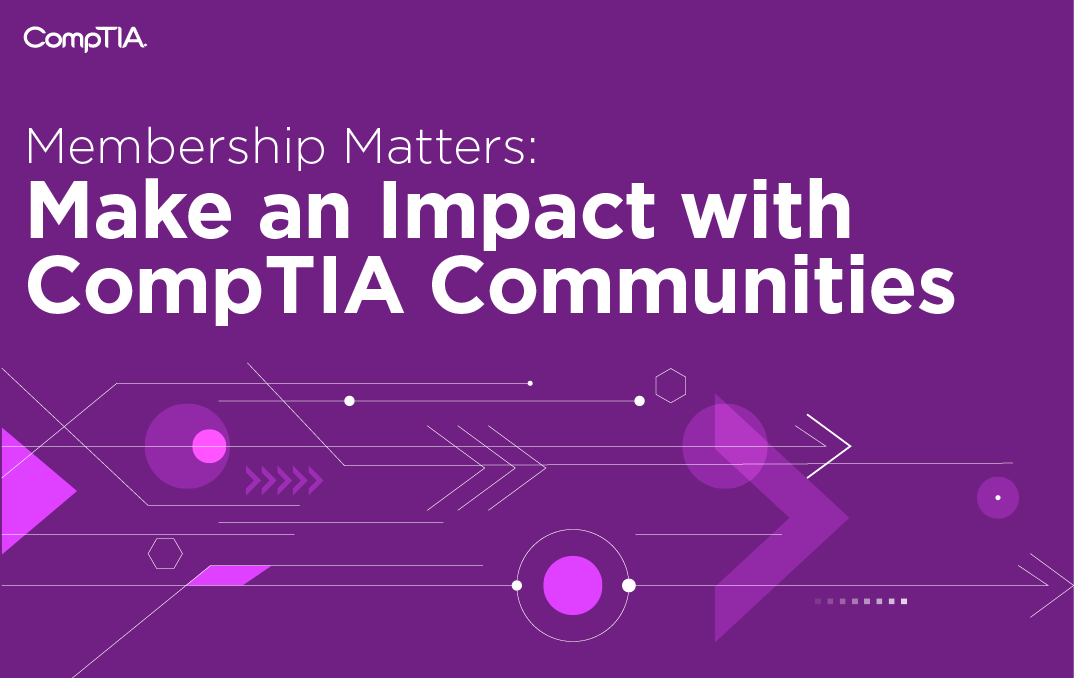 We've said it once and we'll say it again: One of the biggest perks of your CompTIA membership is the people. Making connections with people in all areas of the industry is extremely beneficial to your professional and personal development—and your business's success. One of the best ways to forge these connections is by joining a CompTIA Community.

Our member-led communities make CompTIA strong. As the heart of CompTIA membership, community members serve as an army of influencers, ambassadors and thought leaders helping to advance the tech industry as well as their own businesses and careers. And you can count yourself among them!

How to Join a CompTIA Community

As a CompTIA community member, you have the opportunity to collaborate on technology and business-building initiatives, network with peers, open doors to new partnerships, and contribute ideas to shape the future of our industry. But, how exactly does one get started?
Check out our topic-focused communities.
A surefire way to find your people is by exploring communities that focus on the industry topics that interest you—or are paramount to your career. Mark Sokol, VP of marketing at Liongard, and a member of the Managed Services Community, says universal business insights are the most beneficial part of getting involved with a community. Among peers, sharing best practices and firsthand experiences and trading tips and tricks of the trade can have a major and immediate impact on your business.
"MSPs generally are all having the same problems," he said. "By just giving them one idea, it's very impactful."

Check out these industry-specific communities:
Check out our regional communities.
When you meet someone new and discover they are from your home town, you immediately feel a connection. CompTIA members that make up our regional communities use this commonality as a springboard for advancing the tech industry in their corner of the world. If you live or work in one of the following regions, joining your "home town" group is a great place to start.
Check out these regional communities:
Once you've selected the group (or groups) you want to engage in, joining is easy. From each community's public page, you can join or login.

Once you're a member, you can easily join additional communities. From the my.CompTIA.org dashboard, select "group management" on the left side of your personalized dashboard and "join" the communities of your choosing. That's it! You're in.

Why Join a CompTIA Community?

We could go on and on about the benefits of getting involved in one (or more) CompTIA communities, but we'd rather you hear it directly from our members.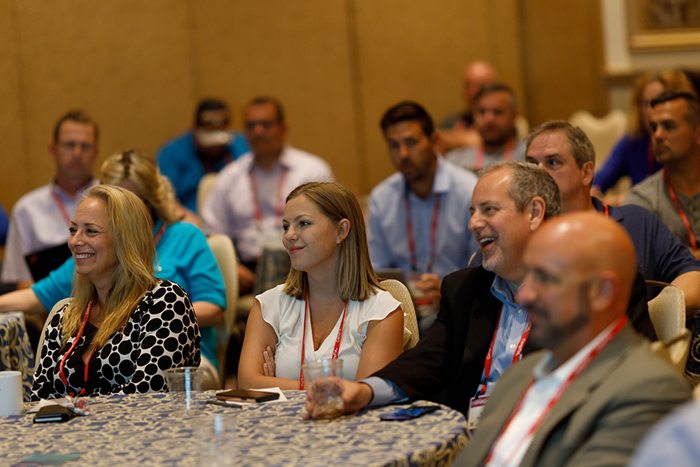 Jennifer Bleam, owner and founder of MSP Sales Revolution, cites her love of new technology as the reason for joining the Emerging Technology Community.

"I love learning about new technology and showing IT service providers how they can monetize them," she said. "Innovation is a great way to stand out in a crowded marketplace. Anything I can do to add value to the channel community is a win in my world."

George van Brugge, founder of Portland, received a recommendation from a colleague to join the Benelux Business Technology Community and in his own words, he "was sold immediately."

"The independent character of the biggest IT community global [association], the vast amount of relevant content made it a no-brainer," he said. "Our MSP customers can and will benefit when they join."

The Importance of Networking
Despite a shift to remote working and virtual events, networking still holds value. In fact, the importance of meeting people and forging connections is actually more important than ever. Joining a CompTIA Community makes networking—virtual and in-person—easy and fun.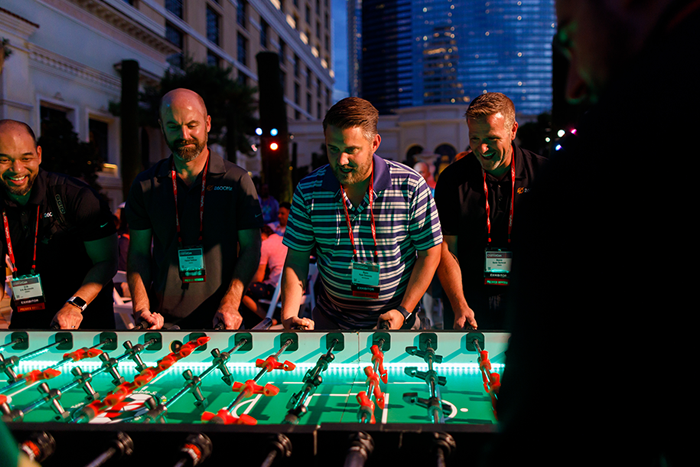 As a member, you'll be invited to regular community meetings, but there's more to consider. For example, our annual Communities & Councils Forum (CCF) gives our members the opportunity to discuss and respond to some of the most pressing issues and trends in the tech industry today.

Members are also encouraged to attend ChannelCon. Members who attend ChannelCon online will have access to three inspiring days of learning, collaborating and developing the tools necessary to grow business—today and tomorrow. There's also the EMEA Member and Partner Conference for those living and working in the UK and EU, as well as the Year-end Planning Meeting where our communities and councils gather to plan their initiatives for the upcoming year.

Joining forces with others is what it's all about.

"We may think others have the same knowledge that we do, but really, what each of us brings to the table is unique and valuable," said Adam Slutskin, CRO, Liongard.
What are the Goals of the Communities?

While the topics our member groups cover are vast, community initiatives roll up to one major goal—to advance the technology industry. And while that sounds like a big undertaking, our communities break it down to ensure progress.
For example, the Advancing Tech Talent and Diversity Community works together to develop the tools needed to fill the talent pipeline, and the resources necessary to help organizations develop sustainable diversity, equity and inclusion (DEI) strategies. The most recent result of their work is 5 Tips for Hiring Without Unconscious Bias, How to Foster Diversity, Inclusion & Retention and the Diversity & Inclusion (D&I) Plan for Technology SMBs.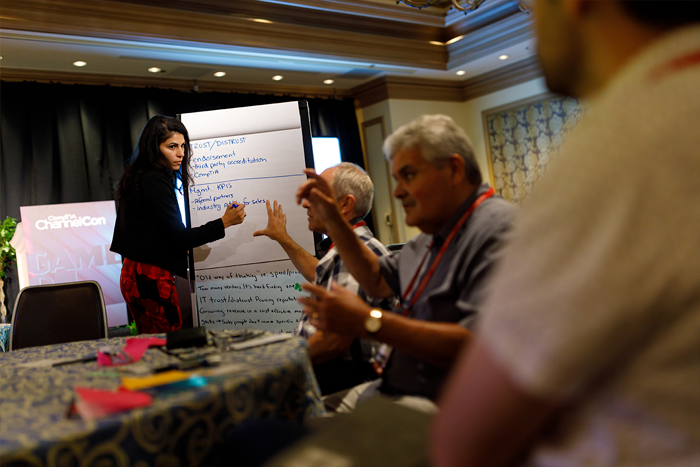 Kristine Stewart, vice president, client success and marketing at Channel Impact, and Advancing Tech Talent and Diversity Community member, says she is proud of the work the community does.

"We are part of an amazing industry and we should all find ways to contribute and give back," she said. "What the [Advancing Tech Talent and Diversity] community focuses on is an area of passion for me—it's the perfect venue."

Initiatives come in all shapes and sizes (and platforms). The Managed Services Community recently launched a series of videos that covers next-level uses for core software, including professional services automation, remote monitoring and management, accounting software and tool integration.

The whole idea is to be a source for people who work in the technology industry to engage, learn and connect.

The main requirement for any CompTIA Community is to show up, Bleam said. Attending meetings and being open to sharing your insight and ideas with the group is how it all works.

How Does Community Membership Benefit You?

We all know that in order to successful in our industry, we must be dedicated to lifelong learning. It's just the nature of technology. Learning from different people, in different roles, at different organizations is key.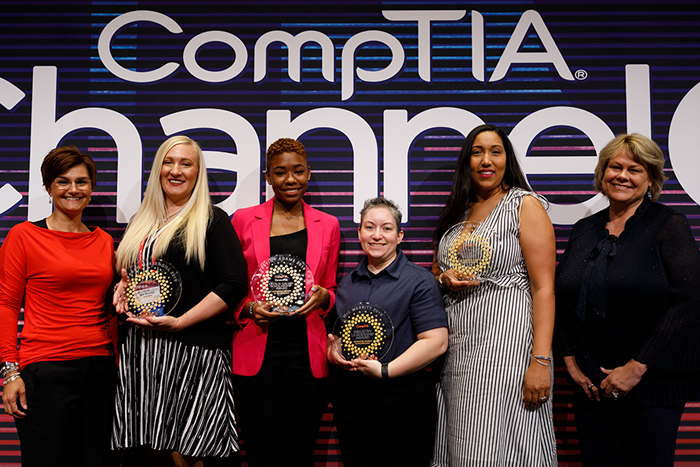 "Anytime I can be in a room full of brilliant minds who have the attitude of a servant, I jump at the opportunity," Bleam said. "I see different approaches to problem solving, different communication styles and a wonderful example of teamwork. I'm able to apply that to my business immediately."

Van Brugge refers to the Benelux Business Technology Community as a source of inspiration.

"There are vendors, distributors and MSPs, and we have very open communication. I learn from all of these great individuals," he said.

Once you dip your toe into the water, you just might be tempted to jump right in. Members that are looking for deeper input and involvement should explore community leadership opportunities. One thing's for sure—your work won't go unnoticed. Not only does CompTIA rely on its members to pave the way, we take pride in recognizing what you do and the incredible contribution you make to the technology industry.

Whether you're running a business, starting a new business, or forging your own path to the C-suite, access to so many other perspectives is invaluable. When you join a CompTIA Community, you'll find just that—a diverse group that you can contribute to and learn from. There's no time like the present to get involved.

You're a click away from connecting with someone who could change the trajectory of your career. What are you waiting for? Join a CompTIA Community now.
This article is part 4 in a 10-part series designed to break down CompTIA member benefits in a meaningful way for organizations and individuals. Read the full series:
Part 1: Advance the Business of Technology with CompTIA Membership
Part 2: Advance Your Tech Business with CompTIA Membership
Part 3: Advance Your Career in Technology with CompTIA Membership
Part 4: Make the Most of Your CompTIA Community Membership
Part 5: Advance Your Tech Business with CompTIA Membership
Part 6: How CompTIA Membership Can Help Evolve Your Business with Emerging Tech and Solutions Selling
Part 7: Advance Your Technology Workforce with CompTIA Membership
Part 8: Advance the Business of GovTech: Opportunities at the State and Federal Levels
Part 9: Connect to the Business of Government Technology
Part 10: Make CompTIA Your Partner in Tracking International Trade