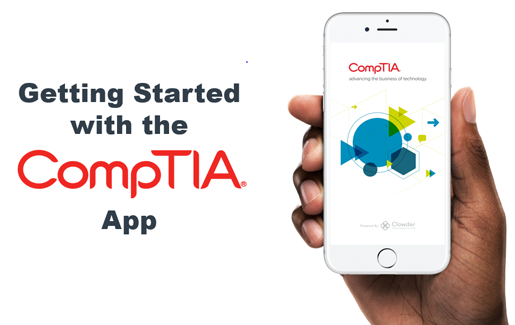 In the business of technology, you're used to having multiple plates spinning. Not only are you expected to be on the cutting edge of technology solutions and services, but you need to know what's happening right now, what's on the horizon and have a comprehensive strategy on how to navigate it all. That's where our new mobile app, available for corporate members on iPhone or Android, comes in.
Designed to increase communication and collaboration opportunities with other industry leaders and provide you with a one-stop location for industry news and information, the CompTIA app can help you keep all those plates spinning while increasing your engagement in your industry and your career. Here's five things you can do with the app and how to get started.
#1 Chat with Members on Forums
Member-only discussions in a closed forum? You bet! The CompTIA app offers forums for each of our communities and councils as well as discussion categories, including the 21st Century Workforce, Cybersecurity, Emerging Technology and more. Use these spaces to ask questions of your peers or share helpful insights.
How to Get It
Once you click on the Forums tab, you'll see Communities, Councils and General options at the top. Click a title to open up the category and view all related posts.
Click the "+" icon in the top right corner to create your own post. You will be prompted to select a category. You'll then add your text and attach any files that apply (optional).
Comment on original posts by clicking the topic or question and typing at the bottom or reply to other users' comments by clicking "reply" underneath and to the right of the comment.
Follow forum posts by clicking the "+ Follow" icon on the bottom right of a post to never miss a comment within that specific post's thread. When you follow forum posts they'll appear in your News Feed as well.
#2 Find & Message Members via the Member Directory
Meet someone new that you'd like to connect with? Or want to start a group chat? Enjoy direct access to top industry leaders and peers from across the tech ecosystem via the Corporate Directory or App User Look Up. Find who you're looking for by using the "smart search" feature. Then, message members directly via the app without the hassle of thumbing through business cards or finding email addresses.
How to Get It
Search for an organization using the "Corporate Directory" link.
Find an individual member by clicking on the "App Users" link and search by name.
Click the "speech bubble" icon to the right of a member to start a direct chat with them. You have the ability to attach photos or files by clicking the bottom left "paperclip" icon.
You can create a group message by clicking the "+" icon and selecting the members you want to include.
View your sent and received messages in the "Direct" and "Group" options at the top of the tab.
#3 Scroll Through News in ONE Place
These days every news outlet has an app. Lucky for you, the CompTIA app provides a steady stream of critical industry news and trends in one place. Interact with content in the CompTIA News feed by liking, commenting, saving and sharing. Switch to your Industry feed to scroll through timely articles. You won't miss anything when you make a habit out of checking your news feeds every day.
How to Get It
The CompTIA News feed will automatically pop up as the first thing you see when you login to the app. Like or comment below each post.
You can also save content to your profile by clicking the "bookmark" icon or share directly with another member.
Reply to other members' comments by clicking "reply" at the bottom right.
#4 Register and Manage Your Events
Since all of your information is saved in your app profile, registering for an event has never been easier. See something you want to attend, simply click "add to schedule" and voila—you're done! The events list includes everything from in-person conferences and meetings to webinars and virtual trainings. The app also gives you the opportunity to create a personalized agenda for events.
How to Get It
View all upcoming events in a "list" or "calendar" view. Then, filter events by categories like type, topic, date or location by using the "filter" icon.
Share an event with a recipient by using the "share" icon and click "Add to Schedule" if you want to attend.
You'll be able to see the events you've added by viewing the "Schedule" tab in your profile.
Inside a specific event's "agenda" you'll see all sessions listed for that event. Here's where you can build your personalized schedule. Do so by clicking the "+" icon by each session.
When you click on a session, you'll also have access to any relevant files, speaker details, Q&A, surveys and ratings to provide feedback.
#5 Access Exclusive Content & Resources
The app is the only place you'll find exclusive content like actionable business advice, industry insights and ideas on hot topics like emerging tech, cybersecurity, the future workforce and more. You'll also receive updates on your membership status and notifications of new resources. Did we mention these resources will live on the app? This means no extra work on your part when you're ready to access a file.
How to Get It
Click on "resources" to access important files.
Click a folder to open its contents and then click an individual file to view.
You can export or save a file using your phone's share/save preferences.
Get the App
What are you waiting for? CompTIA corporate members can download the CompTIA app for iPhone or Android. Login with your CompTIA username and password, and stay connected to your industry trade association.
Not a CompTIA member? No problem. Become a corporate member and you and your entire organization gain access to a wealth of exclusive benefits including IT channel resources, tools and programs – and the new CompTIA app! Learn more about the benefits of membership.