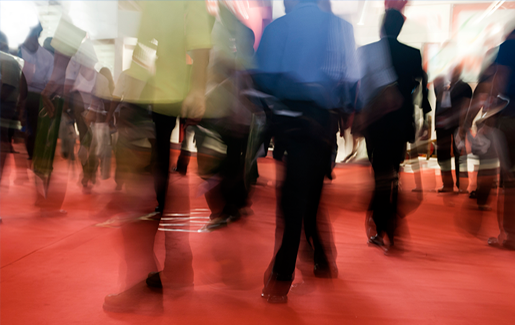 In the technology industry, we don't always have to look out the window to know what season it is. We have major events to remind us. In the spring, South by Southwest highlights the intersection of tech and culture. Summer kicks off with a splash of big announcements at Google I/O. New iPhones are as much a fall fixture as pumpkin spice lattes. And the new year can mean only one thing: the Consumer Electronics Show.
Few shows, if any, match the scale of CES. With nearly 4,500 exhibiting companies and 175,000 attendees, all eyes are on Las Vegas in early January. There is certainly some fatigue around the event—it's become standard practice to guess which demos will ever see the light of day—but it still serves as a barometer for the hottest trends in technology. Even though there is an emphasis on the consumer space, the underlying themes carry significance for businesses. Here are four CES headlines that solution providers should pay attention to as they are building their strategies for the future.

Internet of Things is Here… Now What?
For the past couple years, IoT has been on the top of CompTIA's emerging technology watchlist. It may be time to think about IoT as a mainstream topic, but that doesn't mean it's been completely solved. Literally everything you can think of can now be connected, and 5G networks will help make that connectivity more robust. The challenge is in taking those connected components and creating a solution that adds value. As we've seen in the past, having the available technology doesn't always mean it will get used correctly. When considering IoT to solve problems, solution providers should think through potential workflow changes, data management issues, and integration with existing systems.

Advanced AI + Advanced Robotics = Advanced Assistants.

One of the most prominent examples of modern AI is the digital assistant. In its simplest form, it can manage a calendar or handle customer inquiries. At the more advanced end, tools like Alexa, Google Assistant and Siri are attempting to handle a broad range of tasks. While these programs are still a far cry from Tony Stark's Jarvis, companies are beginning to explore adding these capabilities to robots to give the assistant a physical presence. As businesses continue to reduce the amount of tedious work being done by their employees, there are opportunities to introduce assistants. Capitalizing on these opportunities means understanding the characteristics and challenges of cutting-edge AI.
Computing Can Happen Anywhere, so Access Should Be Everywhere.

At the beginning of 2019, CompTIA predicted the rise of ambient computing. At the beginning of 2020, it certainly seems like ambient computing has arrived. IoT and AI have built on mobility and cloud computing to give us computing capability in every location, often determining context and providing answers automatically. To tap into these resources, we need new user interfaces. Flexible displays expand the potential of digital signage, and feature-rich headphones provide on-the-go audible capabilities. Focusing on user experience has been a major part of digital transformation, and it's important to not just create access points but make them seamless.
The Most Important Part of Emerging Technology is Responsibility.

Looming over all the gadget announcements and high-profile keynotes, there are the issues that are beginning to define the tech industry. Ubiquitous connectivity, algorithmic decision-making, and personalized services all drive questions around security and privacy. Privacy got some time in the spotlight during the show, but other topics remained off-stage. To be fair, CES is not necessarily the ideal venue for every discussion. But the wonders of technology that were on display cannot be fully realized without dedicated effort around security, privacy, and regulations that will protect consumers and construct a healthy society.
As the year goes on, the glitz and glamour of CES will be replaced with the grunt work that drives business forward. The next decade promises to be one where companies continue to refine the strategies they built after shifting to a cloud mindset and becoming more aggressive about technology adoption. Within CompTIA's IT Pro and member communities, the discussions over the coming year will revolve around the tactics needed to turn whiz-bang concepts into profitable outcomes.