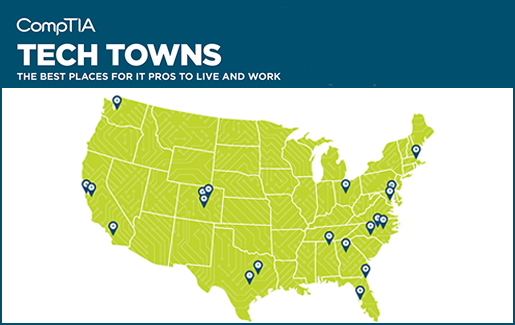 If you build it, they will come! We know IT pros are willing to relocate for the right job. But salary isn't the only driving force. The CompTIA Tech Town Index highlights the top 20 metro areas considered to be the best places for IT pros to live and work. So what do these towns have in common?
The People
By design, every tech town on the list is a large metropolitan area—meaning each region has a population of more than 250,000. Of course, more people translate into access to more tech talent, which makes these areas more attractive to businesses, which in turn, fuels economies… you get the idea.

Proximity to Higher Learning
More than half of the top 20 tech towns are either recognizable college towns or are surrounded by multiple universities. Prime examples are Raleigh (no. 2) and Durham-Chapel Hill (no. 13) making up the Research Triangle; and Columbus – home to Ohio State University. Easy access to a pipeline of students and recent graduates with marketable skills, innovative ideas and an eagerness to contribute is key.

Startup Friendly Environments
Nearly every city on the list is actively cultivating startup communities and networks with the purpose of exchanging ideas. San Francisco (no. 5) has been doing this for a while and now the Bay Area is home to 88 unicorns aka privately held startup companies valued over $1 billion—more than any other region in the world.

Additionally, communities are making commitments to IT infrastructure support to entice small businesses. Colorado Springs (no. 16) and San Diego (no. 17) are known for a variety of organizations aimed at cultivating opportunities for innovators and investors to connect. And, Tampa (no. 19) is putting attractive tax structures into place to lure startups to the beach.

Access to Venture Capital
Thriving tech towns are celebrating their successes by reinvesting back into the local tech community. Access to venture capital is key. Boulder (no. 14) broke its record for venture capitalism in 2018 by raising $1.6 billion. Austin (no. 1) is following its lead. As of January 2019, local Austin startups raised a collective $400 million in venture capital. But it's not just about securing money to start a company. Investors in these tech towns are supporting companies in various stages of growth, from concept to traction and scaling to enterprise.

The Lifestyle
Cost of living is more than just a number—it's a way of life. Many of the towns on the index are surprisingly affordable, making them appealing to entrepreneurs starting businesses as well as IT pros looking to raise families. Cities like Charlotte (no. 6), Dallas (no. 7), Atlanta (no. 8) and Huntsville (no. 10) rank high when it comes to affordability—meaning the cost of living is lower than the national average. Of course, scenic surroundings and warm weather are alluring as well. Cities like Seattle (no. 4), Denver (no. 9), and Jacksonville (no. 18) offer the added bonus of a year-round outdoor lifestyle.

The reality is that as all companies need technology professionals and the opportunity for IT pros will continue to grow. The 2019 CompTIA Tech Town Index highlights metropolitan hubs that are currently experiencing this shift.

Did your town make the list? Download the CompTIA Tech Town Index to find out.