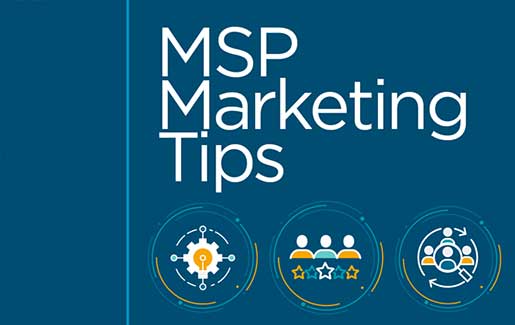 Have you ever played a game of cards only to find out that you were missing a few? If you didn't count the cards in the deck before you started, it probably looked like you were playing with a full hand. But missing just a few cards can make a big difference—and, in fact, make it impossible to win.

If your managed service provider (MSP) is playing the marketing game without a complete deck of resources, turn to the Marketing Toolkit for MSPs, a members-only resource with 90+ pages of content and more than 15 completed examples and customizable templates.
Developed by CompTIA Education, this step-by-step guide shows solution/service providers how to leverage marketing to compete and grow their business in the following ways:
Conducting a marketing audit
Creating customer personas
Strengthening your value proposition
Setting marketing goals
Choosing the right marketing tactics
Measuring return on marketing investment
Conducting a Marketing Audit
The first step to any successful marketing strategy is conducting an audit. This is where you should have counted that deck of cards before you started playing. Start by taking stock of your current marketing assets and efforts. This includes everything from your website, social media accounts, print materials, your presence at events and so on. Gather this information in a central spreadsheet to get a sense of what you're doing right now. You'll then be able to identify what's working, what may not be working and what is missing from your plan.
Creating Customer Personas
With the marketing audit complete, you may think you have the green light to move on to implementing new tactics. But, if you're building a plan the right way, you'll want to do some more homework. This time we're talking about developing a customer-centric mindset. This approach gives your marketing campaigns laser focus by putting the wants and needs of your customers first. Creating customers personas give your audience a face, making it easier to relate to them. Do this by mapping out your different types of customers and how they experience your business from start to finish.
Strengthening Your Value Proposition
When you are thinking from your customers' point of view, you start to see what your competitive advantage is. What can you offer that other providers cannot? Is it your customized solutions, your customer service, your pricing, your expertise—or something else? When you identify that, you're well on your way to creating your value proposition. A value proposition is a statement that is central to your marketing efforts. Piece together yours by asking, "What makes my business unique?"
Setting Marketing Goals
Once you've completed audit, developed your customer personas and beefed up your value proposition—it's time to set some goals. Think of marketing goals like you would a service level agreement (SLA). They are a set of expectations that you have in order to help you stay focused on the results you want to achieve. The first step is deciding what you want to accomplish. Then align those objectives to your company goals and the different stages of the sales cycle.
Choosing the Right Marketing Tactics
Marketing tactics are where the rubber meets the road, i.e., how are you going to reach those goals you set. These days, there are plenty of marketing tactics to choose from— but which ones are right for your business? To start, consider your marketing goals and budget. Then, think of your approach as utilizing a wide area network (WAN) or a local are network (LAN). Some tactics cast a wide net, mostly to create brand awareness and promote credibility. Others take a more targeted approach, often when you want your audience to take a specific action, like register for an event, pick up the phone, or download a resource.
Measuring Return on Marketing Investment

Performance metrics help you determine which tactics are cost-effective and which need to be optimized or removed from your marketing game plan. Do you know your return on marketing investment (ROMI) and what it means for your marketing strategy? Here's a clue: if it's less than 100%, it's time to re-evaluate. The formula for calculating ROMI is:
[(income from marketing – cost of goods – marketing expenditures) / marketing expenditures] x 100
If ROMI is <100%, then the investment needs careful scrutiny, finetuning or removal. In addition to calculating ROMI, it's important to track leads, online activity, email, video and social media marketing as well as customer satisfaction and retention.
Elevate Your Marketing Game with CompTIA
In the digital era, marketing is just as much of a science as it is an art. Doing your research, focusing on your customers, highlighting what you can offer them and setting smart goals along the way will do wonders for your MSPs' marketing efforts. Download the Marketing Toolkit for MSPs today and start creating real value that leads to big wins. After all, when your customers win at the marketing game, so do you.
Become a CompTIA Corporate member and download the full Marketing Toolkit for MSPs. Not a CompTIA member yet? Opt-in to MSP Marketing Quick Start Series to gain access to a series of emails and videos that show you exactly how to carry out a variety of marketing strategies and tactics.