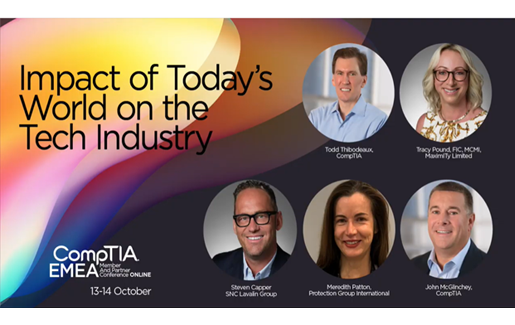 CompTIA's
EMEA Member and Partner Conference Online
kicked off on October 13, 2020 with CompTIA President and CEO Todd Thibodeaux leading a panel of UK industry experts during the session, "The Impact of Today's World on the Tech industry." The panel featured Tracy Pound, FIC, MCMI, MaxmITy Limited; Steven Capper, SNC Lavlin Group; Meredith Patton, Protection Group International; and John McGlinchey, CompTIA. The group discussed how the necessity of remote work has accelerated the speed at which technology is being implemented—ultimately creating opportunities for the industry. Here are five things we learned during the session.
Managers must keep mental health of employees top of mind.

Technology's role in keeping people and businesses connected during the pandemic has been an ongoing conversation, but the impact on workers has been less discussed. During the session, panelists echoed the need for managers to be cognizant of employees who may feel isolated. According to Pound, prioritizing the wellbeing of staff by creating a positive remote culture can make an impact.
"Some people do struggle with mental health when they are remote and isolated. It's changed the way I interact with people now. I'm much more aware of how they feel because I can't see how they feel. I can't pick up on their body language… You have to ask people how they are feeling," said Pound. "Culturally, it's having an impact on my business and in talking to some of my clients as well, where their directors and managers have run [their business in] lockdown in a very good way. Then I can see they are happy, but others have just done what they've normally done and not taken into account people struggling with remote work from home."
Capper agreed, citing the challenges faced by caregivers during lockdown as well as people who live alone.
"Mental health is a real issue because that affects performance. The big thing we've seen there's a lot of people who live alone, that don't have chance to get out and speak to other people. That's been a real challenge and it's something that we take seriously," said Capper.
Cybersecurity is paramount—and companies must close the skills gap.

During the pandemic, IT teams have connected hundreds—if not thousands—of endpoints and secured personal devices of employees. Unfortunately, security was not always top of mind as companies first focused on providing networks access to workers.
"It's accentuated the problem we've always had with cybersecurity, which is that pragmatist balance between making life easy for people and making it secure for people," said Patton. "It's pointless telling people 'you can't do that because, you can't connect your device because…' It's much better to adopt a stance where you say, 'you can do that if…' if we make some adjustments, if we introduce practices that will allow you to stay safe," said Patton.
But the need for increased cybersecurity also means that there is a need to hire more talent—and the skills gap for technology professionals continues to be an issue. Recruiting and training a more diverse group of professionals to fill these positions presents an opportunity to close the skills gap.
"There are real opportunities for people to retrain in cybersecurity and have a great career because we're still facing a massive international skills shortage and it is an area that needs a really diverse group of people," said Patton.
The technology learning landscape has shifted permanently.

Remote work has presented challenges to companies that are onboarding, training and reskilling employees—but it's also presented opportunities as workplaces reinstate a learning culture. McGlinchey provided an overview of how CompTIA pivoted to online training during the pandemic—and saw many of its partners do the same.
"Test sites were shut down early on, people couldn't go to brick-and-mortar sites. Luckily working with Pearson VUE, our partner, we spun up online testing quickly in April, which brought a little bit of normalcy back into our world. Students could get certified to get that job. Others could get certified to keep their jobs," said McGlinchey. "One of the lasting impacts we'll see from the pandemic is that IT workers will use virtual training a lot more long after COVID is gone."
Onboarding and training employees who need to sharpen their technology skills when it comes to learning and effectively using the new platforms that are keeping us connected presents another opportunity for the tech industry.
"There's been a mind shift change between a lot of senior executives who would have been cautious about IT spending. They are less risk adverse and being willing to invest more in technology learning culture," said Pound.
Technology sales must be reimagined.

It's no secret that the
technology buyer's journey has changed
with customers often coming to the table with more knowledge about products. Sales teams must be smarter about who their potential customers are and when to contact them.
"There's a change in when the salesperson actually got involved in the transaction. Before, it was generally the cold call from the salesperson that started the conversation and then eventually the customer bought your product. What's happening now is that the buyer is well through cycle of purchasing before the salesperson even gets involved. They've got the collateral and the whitepapers, they have a lot of information about what they want to buy," said McGlinchey.
Moreover without in-person networking, meetings and opportunities to demo products, marketing and sales professionals need to start thinking differently about how they sell technology.
"There will be a lot more noise because there are more people who are vying for business," noted Pound. "But the ones who are going to stand out in the future are going to be the ones who build those virtual relationships before they try and overtly sell to somebody."
Capper noted that timing is everything. It's a challenge for vendors to sell when decisions about technology implementation are being made years in advance.
"Something that the vendors and solution providers are going to have to work out is how they can get involved and collaborate on those roadmaps and that's through tech events, virtual tech fairs, and executive briefing sessions." said Capper.
The technology opportunities are endless.

Ultimately the panel agreed that for the tech industry, opportunities abound during and beyond the pandemic. More than ever before, companies have recognized that technology is here to stay and digital transformation is accelerating because of it. Many are now more willing to consider their investments in technology as they rethink the future of their companies and of their workforces. As Thibodeaux noted, dollars that were once earmarked for physical infrastructure like office space can now be reallocated.
Capper echoed that sentiment. "The really positive companies are now invested in technology. A lot of companies that I've worked with in the past, they are quite reluctant to spend and invest. This has made people realize how important technology for our future. Our budget has not been cut, it's going up. We're invested. It's a good opportunity for everyone."
Don't miss day two of EMEA Online. Join us on YouTube at 11 a.m. BST, on Wednesday, October 14. Access the event or watch the replay.