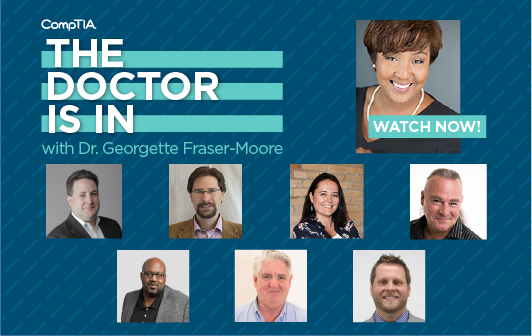 Integrating a new emerging technology into your offerings and then successfully with customers is no easy task. It takes time, money, and patience—to start.
CompTIA's new Communities & Councils YouTube channel recently completed its first series dedicated to highlighting companies successful around business transformation. In each episode of "The Doctor Is In," Dr. Georgette Fraser-Moore, CEO of Atlanta-based Transformation Lead and a member of CompTIA's board of directors, talked with guests about actionable advice for leveraging emerging technologies to solve real-world business problems.
The guests included vendor executives and MSP/solution provider leaders, executives with expertise in AI, blockchain, cybersecurity, IoT, and more. Here's a look at the advice they offered during the series for fellow CompTIA members about how to transform business:
The fear of doing something you've never done before is not insignificant and shouldn't be underestimated in terms of getting started. Taking that first step is important, including asking yourself a couple of big questions.
"First, for the leaders of the organizations: Why do we only do what we do? And what's stopping us? I think we're not unique in that's what's often stopping you is fear. We're not trained to do this. So, OK, get trained Consider how can you plug that gap. Look two years ahead and plan how will have plugged that gap at the end," said Ciaran Kenny, managing director of Macnamara ICT, a UK-based company.
Macnamara recognized that it's lack of security prowess meant that it wasn't fully serving its customers—so it invested in training and upskilling talent and now considers itself a total technology provider. It's paid off, Kenny said. The company is able to have "grown-up" conversations with clients and attract bigger names that it couldn't do without security skills.
We're confident enough to go after these bigger businesses," he said. "It's taken time for our marketing to catch up with that, but we're hitting the clients we always dreamed about."
When TerraHub Technologies, a Calgary, Alb.-based developer of blockchain business solutions, was considering expanding outside of its expertise, then the struggling oil-and-gas industry, executives spent five days running ideas past each other, as well as past customers, business partners and anyone within their collective social circles. The conversations generated great idea, positive momentum, and a willingness to move forward, said Elena Dumitrascu, CTO of TerraHub and a member of CompTIA's Blockchain Advisory Council.
"Reach out, don't be shy. Look around you and find someone you haven't talked to in six months or a year. Someone in the tech space or outside, who has the ability to give you advice," Dumitrascu said. "The amount of creativity that came out of the conversations we had in those five days with our network was absolutely incredible. You'll be surprised how much people want to help, and how willing they are to help. We're all continuing to look for ways to help each other."
Identifying what's important to you will help you chart a course to get there, according to Mike Hanauer, chief revenue officer at SKOUT Cybersecurity.
"It's similar to the approach we take with security where you identify the data that is most important to you and work out form there," he said. "With [business] transformation, it's identifying what's important most to you and what do you think the biggest negative effects are to you. It could be your company culture. It might not be your customers. Focusing in on where the biggest impacts could be—look at the biggest positive impacts and the biggest negative impacts, find the intersection and work your way out from there."
Fraser-Moore agreed, adding that businesses should look to find some quick wins that might help accelerate additional successes.
"Look for things you can see some progress and document some metrics towards, but also being able to document both the positive and negative risks out there so that you're prepared for all of them," she said.
It's a common mistake to use technology for the sake of technology and expect to be successful. Instead, focus on solving the business problem to reach successful outcomes, said Robert Forget, CTO at Aware360 and co-chair of CompTIA's IoT Advisory Council.
"Focusing on the problem not the technology allows us and [customers] to build a use case that fits the outcome that they're trying to achieve. I know that's a weird thing for a CTO to say, but for a client to be successful, they need to focus on what they're trying to solve," Forget said.
Striving to reach a business outcome, not a technology outcome, helps avoid "pilot purgatory," he added. "That's something we've seen a lot in the past where a client wants IoT and they go and 'Hey, let's put IoT in our company' without a really clear vision of what it's accomplishing. Having that clear vision allows for a successful deployment and removes the struggles involved around a pilot or a proof."
Fraser-Moore's company, Transformation Lead, also looks to pull technology out of the initial conversations, she said. "Just to truly understand where are holes, where are pain points, so we really feel like we're looking at a holistic solution that we can now go in as technology people and say 'We can automate that process or connect those people.' to be more efficient."
The best way to help customers be successful with an emerging technology is just to get out there and do it yourself too, according to Douglas Spotted Eagle, director of education/training programming at Sundance Media Group and member of CompTIA's Drone Advisory Council.
For drones, that means "start flying. Learn how to fly," he said.
It's hard to be successful without putting yourself out there and putting in full effort. The more you put yourself out there, the more experience you'll gain and the more you can help customers reach their ultimate goal.
"If you're involved in land development, law enforcement, construction, inspection, any of these kinds of things, you'll find that drones make your process safer, faster and significantly more cost effective," he said. "Generally, the first step is with the IT department. Drones are part of the Internet of Things. Your IT department will be responsible for managing the flights, the data, the output, the processing. They'll have a pretty good idea of what the data needs are. Work with the IT department to know what they need, or work with the various pieces of the business to learn what they need."
If your customers don't understand how innovative technology can transform their business, it's your job to tell them, said Eric Pinto, senior director of channel and product strategy at SOCSoter and member of CompTIA's Channel Development Advisory Council.
"It's awareness, education, information, and thought leadership. Let's get past the idea that this doesn't impact my business or that my customer is on the fence, therefore I'm not going to encourage or urge them or guide them to make the right decisions. Any business that is control of sensitive information has a responsibility to secure it. It's in their house," he said.
Tim Weber, director of security services at ADNET Technologies, agreed. "It starts with education. You need to get educated on what are the requirements, what are the best practices, what are the best tools to use," he said.
Another alternative is to find a partner to help you get started, Weber said. "We partner with a lot of other MSPs because we have a pretty deep security bench. That allows them to provide services that they may not be able to otherwise. It's really about picking the right partner and right platform."
As a group, each week's guest had a different background, skills and experience—but all had the same goal: implementing new tech solutions into a customer's business in order to solve real-world problems.

"Transforming a business, whether it's a customer's or your own, isn't easy but it can make you more efficient, productive, and profitable. You're not doing anybody any favors by standing still. We all need to keep moving forward in order to be more successful," Fraser-Moore said.
Catch all the episodes of "The Doctor Is In" in this YouTube playlist and be sure to watch for our next series, "Shoering Up Security" with MJ Shoer, executive director of the CompTIA Information Sharing and Analysis Organization (ISAO).