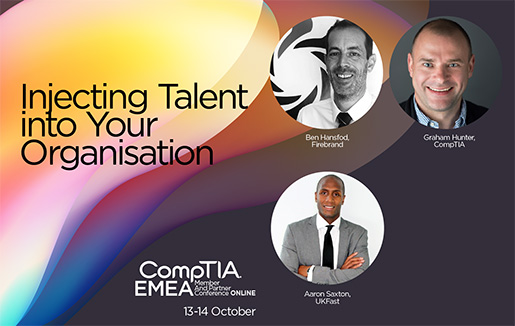 Competitive recruiting tactics, scarcity of highly skilled IT talent, and continued remote work conditions have spurred employers to adapt how they recruit and maintain tech workers, according to industry leaders in a session titled "Injecting Talent into Your Organisation" at CompTIA's 2020 EMEA Member and Partner Conference.
CompTIA's Graham Hunter, vice president, skills certification, EMEA, met with Ben Hansford, managing director, apprenticeships at Firebrand, and Aaron Saxton, director of training and education at UKFast, to discuss current talent acquisition trends and strategies.
Salary Inflation, Recruitment Fees and Talent Poaching on the Rise
As customer demand for cloud and cybersecurity solutions surged in response to COVID-19, so too did employer demand for developers, engineers, designers, and data scientists who build and support those solutions. IT companies were willing to pay more as well as cast a wider net for qualified candidates.
"We're seeing it, day in, day out. Inflated salaries, temporary recruitment, massive recruitment fees, an increase in poaching of overseas talent… There was a skills shortage pre-COVID that has only widened," said Hansford.
For some candidates, the economic and societal uncertainties caused by COVID-19 resulted in a need to stay put. According to Saxton, "as the result of COVID and the instability of jobs and careers, [workers] are sticking to who and what they know right now."
How to Source the Right IT Talent
How can solution providers, vendors and distributors be strategic in sourcing the right IT talent for short- and long-term business needs? Hansford and Saxton shared their insights.
1. Reprioritize current projects based on existing skills.
Business leaders should reprioritize current projects based on talent they have now.
"We've had to rejig our priorities. We've had to reharmonize our talent in terms of having the right blend of individuals with the right skills to support cloud basics," Saxton shared.
2. Reskill existing roles for core functions.
To support core business functions or mission-critical projects, IT companies are redeveloping the talent they already have.
Hansford said, "We're seeing more and more people reskilling from roles that aren't core or maybe don't have a medium- or long-term future as part of the company's business strategies. They're reskilling roles before they're looking to let people go."
3. Identify skills gaps for future business needs.
In a business crisis like a pandemic or economic recession, it's tempting to focus only on pressing recruitment needs.
"What we've seen is a lot of people retract. Retract to core business. Retract to business as usual… A lot of companies in the moment are in survival mode or recovery mode. They're not looking at the bigger picture," Hansford noted.
Hiring managers should devote time and energy to identifying skills gaps for future business needs. These skill gaps represent where companies need to grow their talent pipeline, starting now.
4. Monitor compensation levels for alignment with short- and long-term market trends.
While a limited candidate pool will drive wage growth, channel organizations need to make sure that compensation levels are in line with market trends and sustainable for the long term.
Saxton stated, "A lot of engineers are able to freelance and do consultancy, which has a significant impact in terms of what they demand for salary and pay, and that's something we're working on... [But] it doesn't stay sustainable. You can't keep paying all of these salaries, so we find a blend that works for everybody."
5. Create IT apprenticeship programs to build your own talent pipeline.
Some managed service/solution providers, vendors and distributors create IT apprenticeship programs to nurture their own talent for technician, developer, engineer and analyst roles.
"We've seen quite an uptick in the traction of talent in apprenticeships. Great way to bring in younger talent. We're seeing lots of recruitment at entry-level roles," Hansford said.
Robust apprenticeship programs offer accelerated IT professional training that few schools and colleges can offer.
Saxton noted, "We've been doing [apprenticeships] for seven years now. Fifty-seven percent of our apprentices come from our outreach schools. Of that 57 percent, 100 percent move into management. [Those] students and young people we've worked with over the course of a few years move directly to senior and management roles in the business."
Don't miss anything from CompTIA's EMEA Member & Partner Conference. Catch all the online sessions here.