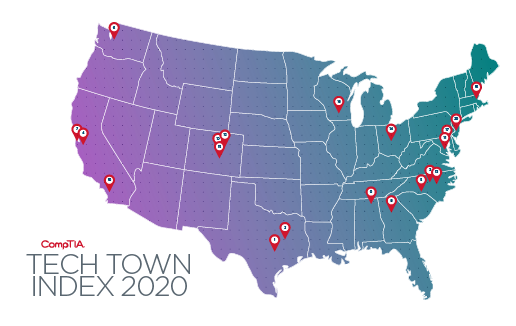 If 2020 has taught us anything, it's to expect the unexpected—except, perhaps, when it comes to CompTIA 2020 Tech Town Index.

Even amid the COVID-19 pandemic, there remains a need for a skilled, tech-ready workforce nationwide—perhaps now more than ever as the tech industry has been critical to connecting communities around the globe this year, allowing employees to continue working, businesses to continue serving customers and students to continue learning. And, as many Americans deal with job losses and salary cuts, technology jobs are still in demand and on the rise in many areas of the country with 3,782,409 IT job postings in the U.S., in the last 12 months.
The 2020 Tech Town Index speaks to the validity of our past reports, as the third installment of the list provides IT workers, as well as professionals working in the business of technology, guidance on where opportunity intersects with affordability and quality of life. The list has predominately remained the same with familiar Tech Towns proving to be resilient in the face of unprecedented change and challenge.

2020 Tech Town Index Rankings
Austin, TX
Dallas, TX
Raleigh, NC
San Jose, CA
Charlotte, NC
Seattle, WA
San Francisco, CA
Atlanta, GA
Huntsville, AL
Denver, CO
Washington, DC
Boulder, CO
Durham-Chapel Hill, NC
Columbus, OH
Colorado Springs, CO
Boston, MA
Baltimore, MD
Madison, WI
San Diego, CA
Trenton, NJ
Download the report.

But that's not the whole story in 2020. The increase in remote work is changing the landscape of how we view technology careers and where these jobs can be performed from—in short, the comfort of your own home rather than an office building, which could, in theory, be anywhere. Taken together, we have some interesting factors contributing to the CompTIA Tech Town Index 2020.
A Strong Showing for Tech in Texas
Based on job posting data over a 12-month period (August 2019-July 2020), CompTIA looked at 20 metropolitan areas with populations over 250,000, where demand for tech workers is greatest. The cities were then ranked based on cost of living, number of postings for open IT positions and projected job growth over the next year as well as the next five years. You can read more about the methodology in the full report.
Austin, Texas, claims the top spot for the second year in a row, with Dallas coming in at No. 2—a strong argument for the tech industry's rise in the Lone Star State.
It's also worth noting that Dallas made the biggest leap in the 2020 rankings, up from No. 7 in 2019. Raleigh rounds out the top three for the third year in a row with the likes of San Jose, Charlotte and Seattle following close behind.

Columbus (No. 14) still claims the crown for the most affordable Tech Town and is just one of two Midwestern cities on the list this year—the second being Madison (No. 18). And Washington, D.C., wins the prize for shear opportunity, yet again, with a whopping 260,025 IT job postings. Two Florida tech hubs—Jacksonville and Tampa—that appeared on the 2019 list didn't quite make the cut this year, though Jacksonville gets an honorable mention for just missing the list in 2020.

Of course, there has been some movement among the rankings, along with a few cities that fell off the index last year and have reappeared this year like Madison (No. 18) and Trenton (No. 20). Other cities have found themselves either higher or lower on the list for any number of factors. For example, San Francisco, moves out of the top 5 to No. 7, where the high cost of living (the highest on our list) continues to impact its ranking.

See the stats for all 20 Tech Towns when you download the full report.

For the most part, the CompTIA Tech Towns have remained solid home bases for IT pros to live and work. But despite the strength of these tech towns, the story about where tech pros choose to live and work—and why—is changing.

The Remote Work Factor
While remote work has been on the tech sector's radar for at least a decade and the workforce's willingness to move for not just the right job, but the right place has been documented, IT pros options are expanding.

In fact, as the COVID-19 pandemic continues, many organizations are rethinking their approach to business and realizing the advantages of remote work. A recent CompTIA membership survey among tech firms shows that 65% believe their company will be letting more employees to continue working remotely over the long-term, post-COVID-19. The Tech Town Index 2020 data supports this theory.

During COVID-19, the demand for remote IT workers has increased with the number of job postings nearly doubling. From August 2018 to July 2019 approximately 10% of IT jobs were labeled as "remote" or "work from home." But from August 2019 to July 2020, that number jumped to 21%. That translates to nearly 800,000 IT jobs posted nationwide that can be conducted remotely at least partially (as some employers don't specify full or partial work from home).

Find out the median salary for remote IT job postings when you download the full report.
What does this mean for the future of tech jobs—and tech hubs? Time will tell, but CompTIA Tech on the Move research shows that 78% of tech workers are willing and ready to move for the right job, citing affordability (60%) and local economy (56%) as the top two reasons for choosing a new town. A desirable climate and shorter commute times also factor in. While IT pros and technology companies may still find there's value in calling a Tech Town home, it could also mean that areas with higher cost of living become less desirable. The CompTIA Tech Town Index illustrates that IT pros are in demand and have more options than ever before when choosing where to live and work.